Severity
High
Analysis Summary
In August of 2020, Trend Micro researchers spotted malware that spread through the Xcode projects and targeted systems to steal sensitive information and launch ransomware attacks. Applications like Evernote, QQ, skype, WeChat, Notes, and Telegram were infected by the malware. The malware allowed attackers to exfiltrate stolen documents from targeted systems and capture screenshots. It was also able to implement ransomware behavior by encrypting files and displaying ransomware notes.
The malware was also able to launch UXSS (universal cross-site scripting) attacks to inject JavaScript code into browsers while visiting specific websites and impacting user's browsing experience. This allowed the malware to replace cryptocurrency addresses with malicious codes. Credentials of online services like Apple ID, Paypal, Google, and Yandex and payment card information from Apple were stolen.
While Trend Micro discovered two Xcode projects injected with the XCSSET Mac Malware in 2020, Kaspersky has discovered a new variant of the malware compiled for devices with M1 chips.
"While exploring the various executable modules of XCSSET, we found out that some of them also contained samples compiled specially for new Apple Silicon chips. For example, a sample with the MD5 hash sum 914e49921c19fffd7443deee6ee161a4 contains two architectures: x86_64 and ARM64." states the report published by Kaspersky.
"The first one corresponds to previous-generation, Intel-based Mac computers, but the second one is compiled for ARM64 architecture, which means that it can run on computers with the new Apple M1 chip."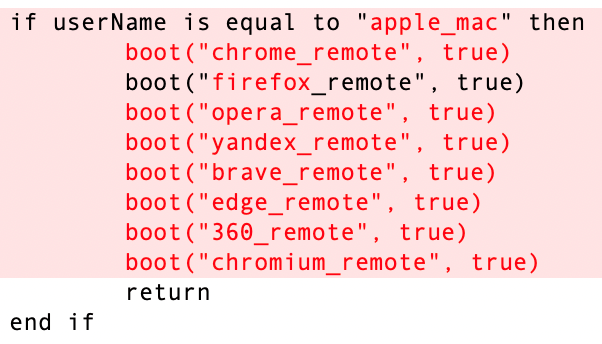 The XCSSET Mac Malware now supports both x86_x64 and ARM64 architectures, and in addition to M1 chips, XCSSET malware also fits with macOS 11 Big Sur.
Impact
Ransomware
Credential Theft
Financial Information Theft
File encryption
Affected Products
ARM-based M1 processors
Indicators of Compromise
Domain Name

Adoberelations[.]com
Findmymacs[.]com
Statsmag[.]com
Statsmag[.]xyz
Titian[.]com
Trendmicronano[.]com
Filename

replicator[.]applescript
safari_remote[.]applescript
pods_infect[.]applescript
cat
screen_sim[.]applescript
Pods shellscript
Pods
cat shellscript
bootstrap[.]applescript
IP

SHA-256

3631d9485d2e61bb86a71a007d5420d132938cc1f9dacbc6d2eef0dcd8dc040c
5acf6821d44545bfcd3446e2bdf589bc16972f76cc9137cb364954829df520d2
66057e5672a0e3c564563f99881fc57b604e6c91a992b6a937d0077636200497
74df6fee1c5d18dc8f0dad1263199ab4392088fd5faaae95ae05b377207fff05
86f3195ea91953e0e560ac474e34218a919c89ba433dc3a1eb935800b2acb7f7
8aaf02565161bd88f033d2419104a4cb452a4808363b05cdff43b5781f78e01d
a018213ac9202119eb7a6d58603f8dbb2fdde26b9639d852e5e426ecbfc3545f
a191c9657abbc528640bd2217f479fbecb33c85ca0e37a2ea309225bb0cbf2ce
cdbc86b5828fc6e8f9747bbd298bdf19d0047622c9e69f9b0877ee4106b3768
Remediation
Block all threat indicators at your respective controls.
Download applications from credible, official, and legitimate marketplaces.
Search for IOCs in your environment.