Severity
High
Analysis Summary
APT28 (also commonly known as FancyBear, STRONTIUM, Sednit, Sofacy, and more) is a threat group that has been attributed to Russia's Main Intelligence Directorate of the Russian General Staff by a July 2018 U.S. Department of Justice indictment. The group has been regarded as being active since at least 2004, and is espionage motivated. It's targets have included the private sector, military, and governments across the world.
An interesting document titled "gorodpavlodar.doc". This document was an attachment within an equally as interesting email – this email was sent to multiple individuals who, work for a large mining corporation with operations located in Kazakhstan. The email purports to be sent from the "OFFICIAL RESOURCE OF THE CITY OF PAVLODAR", but is actually sent by the address "pavlodar.news@bk.ru". Pavlodar is a city in northeastern Kazakhstan and the capital of the Pavlodar Region. The original email and translation are listed below, which prompts the recipient of the email to review the attached document.
The attached document also contained text written in Russian, which translated roughly to "Schedule of connecting your residential house to hot water supply" and purported to be from the "Official Internet Resource of Akimat City Pavlodar". The documented appeared to be a form for the recipients to fill out with their address, date of water elimination, and reason for lack of hot water. It also prompts the recipient to enable Editing/Content to view the "protected" document.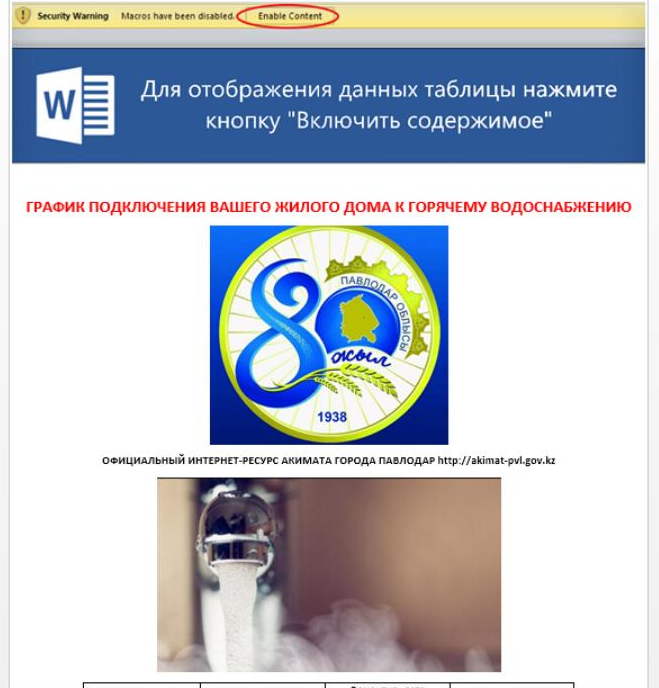 Impact
Exposure of sensitive information
Indicators of Compromise
Domain Name
pavlodar.news
From Email

pavlodar.news@bk.ru

MD5
57c2b46c7f2ad9aba80e4b6248f9367a
a863c2944581bc734619bf8d6ab1aef8
27e9247d28598207794424eeb5ea4b1b
Remediation
Block all threat indicators at your respective controls.
Always be suspicious about emails sent by unknown senders.
Never click on the links/attachments sent by unknown senders.