Severity
High
Analysis Summary
Mimic Ransomware is a new type of ransomware that has been discovered to exploit the "Everything" Application Programming Interface (API) for its encryption process.
Researchers discovered the malware in June 2022, and it appears to target mostly English and Russian-speaking people. Some of the code in Mimic resembles that of the Conti ransomware, whose sources were revealed by a Ukrainian researcher in March 2022.
Mimic is delivered as an executable that drops various binaries and a password-protected archive that contains the ransomware payload when unpacked. It also offers tools for disabling Windows Defender and legal sdel binaries.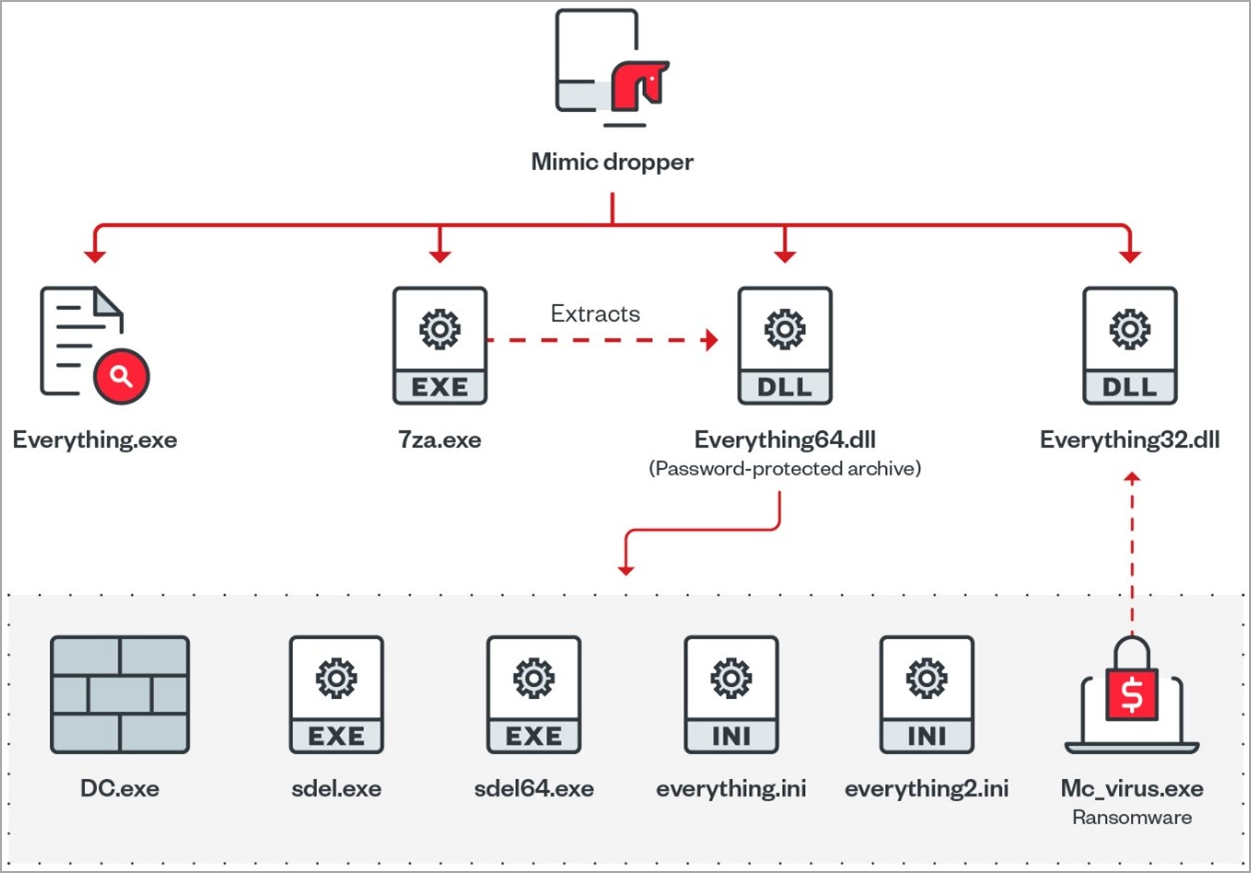 Mimic Ransomware is a versatile strain that is able to target specific files and folders by using command-line arguments. This allows it to selectively encrypt certain types of files, making it more difficult for victims to recover their data. Additionally, Mimic Ransomware is able to make use of multiple processor threads, which speeds up the encryption process and allows it to encrypt a large number of files in a short amount of time. This makes it more effective and efficient in spreading itself and encrypting files on a targeted computer.
Mimic ransomware is capable of a wide range of things, including the following:
Collecting system information
Creating persistence via the RUN key
Bypassing User Account Control (UAC)
Disabling Windows Defender
Disabling Windows telemetry
Activating anti-shutdown measures
Activating anti-kill measures
Unmounting Virtual Drives
Terminating processes and services
Disabling sleep mode and shutdown of the system
Removing indicators
Inhibiting System Recovery
"Everything" is a popular filename search engine for Windows developed by Voidtools. It is known for its speed, efficiency, and minimal system resource usage. The utility allows users to quickly locate files and folders on their computer by searching for their names or parts of their names. It has a simple and easy-to-use interface and can be configured to perform real-time updates, meaning it will automatically update the search results as new files are added or existing files are modified. This feature makes it a useful tool for quickly locating files on a computer, but also makes it an attractive target for malware like Mimic ransomware that can leverage this feature to quickly locate and encrypt all files on the system.
Mimic ransomware is known to use the "Everything32.dll" file, which is dropped onto the compromised system during the infection stage. This file is a component of the "Everything" search engine and contains the search capabilities that the ransomware uses to query for specific file names and extensions on the compromised system.
Everything assists Mimic in locating files that are suitable for encryption while avoiding system files that, if locked, would leave the system unbootable.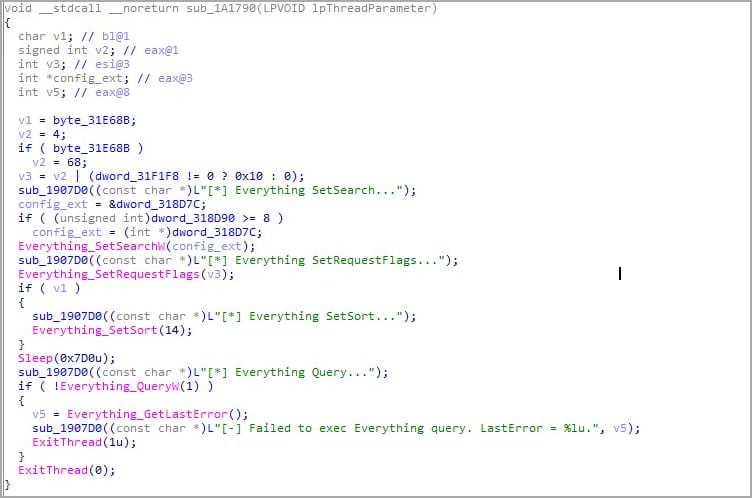 Overview of the function (utilizing Everything API)
Mimic-encrypted files have the ".QUIETPLACE" extension. A ransom letter is also dropped, alerting the user of the attacker's demands and how the data can be restored after paying a Bitcoin ransom.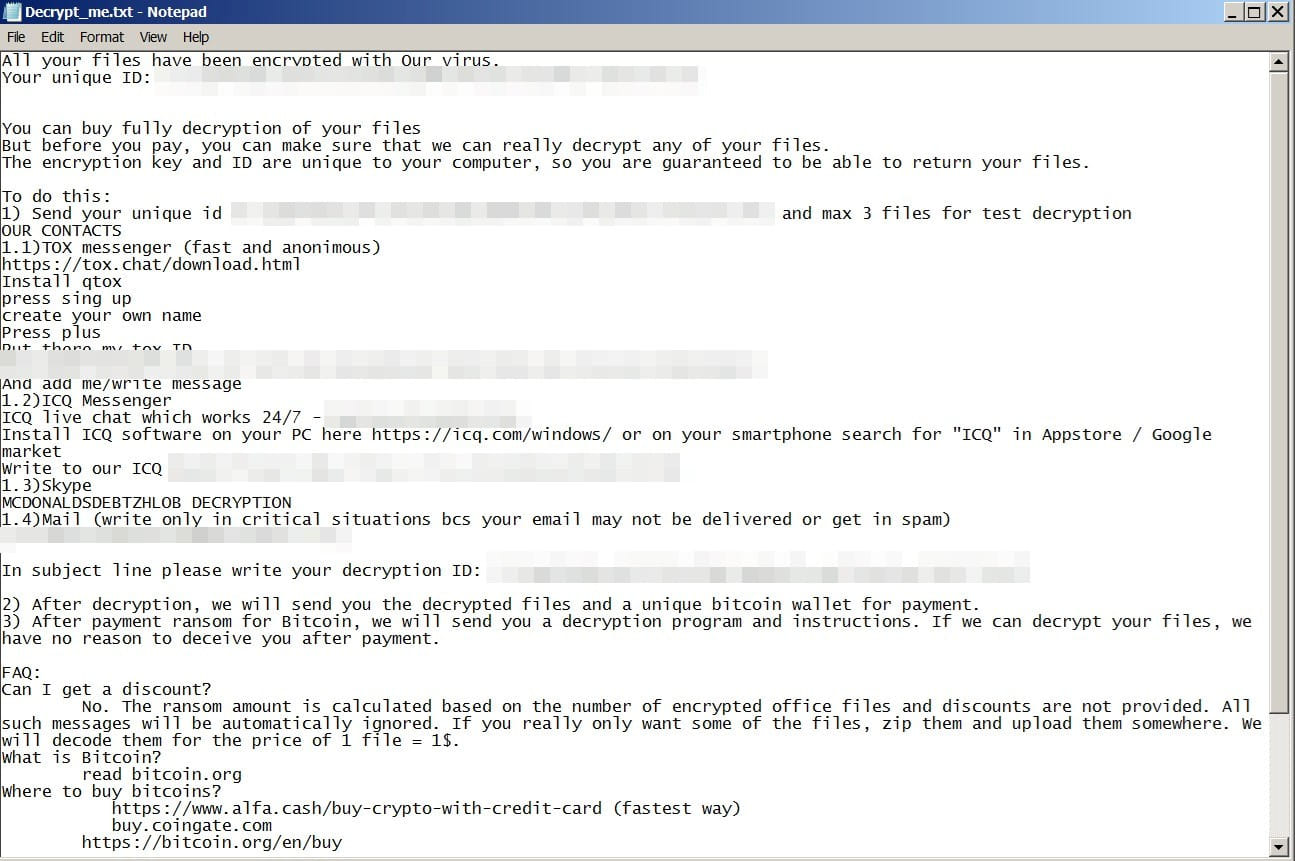 Ransom note
It is true that Mimic ransomware is a new strain and its activity is yet to be confirmed. However, the fact that it makes use of the Conti builder and the Everything API does suggest that its authors are competent software developers who have a clear understanding of how to achieve their goals.
The use of the Everything API, a popular search tool for Windows, suggests that the attackers have a good understanding of how the tool works and how to leverage its capabilities to locate and encrypt files on a compromised system. This highlights the need for users to be vigilant and take preventative measures to protect their systems from such attacks.
Impact
Data Exfiltration
Credential Theft
Information Theft
Financial Loss
Indicators of Compromise
MD5
c314feb7a168bf625455afef4b8be443
102bd157676e752d4e9311b5d17f9d5c
8fb35a353978f59bd81e1e605855965e
a48ee000e248741247c24dc70fa2f936
a478fbfa92e188363c049d13d71632ea
6dcf4e9400c3eadb0ce58e7558957d8a
SHA-256
1dea642abe3e27fd91c3db4e0293fb1f7510e14aed73e4ea36bf7299fd8e6506
4a6f8bf2b989fa60daa6c720b2d388651dd8e4c60d0be04aaed4de0c3c064c8f
b68f469ed8d9deea15af325efc1a56ca8cb5c2b42f2423837a51160456ce0db5
bb28adc32ff1b9dcfaac6b7017b4896d2807b48080f9e6720afde3f89d69676c
bf6fa9b06115a8a4ff3982427ddc12215bd1a3d759ac84895b5fb66eaa568bff
ed6cf30ee11b169a65c2a27c4178c5a07ff3515daa339033bf83041faa6f49c1
SHA-1
b009f6b5296bc506e282ab6979856e1280526a97
ff89ff94c05ffa8acc1ba0588dd59feffc8e5475
66a1ca952cc666eceea66726191889e55b25b0eb
4c814fe7c94e6fb4d1d89cdae7e6e83905c459d7
cca32188a8aa19394fb763495230911ee399a75c
05630c3157ad9c552df14804054bd63e004b7482
Remediation
Block all threat indicators at your respective controls.
Search for Indicators of compromise (IOCs) in your environment utilizing your respective security controls
Patch and upgrade any platforms and software timely and make it into a standard security policy. Prioritize patching known exploited vulnerabilities and zero-days.
Along with network and system hardening, code hardening should be implemented within the organization so that their websites and software are secure. Use testing tools to detect any vulnerabilities in the deployed codes.
Enable antivirus and anti-malware software and update signature definitions in a timely manner. Using multi-layered protection is necessary to secure vulnerable assets
Maintain daily backups of all computer networks and servers.
Enforced Access Management Policies
Maintain Offline Backups – In a ransomware attack, the adversary will often delete or encrypt backups if they have access to them. That's why it's important to keep offline (preferably off-site), encrypted backups of data and test them regularly.
Maintain cyber hygiene by updating your anti-virus software and implementing a patch management lifecycle.
Implement a multilayered strategy as it could assist organizations in protecting potential entry points into the system (endpoint, email, web, and network).