Severity
Medium
Analysis Summary
Guloader is currently being distributed via spam email campaigns with archived attachments that contain the malware. The majority of malware downloaded by GuLoader is commodity malware, with AgentTesla, FormBook and NanoCore being the most predominant. This downloader typically stores its encrypted payloads on Google Drive. CrowdStrike has observed that GuLoader downloads its payloads from Microsoft OneDrive and also from compromised or attacker-controlled websites. By utilizing legitimate file-sharing websites, GuLoader can evade network-based detection, as these services are not generally filtered or inspected in corporate environments. In addition, the downloaded payloads are encrypted with a hard-coded XOR key embedded in the malware, making it difficult for file-sharing service providers to identify the payload as malicious.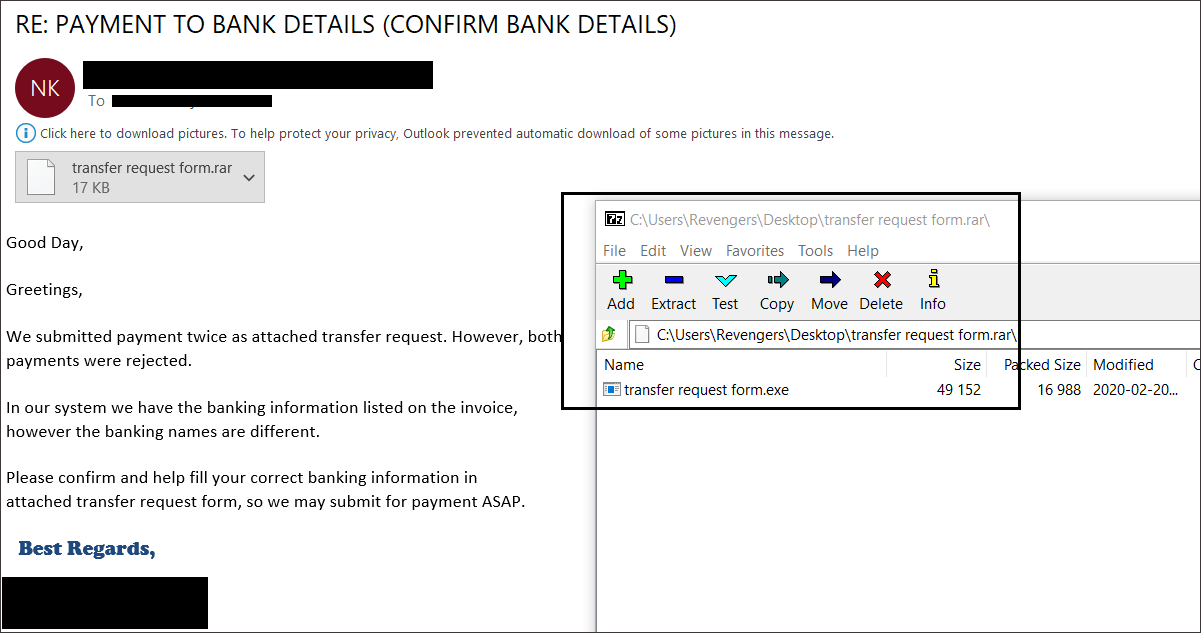 Impact
Malware installation
Detection evasion
Information theft
Indicators of Compromise
Email Subject

RE[:] PAYMENT TO BANK DETAILS (CONFIRM BANK DETAILS)

MD5

34b71a0bf9335a274086183ef09a769e
7db83b17d0e17975960caf1f09559861
1ae080b109bc5ab7cfd42e5d02b12437
SHA-256

38e6cef6c556cb8ce5254876fd43caf59bbb8239a1ea679891a4d423aafb08dc
c61f1d14582a38474f56426975cc4a2b2fa9ff172c915af9781c9d5682cb629e
bfa5dba46db1253587058b0392c04c8403846fa55d7dcf1044e94e6a654d4715
SHA1

00386297ef58e8fabba4d7f0d875a91c6ed846cb
40df6148b8f14b63feba62aba40da180e9c50f47
0e48b88e2a79cc437bfd4934064e2779da9940b8
Remediation
Block the threat indicators at their respective controls.
Beware of invoice themed emails coming from untrusted sources.