Severity
High
Analysis Summary
A recent QakBot malspam campaign is detected in which threat actors used fake replies to legitimate email chains along with DocuSign lures to target victims. Moreover, in late-November 2020, Qakbot underwent a version update. The campaign begins with malspam, having ZIP archive as attachments. Upon execution, an excel spreadsheet is extracted that contains embedded macros. When macros are enabled, communication with a malicious URL is established, that drops a DLL for Qakbot on target system.

Later, post-infection traffic on a vulnerable Windows host with Qakbot malware can be seen. Even with the version update, these spreadsheets distributing Qakbot have the same template we've seen for the past several months. Qakbot has been active for several years, and it continues to evolve. The latest version update has some significant changes, but infection traffic on vulnerable Windows hosts remains similar to what we've seen before with Qakbot. The Qbot botnet is using a new template for the distribution of their malware that uses a fake Windows Defender Antivirus theme to trick you into enabling Excel macros. Otherwise known as QakBot or QuakBot, Qbot is a Windows malware that steals bank credentials, Windows domain credentials, and provides remote access to threat actors who install ransomware. Victims usually become infected with Qbot through another malware infection or via phishing campaigns using various lures, including fake invoices, payment and banking information, scanned documents, or invoices.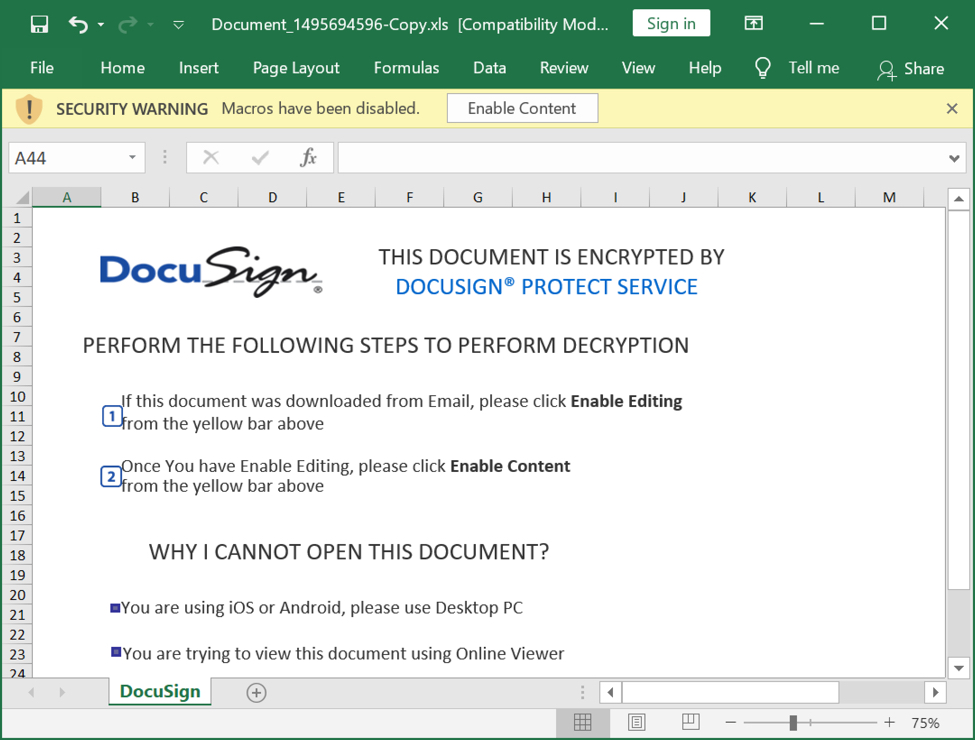 Impact
Credential Theft
Unauthorized Access
Theft of banking information
Unauthorized Code Execution
Information theft
Indicators of Compromise
Domain Name

MD5

eab3ae82721b551be63502b18ecf3825
651725c61d1aee1946d7b748d0ec5afa
25beaeae50c5344cca2302b0d6f16205
80d75d32c5a459e6b8e2eb47b23fd59c
e758a4b1340fd50274edefd581cd8c52
9e980272bfd728084e6661b05f442541
7e233554c276988f2bde5c6d52ee180e
98b64d70fa142b05724dc57c2f8090c7
a5496911ff231fa1b5e8447588e621db
SHA-256

e14f6ab34e3506d6985816af85935932fb6faf8bad9d2c7dd96d6011d7c21a33
adad807fa22f398e0a40396ed65d0827f9f14baf7e1281b713dfb17e2683d743
94d759f43bcc647f7233e19ddc160a6b43458dcde6d2ea4274c8c06b2890def2
5060806228d3f2c1afd09566d0d2fa6b2e56f844cd044c4c4e6e7ade9fef3a22
4e2f37d4228e78faa1f34121ee934f58e1a9862ad6f183edf4c24e08cda20363
66036cf566386c159e49191125497c77c13c75778492519000b9f61a4afdedad
2ccc14f2bab2e9eb1d7228e225afda558fd4b52ed670303a912ace1984b35b06
0a3a6163a5e8e372fa96efbef3feb793463f4e39bd2c4d6ea03afce045f90636
8f58b499a44ce785b2fec5255d6cd6bbaca52f2991635aec7b7b29c96787fb6f
SHA1

1659464cc4364cbad38e1aa36e12931e68e77d6b
85b35fdbcda8a15fc3fda26874d5dcdbafeee995
ed39d9ce2f58de74bba5fca366bff9886698ad94
fd61aae477cb65bc5f4f7d3be242734793667d63
945f507232ddbe940e09ac69a4e8592aa55590ed
1b2434d3f1148f1900ff026122e49c3f8092f819
a515688ce5655db73a164bf471d5c92e75a4e0a7
dd5bc2d0e0a1459705132fa54c561916f541f0ab
3f473e4252a9bbad4e62270c7383409ea015ed2c
Source IP

62[.]38[.]114[.]12
54[.]36[.]108[.]120
197[.]45[.]110[.]165
URL

http[:]//supyouryoga[.]com/svgqcnjto/590906[.]jpg
Remediation
Block the threat indicators at their respective controls.
Do not download files attached in untrusted emails.
Do not enable macros for untrusted files.