Severity
Medium
Analysis Summary
Exploiting a path traversal vulnerability of winrar, a Molerats spear phishing campaign is discovered. It is suspected that a Gaza Cybergang group is behind the campaign. At first step, the victim installs a downloader in their operating system which then gets infected with a RAT (Quasar). The downloader  typically first tries to connect to a geo location domain and then the RAT is downloaded. The given hostname serve as C2 for the molerat. There are currently three samples that contact these domains given in the IoCs, while the URL itself is marked safe.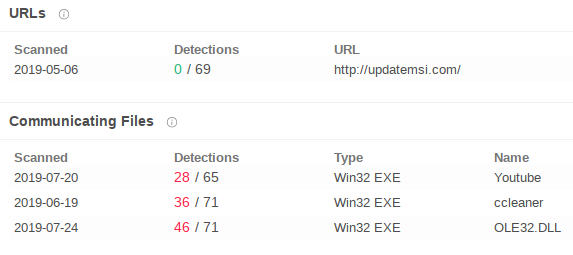 Impact
Data Theft
Indicators of Compromise
IP(s) / Hostname(s)
myexternalip[.]com
updatemsi[.]com
Email Address
lujyayman1000[@]gmail[.]com

Malware Hash (MD5/SHA1/SH256)
cb65ded99393122d46d10439ebc39d25d258e60614170123923eeb066263ef2a
bb019265a536a5e9a766dee97a2f3a82
a3b9acf59907522a84bdb3e57f16b563aff0f43bdb7be2ac33037fab1f00bcf2
a7994ae6ab70e5ee78c0857cfda498de
cab43c760a21b4b33475b56cf511b20af65f828b5f051bde6bad78574c596cd2
4a1cd5442856184ea632434e15c4393f
0c4aa50c95c990d5c5c55345626155b87625986881a2c066ce032af6871c426a
3f67231f30fa742138e713085e1279a6
118d0bd8ec35b925167c67217d2fe06ac021ce253f72d17f1093423b8f9b4a2b
78845962f3006e3dbbc113afa8fff078
Remediation
Block the threat indicators at their respective controls.
Do not download email attachments coming from untrusted sources.
Do not download any files from random sources on the internet.
Keep winrar updated to the latest patched versions.