Severity
High
Analysis Summary
Since at least 2019, the Lampion trojan has been active, primarily targeting Spanish-speaking targets and hosting its malicious ZIPs on infected servers.
Most recently, threat actors have started employing WeTransfer as part of their phishing attempts to spread the Lampion malware in greater numbers. WeTransfer, a legitimate file-sharing service, can be used for free to bypass security software that may not raise alarms about URLs in emails.
Phishing emails are being sent through compromised corporate accounts by Lampion operators, pushing customers to download a "Proof of Payment" document from WeTransfer. – recent campaign observed by Cofense.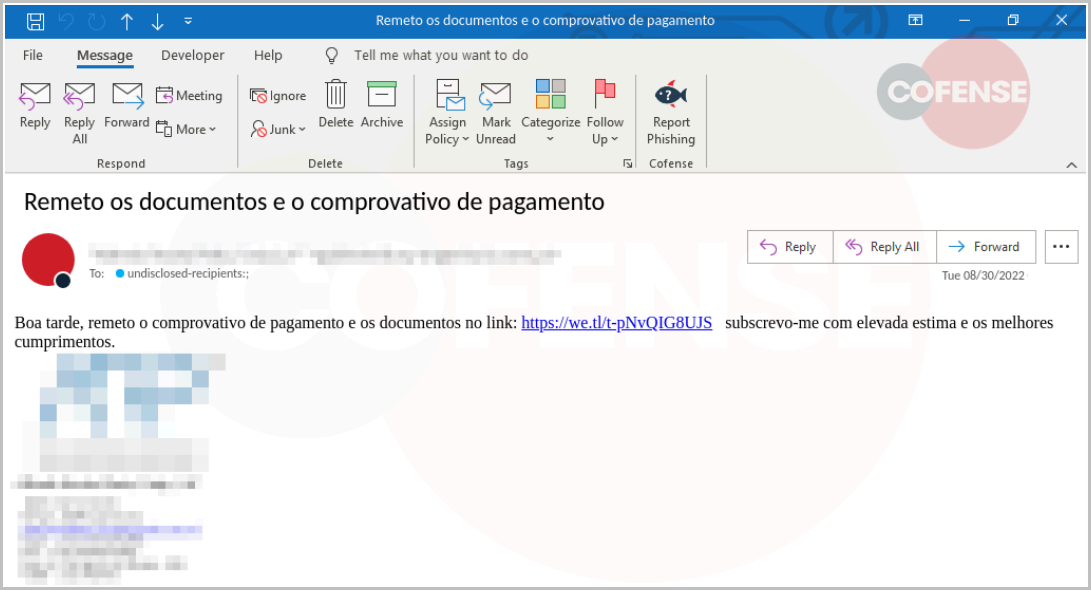 Malicious ZIP file – Cofense: source

The file sent to the targets is a ZIP archive containing a Virtual Basic script file that the victim must run in order for the attack to commence.
When the script is run, a WScript process starts that generates four VBS files with arbitrary names. The first script is completely empty, the second only has basic functionality, and the third script serves simply to start the fourth script.
The ZIP file password is hardcoded in the script. Lampion can be run discreetly on compromised systems since the DLL payloads are loaded into memory.
Lampion steals data from computers by retrieving injections from the C2 and overlaying its own login forms on login sites. These fake login forms are stolen and transmitted to the attacker when users submit their credentials.
According to Cofense's recent analysis, Users should be wary of unsolicited emails requesting file downloads, even from reputable cloud services.
Impact
Information Theft
Credential Theft
Indicators of Compromise
MD5
3ebd37d3c4ec898dce7b4a4346aa7acb
8f7a9fce82d4debe0796b8d68097d611
735a251f921be84a2039cb2b58467e4e
9951c45e09990f06bc3e3758062c9ade
e2c5416931f1c9369fb55e7adcf6364b
SHA-256
81df2c6c4287d2b9247b589d8e10efeb228270da5b3615642a2b5eaa00d22945
a1f4fc0600d0971454d746a6ba87bbde56114a91119e95fc4ddb71f97452bb1a
be703ee8d83c3eb95fd5a343fed3d2947d2b98955be3b6eb8dd4752be1047537
cd9d625e9fe6116f5f5e938ae9f693e10529df238b4e2bbd974f6d5c41f96aa8
f085588cf016993e6298640bf797c1d31b61a8087a3240d517a53a5a58474987
SHA-1
aeb65c4fb8098086774e5af02ffa86e24406795a
795628c7899667bc53052bfd784cb520b79caa9c
7d69fd7e3eb693dc81778d58ea4c28af7997d341
27ef845a9562b989c38dd6d2eda42d31d7c2a354
57c960dc13b433a3fe3225b884fcbccc01c00c36
Remediation
Block all threat indicators at your respective controls.
Search for IOCs in your environment.
Maintain cyber hygiene by updating your anti-virus software and implementing a patch management lifecycle.
Maintain Offline Backups – In a ransomware attack, the adversary will often delete or encrypt backups if they have access to them. That's why it's important to keep offline (preferably off-site), encrypted backups of data and test them regularly.
Emails from unknown senders should always be treated with caution.
Never trust or open " links and attachments received from unknown sources/senders.