Severity
High
Analysis Summary
A targeted APT campaign that utilized malicious RTF documents to deliver custom malware to unsuspecting victims. They dubbed this campaign "Operation LagTime IT" based on entities that were targeted and the distinctive domains registered to C&C IP infrastructure.
Initially identified email campaigns with malicious RTF document attachments targeting East Asian government agencies in March 2019. These campaigns originated from adversary-operated free email sender accounts at yahoo[.]co[.].jp and yahoo[.]com. Sender addresses often imitated common names found in the languages of targeted entities. Spear phishing emails included malicious .doc attachments that were actually RTF files saved with .doc file extensions.
The lures used in the subjects, attachment names, and attachment content in several cases utilized information technology themes specific to Asia such as governmental or public training documents relating to IT. On one specific occasion an email utilized the subject "ITU Asia-Pacific Online CoE Training Course on 'Conformity & Interoperability in 5G' for the Asia-Pacific Region, 15-26 April 2019" and the attachment name "190315_annex 1 online_course_agenda_coei_c&i.doc". The conference referenced in the lure was an actual event likely selected due to its relevance to potential victims. This is significant as countries in the APAC region continue to adopt Chinese 5G technology in government as well as heavy equipment industries.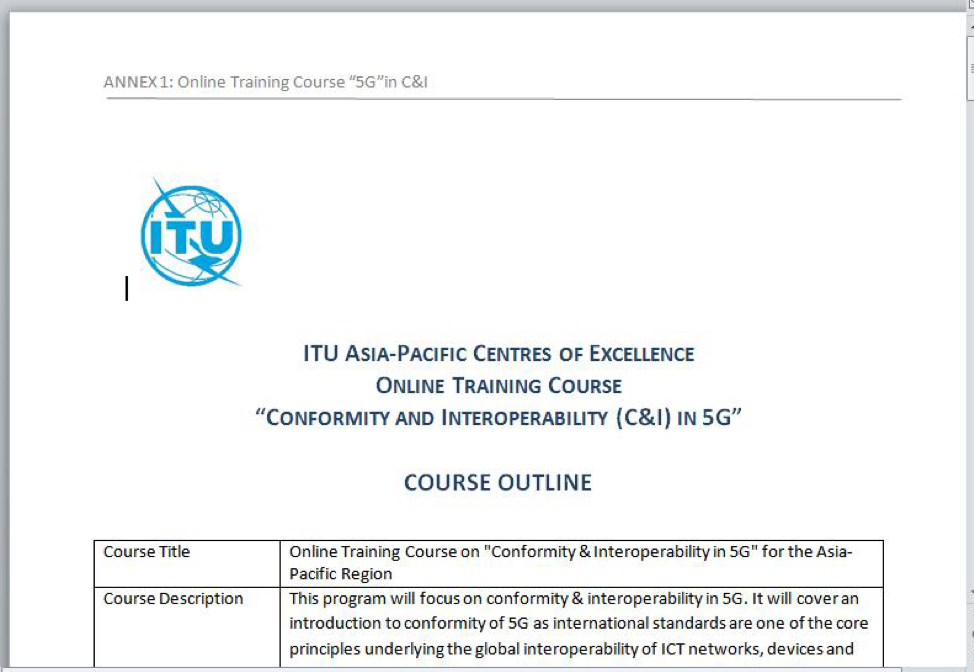 Impact
Exposure of sensitive information
Indicators of Compromise
Malware Hash (MD5/SHA1/SH256)
1bc93ef96134be9a5a7b5f5b747be796a9ff95bdc835d72541673565d1c165b8
1d492e549d2cbd296bc8e1368c8625df0c82c467c1b4addea7191e4a80bf074e
304115cef6cc7b81f4409178cd0bcea2b22fd68ca18dfd5432c623cbbb507154
3dbff4e82dd8ddf71f9228f68df702b8f4add47237f2aee76bd5537489ed2fa9
4c22eb33aa1d10511eaf8d13098e2687e44eaebc5af8112473e28acedac34bea
81898df69e28a084ea37b77b568ccde34afdf96122ab784f8a361f055281ed0f
93ac0ff3f01f8b8dfad069944d917e4b0798d42bc9ff97028e5a4ea8bda54dbc
93f56ec68e072ccba8102c71d005604763d064021795c7c8bb1cade05ddb6ff6
9a477b455a20a26875e5ff804151f9f6524131c32edf04366cfbaf9d41c83f2a
ae3e335cc39c07bda70e26e89003e0d1b8eea2deda2b62a006517c959fc0a27a
b541e0e29c34800a067b060d9ee18d8d35c75f056f4246b1ce9561a5441d5a0f
b7cfea87d7de935e1f20e3c09ba4bd1154580682e75330876f21f241b33946f2
cbf607725d128d93fed3b58cde78e1feb7db028a1ed1aa5c924e44faa1015913
d0ccb9a277b986f7127199f122023c79a7e0253378a4a78806fbf55a87633532
e9fa0a6223b0e4e60654dc629cd46174b064d5a0968732e6f05bc212a2cdf3f4
eb0191d1b8e311d2716795e9fa7c0300c5199ebf3d8debff77993f23397d2fb5
Remediation
Block all threat indicators at your respective controls.
Always be suspicious about emails sent by unknown senders.
Never click on the link/attachments sent by unknown senders.