Severity
High
Analysis Summary
A new phishing campaign distributing malware pretends to be from the Spamhaus Project warning that the recipient's email address has been added to a spam block list due to sending unsolicited email. Spamhaus Project is an organization that creates spam block lists that mail servers can utilize to block known spammers from sending emails to recipients in their organization. Due to this, using Spamhaus as the theme of phishing scam could alarm email administrators enough to cause them to hastily open the link in the email and thus become infected. These email states that the recipient must "Urgently Take Action" because their email address has been added to the Spamhaus Block List (SBL) and will be blacklisted on mail servers unless they follow the instructions found at a listed URL.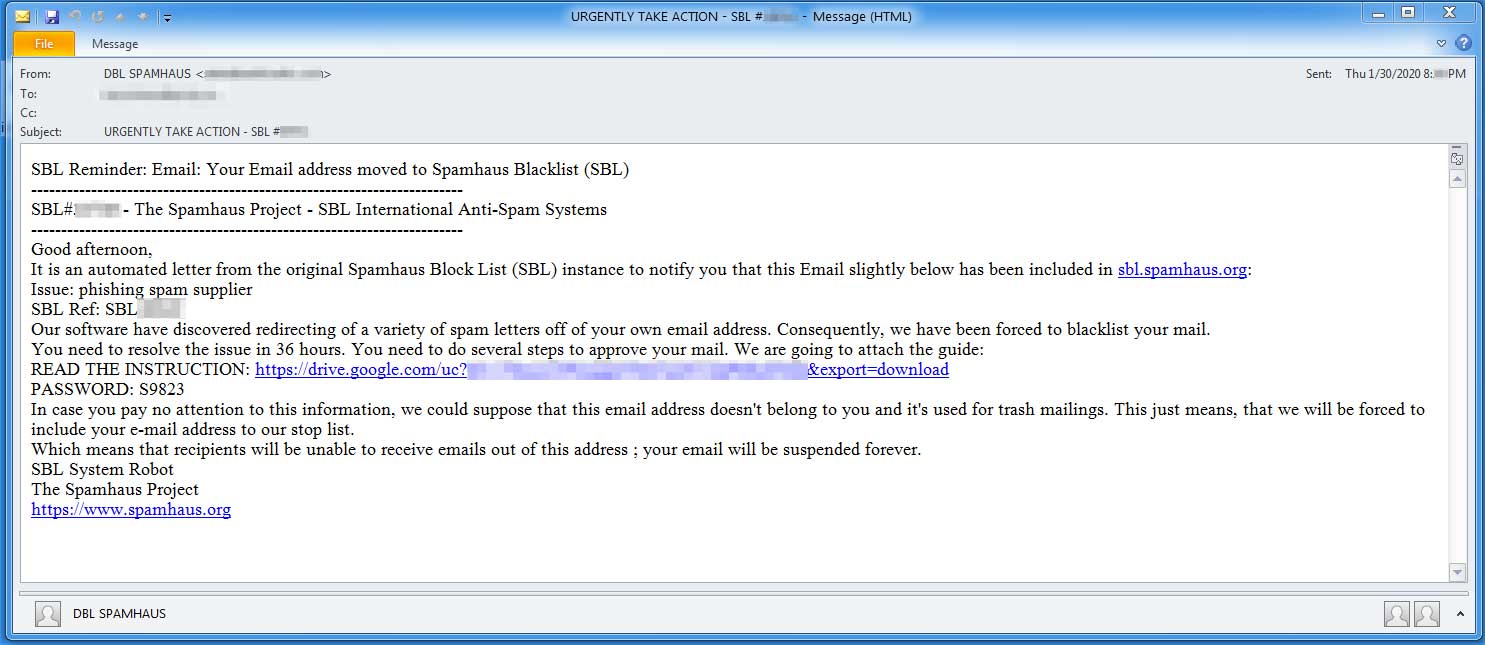 In the email will be a Google Drive link and a password for a file that is allegedly the instructions needed to remove the email address from the Spamhaus Block List.
Clicking on this link will download a password protected file named SPAMHAUS_SBL_i9k#888771.zip that contains an obfuscated Visual Basic Script (VBS) file SPAMHAUS_SBL_i9k.vbs.
When executing the VBS file, it will create a randomly named text file in the %Temp% folder, which are reported to be Ursnif malware executables, which is then launched by the script.
Ursnif is a data-stealing Trojan that records what a victim types on a computer, what sites they browse to, what is copied into the Windows clipboard, and what programs they run. This information is then saved in log files and sent back to the attacker's web site.
Impact
Credential theft
Exposure of sensitive information
Data exfiltration
Indicators of Compromise
Filename
SPAMHAUS_SBL_i9k#888771[.]zip
SPAMHAUS_SBL_i9k[.]vbs
MD5

f7f748dadd2785c05af1747997caf331
8b341edd7c197ab87599689a69b8a016
26fe92f0e744ca60857f9e98c91c2a35
63b3fbf9a89cb6a6b88c324c6dd247d2
264d59a72ca08158c6fc43082554058e
SHA-256

279c3ce5e4ef8d0a58e2571b47eee36063d6655e66d20a62b2175960b040a1e3
e6ad7e2acd02f980d038e3b007a556ea1f3dbe9f9a98bc8b3f7e4d4ac25b7310
926052d7e82f540bc99906759f15bd3c6cf49be1f229f57bf43ab6b6062b6104
b99d38aa1493b28f7b9623129f20f5a8be0933712f92dbacace710be3313f4a6
5692db418539eda5d897e4eaabe43b31675220f2f6173b8c6c87b969d91329d4
Remediation
Block the threat indicators at their respective controls.
Do not download files attached in unexpected emails.
Do not execute .vbs files downloaded from unverified sources.