Severity
Medium
Analysis Summary
A series of sales-themed emails with IMG attachments. with purpose to deliver the NetWire RAT. A total of 15 emails carrying the same attachment were observed coming from two unique senders.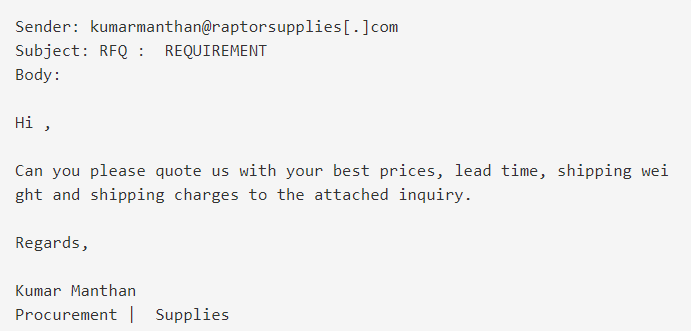 Email 1

Email 2
In both cases, the referenced attachment is an IMG file named "Sales_Quotation_SQUO00001760.img." Opening this file extracts an executable that we identified to be the NetWire RAT. Once executed, the malware establishes persistence via a scheduled task. Additionally, Registry keys are created to store the C2 server IP and install data of the RAT. Communication with the C2 server is performed over port 3012.\
Impact
Exposure of sensitive information
Indicators of Compromise
Email Subject

Enquiry Requirement
RFQ : REQUIREMENT
From Email

kumarmanthan[@]raptorsupplies[.]com
sale[@]machinesalerswaz[.]com
SHA-256

01b4694a473b86231293cc81b67be7bc813cd7ce58af39b72ea9e06652528444
a943161c1b1e9ff7b2844a413c57f60641da782cf208c799bb4f13191fe7397d
Remediation
Block all threat indicators at your respective controls.
Always be suspicious about emails sent by unknown senders.
Never click on the links/attachments sent by unknown senders.