Severity
High
Analysis Summary
A packer dubbed Loncom (Trojan-Dropper.NSIS.Loncom) which incorporates NSIS and Microsoft Crypto API (both legitimate software packages) disguise of an update for an expired security certificate to pack and encrypt APT ready malware. Once the shellcode is extracted on a victim's system, it begins decrypting the payload from the archive and executes it. To do this, information from the NSIS script is used to decrypt the payload. Malware discovered packed by Loncom included Mokes, Buerak, DarkVNC (also known as REvil, a VNC backdoor), and Sodin (also known as Sodinokibi, ransomware).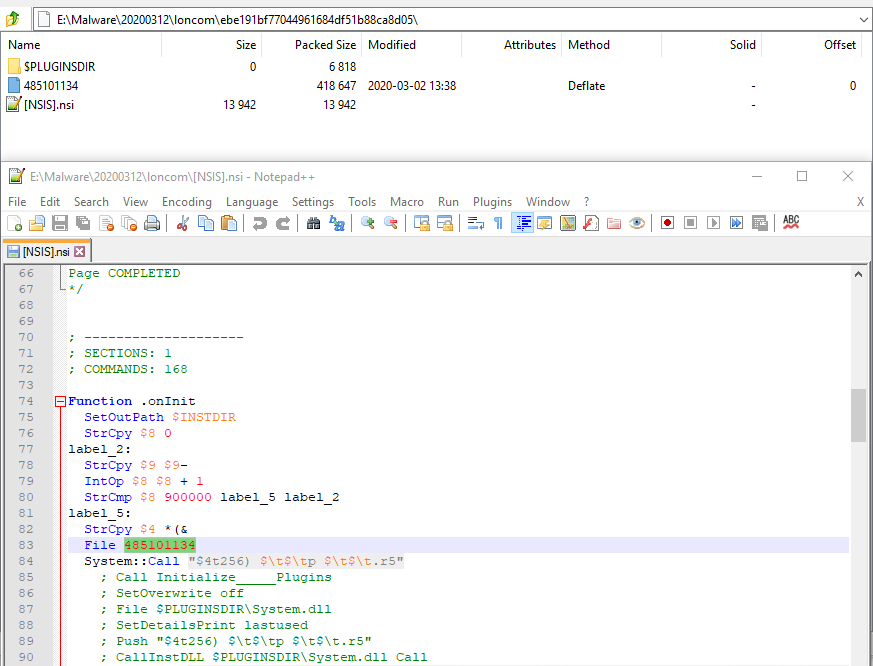 Impact
Exposure of sensitive data
Gain access of victim's system
Indicators of Compromise
MD5
BB00BA9726F922E07CF243D3CCFC2B6E
EBE191BF77044961684DF51B88CA8D05
4B4C98AC8F04680F7C529956CFE8519B
AEF8FBB5C64734093E78EB13E6FA7849
SHA-256
64bc66f669abd4538e917fc60aa7ec95008dfb80a61c6864082fe022cd861c25
8e08192cee6bfb065e9750e0457aaaf81849fac2adae1cb73147ead7949c56d2
86f0a102ed4a4f82f843484cc045df5bea53118d25496086a68a7f791a3ab27b
64bc66f669abd4538e917fc60aa7ec95008dfb80a61c6864082fe022cd861c25
SHA1
22f26496f2e8829af9f5cfcd79c47e03fe9a21bb
4aa25662e4e59877cb94cc1d18aafd304ca1ca2e
e6dccf4b1fc5ab116b6bc1321346b35dbf42f387
22f26496f2e8829af9f5cfcd79c47e03fe9a21bb
Remediation
Block all threat indicators at your respective controls.
Check for IOC's in your environment.