Severity
High
Analysis Summary
Maze aka ChaCha an infamous ransomware group in its recent statement released on its victim shaming website claims to have hacked into the Bank of Cost Rica in August 2019 but didn't pursue the further attack citing reason that possible damage would be too high and in February 2020 during their routine check of previously accessed system they found out the bank security wasn't improved they still had access to the bank network, Maze claims to have obtained years of transnational data including credit cards data of 11million with 4million unique credit cards in which 140,000 belongs to US citizens.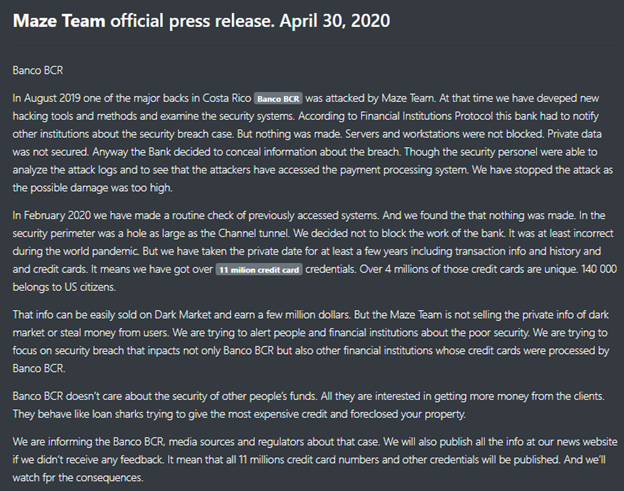 As proof of this theft, Maze posted what they say are 240 credit card numbers, with the last four digits removed, along with expiration dates and credit card verification codes (CVC).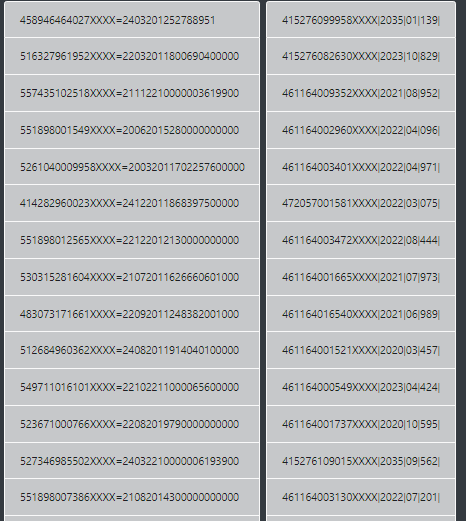 Bank of Cost Rica is a state-owned commercial bank that operates in Costa Rica. With an equity of $806,606,710 and assets of $7,607,483,881, Founded in April 20, 1877 the bank of Cost Rica has established itself as one of the strongest banking companies in both Costa Rica and Central America.
The Maze ransomware, previously known in the community as "ChaCha ransomware" uses 2048 bit Rivest-Shamir-Adleman(RSA) and the ChaCha20 stream cipher to encrypt individual files. It appends different extensions to the files during theencryption process. It then changes the user's desktopwallpaper to a message about the encrypted files and the file name ofthe dropped ransom note. A notable feature of Maze ransomware is that it sets the ransomware amount based on the type ofdevice it detects.This is uncommon among other types of ransomware. Maze operators have used the following labels to indicate the user's computer type in the wallpaper message:
• standalone server • server in corporate network • workstation in corporate network • home computer • primary domaincontroller • backup server • very valuable for you

Maze Ransomware is distributed using several different ways. It has utilized the Spelevo and Fallout exploit kits and one of the vulnerabilities that Maze is targeting is the CVE-2018-15982 vulnerability in Flash Player. It is also worth noting that in the case of the Fallout kit, the users were redirected to the exploit from a fake cryptocurrency trading platform.Another observed attack vector is via email spam campaigns containing a Microsoft Office document with a malicious macro. For technical analysis of Maze ransomware please check Advisory # 7186.
Impact
Data Loss
Information Theft
Reputation Loss
Indicators of Compromise
SHA-256

4218214f32f946a02b7a7bebe3059af3dd87bcd130c0469aeb21b58299e2ef9a
5470f0644589685000154cb7d3f60280acb16e39ca961cce2c016078b303bc1b
c84b2c7ec20dd835ece13d5ae42b30e02a9e67cc13c831ae81d85b49518387b9
9845f553ae868cd3f8d8c3f8684d18f226de005ee6b52ad88b353228b788cf73
6d4836c75092d75f1d3a1d90100f19247473f9b0d7e12602221a7badf7feb29d
e49225cc26ec911a213eb942d7797e8eec6de3f793abc8bb30f4b89f14e72d96
b27bfa476a6915e573583c63b1d898913472ed86f224d5c470051359ceff8828
f97bda917e52379ae9fe06605e4f120f9c88aebea38d3b4aeb3c21d476ea4d39
92125cc9aec53e2e7d0a67e8a53f0d6cb4a33f9ca73243d66b0397d7ddec907e
3fd37d42d5821a8cbcf930255ca1259a680937e4e7dfa2d535d56121187806c2
eed70e8b4425aea2c6cd37c06c8789acbc049269d6f56d8968787383e82d23dc
0606c6d918e0c02cea5fd85bfeb862c8ffe3eee4ef059cd8d2cd3ff342fdf9d9
94673f34efc32e73523f8435acf0afce782ba4f68e9f71f80afbeb3b917162f3
67f338c9f15b000aedac1d736fbce1ab27fd72a10d397315ba724b1dccf4e834
4e1f7d397a07477bc3da1e1185a5960475817e9d04529b5bcc2068830262fa1b
d215134b504790b3a3850e4e28a056a5eb2afdd057828626838507792476a74d
abb36315ed6f708ba60c8cf70fdc0e327f7fbcfdfe33a403827e47a0155d1e4f
fe0a5682abc92037d79318d3f5bc6a920df2ceafaa5f1869406ee842c422f0e9
Remediation
Organizations can be targeted specifically by attackers, or they can be caught in the wide net cast by cyber crime operations. Large organizations are high value targets and attackers can demand bigger ransoms.
It is recommended to :
Back up important files regularly. Use the 3-2-1 rule. Keep three backups of your data, on two different storage types, and at least one backup offsite.
Apply the latest updates to your operating systems and apps.
Educate your employees so they can identify social engineering and spear-phishing attacks.
Controlled folder access. It can stop ransomware from encrypting files and holding the files for ransom.
Block all threat indicators at their respective controls.