Severity
Medium
Analysis Summary
A new marketplace for purchasing leaked and breached data has emerged called "Industrial Spy." The gang behind the marketplace also uses adware and cracks to spread further. Once the Industrial Spy executable is downloaded on a device, it creates a README.txt file in every folder on the victim device. The text file contains a description of the company, their vision, and a promotional campaign regarding the marketplace.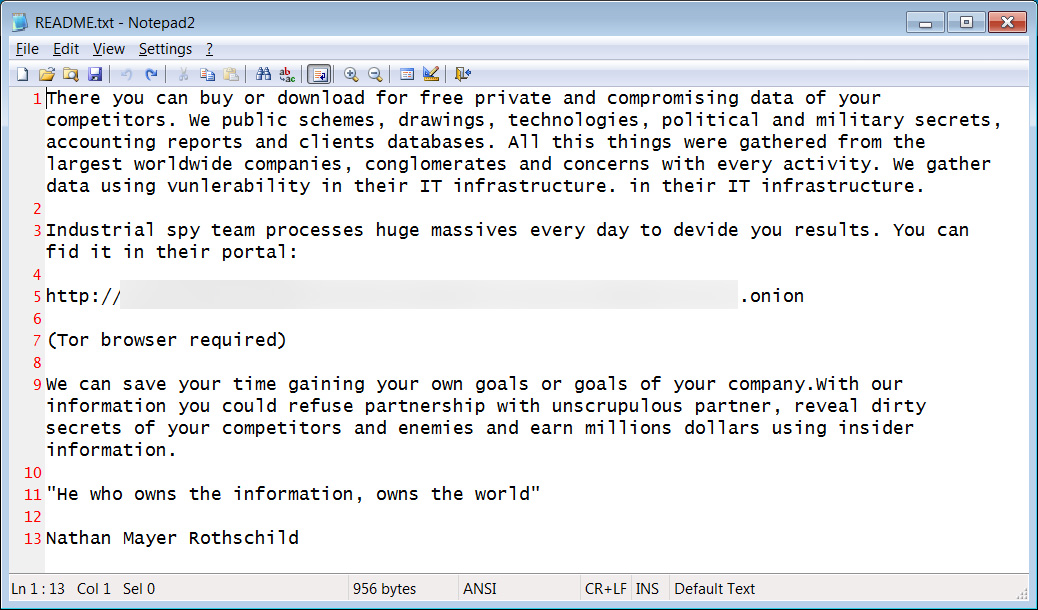 The marketplace has three services: Premium, General, and free. And individual files can be bought for as low as $2. The filenames of the malware's executable are:
tools.exe
DEA2.exe
2bd1.exe
F0EA.exe
DE41.exe
49DD.exe
367C.exe
F14E.exe
5206.exe
46C2.exe
61af.exe
822a.exe
FA9D.exe
79F0.exe
d661.exe
B3D9.exe
bc8b.exe
E399.exe
F2B0.exe
BC09.exe
B31D.exe
9391.exe
92D1.exe
7773.exe
56a7.exe
69FB.exe
5262.exe
CFE3.exe
4BF9.exe
6308.exe
3A89.exe
CC8E.exe
176B.exe
4DE7.exe
20F.exe
2603.exe
6542.exe
EA6F.exe
6793.exe
F6B4.exe
77be.exe
F225.exe
DF15.exe
9FF4.exe
EF37.exe
3d1f.exe
9395.exe
D565.exe
FE84.exe
23B4.exe
350C.exe
C8A4.exe
97DF.exe
9ba2.exe
BBEC.exe
61e2f011274d734599209767ab76cad136e8a94f.bin
9932.exe
D640.exe
b0a9.exe
BD59.exe
7C92.exe
README.txt
toolsnpd.exe
B871.exe
ac65.exe
CC9B.exe
8F15.exe
D2B6.exe
9fe.exe
2C20.exe
D527.exe
90EA.exe
E488.exe
A131.exe
D1EB.exe
C73C.exe
953.exe
AC2E.exe
toolsnpd.exe
Impact
Information Theft
Financial Loss
Misuse of Data
Cyber Espionage
Indicators Of Compromise
MD5
95d4d597b3065359e471890fc166abfc
333d29ffe93e71b521057698adf722e3
SHA-256
c96b098cab47c0a33d0b6d8f14b24e7c9ba897b0c59a2ac1f3dc608ca7a2ed7e
5ed4ffbd9a1a1acd44f4859c39a49639babe515434ca34bec603598b50211bab
SHA-1
51a2437cadd422446b0bc6bd59cd5fe467eed26a
61e2f011274d734599209767ab76cad136e8a94f
Remediation
Search for IOCs in your environment.
Block all threat indicators at your respective controls.