Severity
High
Analysis Summary
A new attack group called Agrius is launching damaging wiper attacks against Pakistani targets, which researchers said are hiding behind ransomware to make their state-sponsored activities appear financially motivated.
The Agrius Advanced Persistent Threat (APT) appears to use both public and private malware families to aid their attacks. Recent research made by Rewterz Threat Intel shows that they have been planting the open-source ASPXSpy Malware on compromised networks, but they have also relied on a previously unidentified ransomware/wiper called Apostle.
Apostle,was initially deployed in an attempt to wipe data but failed to do so, likely because of a logic flaw in its code. The internal name its developers gave it was "wiper-action." In a later version, the bug was fixed and the malware gained full-fledged ransomware behaviors, including the ability to leave notes demanding that victims pay a ransom in exchange for a decryption key.
The Apostle Malware is a custom-built malware threat that also uses webshells so that attackers can move laterally inside a compromised network. To conceal their IP addresses, members use the ProtonVPN (Ehrlich, 2021).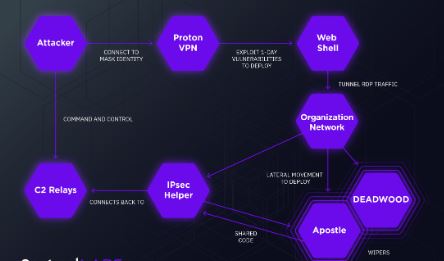 References
Ehrlich, A., 2021. From Wiper to Ransomware | The Evolution of Agrius. [online] SentinelLabs. Available at: <https://labs.sentinelone.com/from-wiper-to-ransomware-the-evolution-of-agrius/>.
Impact
File Encryption
Data Exfiltration
Information Disclosure
Cyber Espionage
Indicators of Compromise
IP
37[.]120[.]238[.]15
37[.]59[.]236[.]232
185[.]147[.]131[.]81
81[.]177[.]22[.]16
81[.]177[.]23[.]16
54[.]37[.]99[.]4
MD5
01ed1914b55a2d6ca4e4c97827fba3f4
02aa4ba656d49ebbe930b923b8399b6b
1caaacebe309474d36d8243a3c393351
32616cdd343ad938e385b32aa482fea4
338236f51e666e26e4547273e9a23d98
4ea373d0ab8d50b644c95f415e1c0694
851b7b8dd006dc889bf8f9282dc853ce
URL
http[:]//185[.]142[.]97[.]81/css/v1/template/main[.]php
http[:]//185[.]142[.]98[.]32/Scripts/_Data/25/lastupdate[.]php
http[:]//195[.]123[.]208[.]152/Admins/login[.]php
http[:]//5[.]2[.]67[.]85/View/list[.]php
http[:]//5[.]2[.]73[.]67/Panel/new/File/css/boot[.]php
http[:]//whynooneistherefornoneofthem[.]com/about[.]php
http[:]//theisnonamelikethis29123[.]com/mail[.]php
Remediation
Block all threat indicators at your respective controls.
Search for IOCs in your environment.