Severity
Medium
Analysis Summary
Zeppelin is the newest member of the Delphi-based Ransomware-as-a-Service (RaaS) family initially known as Vega or VegaLocker. Zeppelin appears to be highly configurable and can be deployed as an EXE, DLL, or wrapped in a PowerShell loader. The samples are spread via malspam and are hosted on water-holed websites and, in the case of PowerShell, on Pastebin. There are reasons to believe at least some of the attacks were conducted through MSSPs, which would bear similarities to another recent highly targeted campaign that used a ransomware called Sodinokibi.
There is a major shift in their targets from Russian-speaking to Western countries, as well as differences in victim selection and malware deployment methods. Earlier this month, the ransomware targeted healthcare and IT.
Indicators of compromise are given below. However, the URLs for this domain were found clean while the files communicating with it were found to be malicious.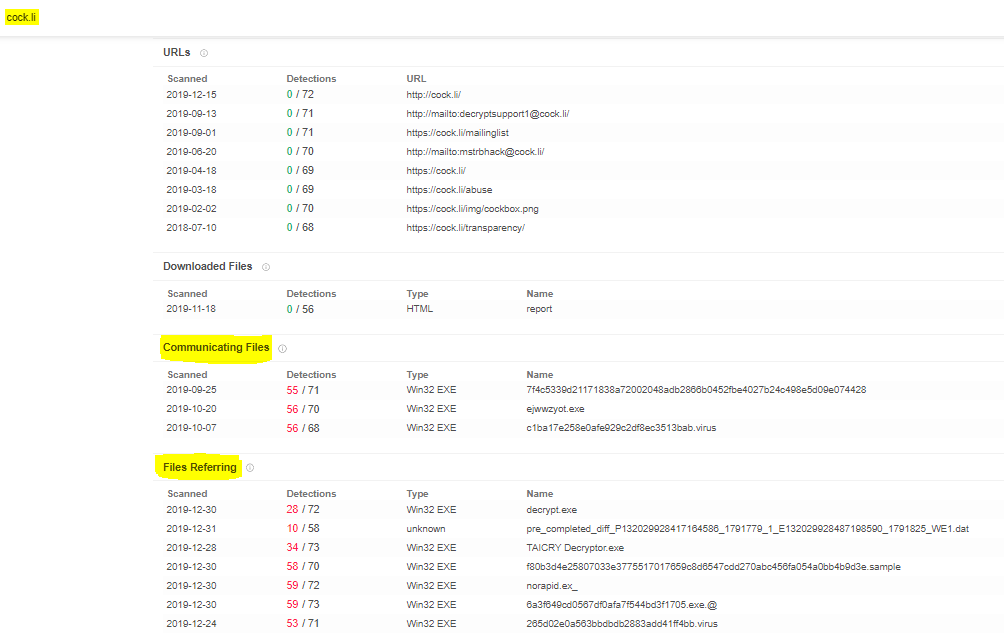 Impact
Files encryption
Indicators of Compromise
Domain Name
tutanota.com
protonmail.com
iplogger.ru
iplogger.org
firemail.cc
yandex.direct
ntdetect.com
torbox3uiot6wchz.onion
cock.li (see evidence above)
From Email

bad_sysadmin@protonmail.com
Vsbb@firemail.cc
Vsbb@tutanota.com
buratino@firemail.cc
buratino2@tutanota.com
ran-unlock@protonmail.com
ranunlock@cock.li
buratin@torbox3uiot6wchz.onion
MD5

1d6ce900a8b2bf19fc993cad4f145fa8
968503a249052f5d214d3d368fe49e0c
36ebf768b89bf5bf329b5e4d17ed99e1
f8a5d94ebd48bd371cb4d751507319e9
386157f4cab9327d01a7210da9237ef0
c0e88cbb811aa4a59f79c392120c559a
SHA-256

e22b5062cb5b02987ac32941ebd71872578e9be2b8c6f8679c30e1a84764dba7
04628e5ec57c983185091f02fb16dfdac0252b2d253ffc4cd8d79f3c79de2722
4894b1549a24e964403565c61faae5f8daf244c90b1fbbd5709ed1a8491d56bf
39d8331b963751bbd5556ff71b0269db018ba1f425939c3e865b799cc770bfe4
d61bd67b0150ad77ebfb19100dff890c48db680d089a96a28a630140b9868d86
1f94d1824783e8edac62942e13185ffd02edb129970ca04e0dd5b245dd3002bc
URL

http://iplogger.org/1wF9i7.jpeg
http://iplogger.org/1syG87
http://iplogger.org/1Hpee7.jpeg
http://iplogger.org/1HVwe7.png
http://iplogger.org/1HCne7.jpeg
http://iplogger.org/1H7Yt7.jpg
Remediation
Block the threat indicators at their respective controls.