Severity
Medium
Analysis Summary
A new variant of the VegaLocker/Buran Ransomware called Zeppelin has been spotted infecting U.S. and European health and IT companies via targeted installs. This ransomware family was promoted as Ransomware-as-a-Service (RaaS) in May 2019 on Russian malware and hacker forums. Affiliates who joined the RaaS would earn 75% of the ransom payment, while the Buran operators would earn 25%.
In some of the attacks, the attackers targeted MSPs in order to further infect customers via management software. It is not known exactly how the Zeppelin ransomware is being distributed, but it is likely through Remote Desktop servers that are publicly exposed to the Internet.
The ransomware will first begin to terminate various processes including ones associated with database, backup, and mail servers. When encrypting files, the ransomware will not append an extension and the file name will remain the same. It will, though, include a file marker called Zeppelin that may be surrounded by different symbols depending on the hex editor and character format you are using.

While encrypting files, it will create ransom notes named !!! ALL YOUR FILES ARE ENCRYPTED !!!.TXT that contain information regarding what has happened to the victim's files. These notes will also contain email addresses that the victim can contact for payment instructions or to test decrypting one file for free. Below is the ransom note found on victim's system.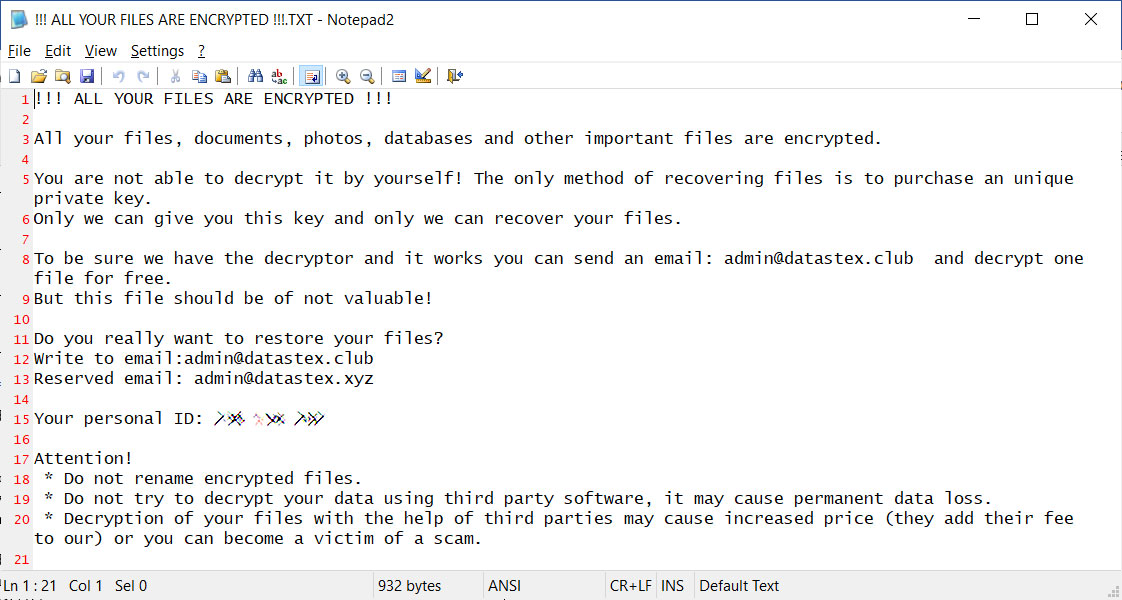 Impact
Files Encryption
Indicators of Compromise
Domain Name

iplogger[.]org
cock[.]li
firemail[.]cc
tutanota[.]com
SHA-256

d61bd67b0150ad77ebfb19100dff890c48db680d089a96a28a630140b9868d86
1f94d1824783e8edac62942e13185ffd02edb129970ca04e0dd5b245dd3002bc
e22b5062cb5b02987ac32941ebd71872578e9be2b8c6f8679c30e1a84764dba7
4894b1549a24e964403565c61faae5f8daf244c90b1fbbd5709ed1a8491d56bf
04628e5ec57c983185091f02fb16dfdac0252b2d253ffc4cd8d79f3c79de2722
39d8331b963751bbd5556ff71b0269db018ba1f425939c3e865b799cc770bfe4
URL

http[:]//iplogger.org/1wF9i7.jpeg
http[:]//iplogger.org/1syG87
http[://iplogger.org/1Hpee7.jpeg
http[:]//iplogger.org/1HVwe7.png
http[:]//iplogger.org/1HCne7.jpeg
http[:]//iplogger.org/1H7Yt7.jpg
Remediation
Block the threat indicators at their respective controls.