Severity
High
Analysis Summary
A recent phishing attack, known as the "MrTonyScam," is utilizing Facebook Messenger to spread malicious messages containing attachments from a multitude of fake and hijacked personal accounts. The main objective of this attack is to gain control of the victims' Business accounts. The campaign is associated with a Vietnamese-based group and employs a compressed file attachment that contains a Python-based stealer using various obfuscation techniques.
The attack begins by sending potential victims enticing messages with RAR and ZIP archive attachments. Clicking on these attachments triggers the deployment of a dropper that fetches the next stage from either a GitHub or GitLab repository. This next stage includes an archive file containing a CMD file, which, in turn, harbors an obfuscated Python-based stealer. This stealer is designed to exfiltrate all cookies and login credentials from various web browsers, sending the stolen information to an actor-controlled Telegram or Discord API endpoint.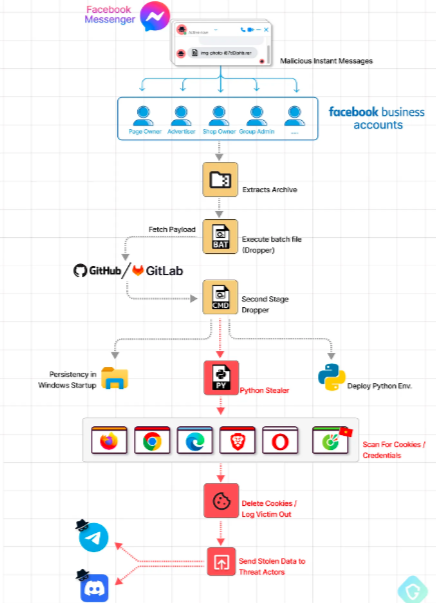 One cunning tactic used by the attackers involves deleting all stolen cookies after theft. This action effectively logs victims out of their own accounts, allowing the scammers to hijack their sessions. The stolen cookies are used to change victims' passwords, enabling the attackers to seize control of the compromised accounts.
This campaign has seen a high success rate in compromising victim's accounts, despite the fact that the infection requires user interaction to actually download the malicious file. The majority of victims have been reported from the US, Australia, Canada, France, Germany, Indonesia, Japan, Nepal, Spain, the Philippines, and Vietnam.
" These threat actors are targeting millions of business accounts on Facebook's platform — from highly-rated marketplace sellers to large corporations, with fake business inquiries, achieving a staggering "success rate" with approximately 1 out of 70 infected!", researchers mentioned
The main targets are Facebook accounts having high following, reputation and seller rating as these are easily sold for a big amount of money on dark markets. These kinds of accounts are used to reach a wider audience for spreading advertisements and scams.
Most of these Vietnam-related cyberthreats have similarities in their infrastructures and capabilities which suggest that the threat actors may have working relationships, like sharing tools and TTPs with each other.
Impact
Identity Theft
Credential Theft
Indicators of Compromise
Domain
MD5
54f90d3b8353c83f6c9760fa439ffcf5
684539ba644f89564a7a5dbc33c788e1
15d19f1bb46fdcab29d8df89eb1eba75
5fa892802e1df9033e0aae6d248b9a35
173b17e195b0a80611c22f333c3d2ec2
72619e9542f2491d08240a2416fc0293
29230c757551944a751a699259c5e021
a0960542caf0b23e01da9dd379e64923
771a32eb5b45bda9e1b939e81060941b
3e9e177f8daf7e2d4589f9769761c2a2
13f94cda395bfdd2c87a024ee497e576
be51f347873b4de0c027851a345e360a
SHA-256
a39f0c56dd602fcc14adcdeaa31c21d389af8ea8abcb89862fac19e2807c799d
1af8a147d6e77ffcbf8e5dda14b32c715c4149b5e1c933fa69e451600ecfbf8e
bca1c784742fc086d381f4e1e4495941626d1b829147d0d5f6d3f47af78364dd
c116663954c00ef7be0ce7d391bed95fe0c1f775b97652906c49ec3fcd814719
e7cd3233fd39175970675135dac2c582382747b328b3786f8a833ae2ab8f4239
c95694003557ed3e22b29215ed8ee53c8560a1fbdc5ccce53aa3442aaf116a7e
474d1dcec292401ade40bd90a95b872e5ab2c8fb68737b786e4308444d3ad33a
91dff3d1e940290529d064a0b13e190e6231679ea067df399de559d5bd071d81
d0237b6e1ab07c8300ad282ed3aa1f6e0e90220d893bbeee26786e886cedb9ad
12444acca1f75247e756516a5d3ca2a33d67641f0664c00c3220f141b3dd8ce1
3bf11184b67b82e367d36cb9ed3380a43814b000d84aef0bb89d4e08e4fcd581
0ed36afbfe255076e759c8fe4dca89b0e0d0de82c4ffd822f4f589f8b0f39688
SHA-1
bf4dcafd866e888a1a6c77189dda53f1925f7a6a
4784572ae95b342b105a749ed59142392e205070
cea7716f76731530dec498839dda308ac06fdf73
32ff452494c987910139ebeef9be58f5c2ede8f1
2a81754e3eac8123ee98b4060795489a3ed4f220
24378017b30b0feb2a2b6759810f933a62a6326e
fe46d6dcfac42f886750cb60770aa34ef7a1c6a0
a5d32afacd1bdd3a3a2e420e581e0dad0cfac532
2bc8afa2b021b410868120d74468dd1e6e16cd12
01e82d4c625911a83ab9e22d236984c456293a24
0bd8c2f2d263da163aab247b66986aa773f54a76
b476eaad1c1ad62801ab37c2cb5679a8a50cd98d
Remediation
Block all threat indicators at your respective controls
Search for Indicators of compromise (IOCs) in your environment utilizing your respective security controls
Do not download documents attached in emails from unknown sources and strictly refrain from enabling macros when the source isn't reliable.
Enable antivirus and anti-malware software and update signature definitions in a timely manner. Using multi-layered protection is necessary to secure vulnerable assets
Along with network and system hardening, code hardening should be implemented within the organization so that their websites and software are secure. Use testing tools to detect any vulnerabilities in the deployed codes.