Severity
High
Analysis Summary
Ursnif banking trojan also known as Gozi and Dreambot has been around for more than 10 years. It gained popularity in 2015 when its source code was published on Github and since then the moderators have always tweaked some changes to make use of their arsenal according to their gains. Mainly attacking banks and other financial institutions. As banking security has hardened and more customers have used mobile banking apps, attackers have switched to using Trojans such as Ursnif to steal other types of data, including email configurations, as well as credentials and passwords stored in the web browsers and even digital wallets. Threat actors use different techniques to make a victim fall into their trap. In many cases, a phishing email is sent to a victim that contains a malicious attachment – typically an Excel spreadsheet. If the victim clicks on an "Enable Content" button, they will not see the spreadsheet; rather an embedded macro code, which contains PowerShell commands and that's how the infection begins to unfold.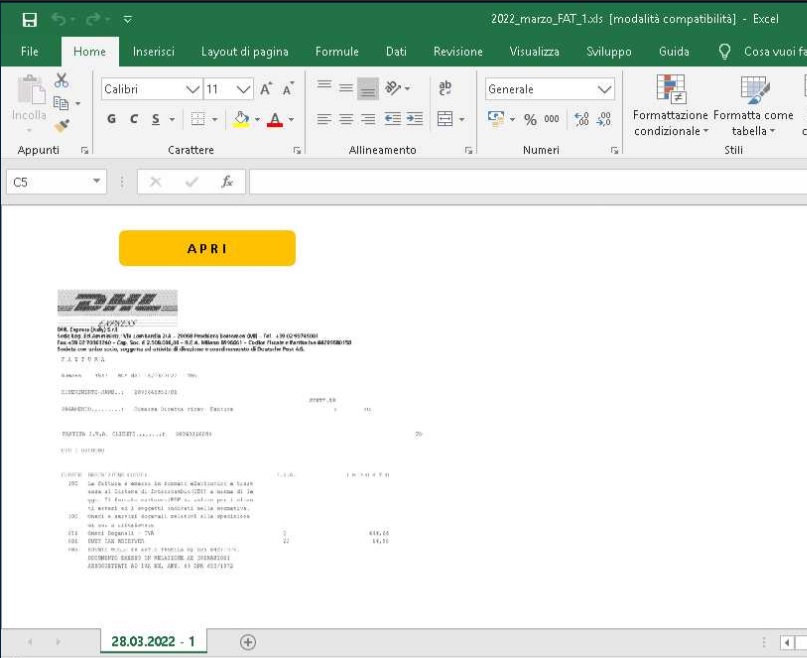 Ursnif has been active using DHLEXPRESS's name for phishing emails, dropping malicious Word documents which enable macros when downloaded and executed. The malicious file suspected of being used as an attachment has the name 2022_03_FAT_1.xls.
Impact
Information Theft
Financial Loss
Exposure of Sensitive Information
Indicators of Compromise
Filename
myfile[.]exe
2022_03_FAT_1[.]xls
IP
46[.]30[.]43[.]44
193[.]56[.]146[.]189
MD5
56af6074a589ed0fd684f0fd097887d4
bb9dc919d8be2b646f5e7625b92876fc
78b9c616aef45ff9255c238f4757b207
36125e116418e73ba7dab25fe0d30f1a
SHA-256
1a16288bf4484b2a6692dcb7244942d7bea94ce3597c175910f91cc2b2613365
da266d429a932be228984ed5b0a0b030e5c33493bd6ef6a90bce9502eec38473
93e0fc85608986b9615f74cb69249f666116c926c6e5085f426f224340f0d996
c73e70bcabefab8d66385cb8a5fbc4a39451809dc778a19f8a177ee8254d0fde
SHA-1
6f3669d58b2744e12a3aa94f9782f6965efbf344
e2b555b256a9f827f68dc6e71942a09d0d7e69ff
7864fbe1ce78a0e97ee70d1ba252d7e542ec49c3
78266b0607bce9968abdd941df997b330de6063e
Remediation
Block all threat indicators at your respective controls.
Search for IOCs in your environment.