Severity
Medium
Analysis Summary
The APT group Turla is known by many names including Krypton, MAKERSMARK, Snake, Uroburosk, Venomous Bear, Waterbug and WhiteBear, and is tracked by researchers. Turla is primarily known for its espionage activities. In 2017, ESET researchers observed a new version of one of Turla's tools named ComRAT. The new version featured a new C++ code base and more complexity than prior versions. It is known to have been in use as recently as January 2020 and is believed to be used exclusively by Turla. ComRAT v4's primary use is locating documents which are then compressed and exfiltrated to a public cloud storage service. Three government entities, two foreign affairs ministries, and a national parliament are known to have been targeted with ComRAT v4. It is installed on systems where the group already have a foothold. Two C&C communications channels are used by ComRAT v4, HTTP (the same as in ComRAT v3), and email, which uses Gmail to receive commands.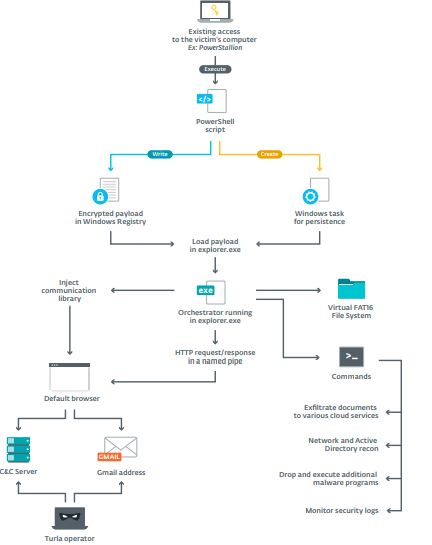 Impact
Exposure of sensitive information
Indicators of Compromise
SHA1

4D8B1F4ACC638080054FFBB4CEF2559583A22DC6
DD7006D16D8E121FCE8F2905433474ECCED75CC0
0139818441431C72A1935E7F740A1CC458A63452
0AB87F7BDF7D9E54BA33FE715C11E275D5DCCE15
Remediation
Block all threat indicators at your respective controls.
Always be suspicious about emails sent by unknown senders.
Never click on the links/attachments sent by unknown senders.