Severity
High
Analysis Summary
The attacks involving the SUBMARINE Backdoor on Barracuda ESG appliances have raised significant concerns in the cybersecurity community. Exploiting the vulnerability (CVE-2023-2868) in the ESG module responsible for email attachment screening, threat actors gained unauthorized access to a subset of Barracuda ESG devices (affecting products Barracuda Email Security Gateway 5.1.3.001 and 9.2.0.006). The SUBMARINE Backdoor, a novel and persistent threat executed with root privileges, resides in an SQL database on the targeted ESG appliance. Comprising multiple artifacts, including a SQL trigger, shell scripts, and a Linux daemon library, the backdoor provides capabilities such as execution with root privileges, persistence, command and control (C2) communication, and cleanup functionalities.
Of particular concern is the potential for lateral movement within the network. Once deployed on a compromised ESG appliance, the SUBMARINE Backdoor enables unauthorized access to other systems, facilitating the attackers in their pursuit of additional targets and sensitive data.
The vulnerability used in these attacks initially started as a zero-day flaw, with Barracuda issuing a patch after discovering the breached ESG appliances. However, the attacks were already in progress, suggesting that the threat actors had been exploiting the vulnerability for several months before the patch was available.
Researchers conducted a thorough investigation, linking the attacks to UNC4841, a suspected threat actor with alleged ties to China. The campaign had a wide-ranging impact, spanning various regions and sectors, indicating its focus on espionage activities in support of the People's Republic of China.
The attacks employed multiple malware families, including SALTWATER, a malware-laced module for the Barracuda SMTP daemon (bsmtpd), providing various capabilities such as uploading/downloading files, executing commands, and proxying malicious traffic. SEASPY, an x64 ELF persistent backdoor masquerading as a legitimate Barracuda Networks service, supported backdoor functionality activated by a "magic packet." SEASIDE, a Lua module for bsmtpd, established a reverse shell through SMTP commands sent via the malware's C2 server. Finally, SUBMARINE, residing in the SQL database of the compromised Barracuda ESG appliance, executed with root privileges.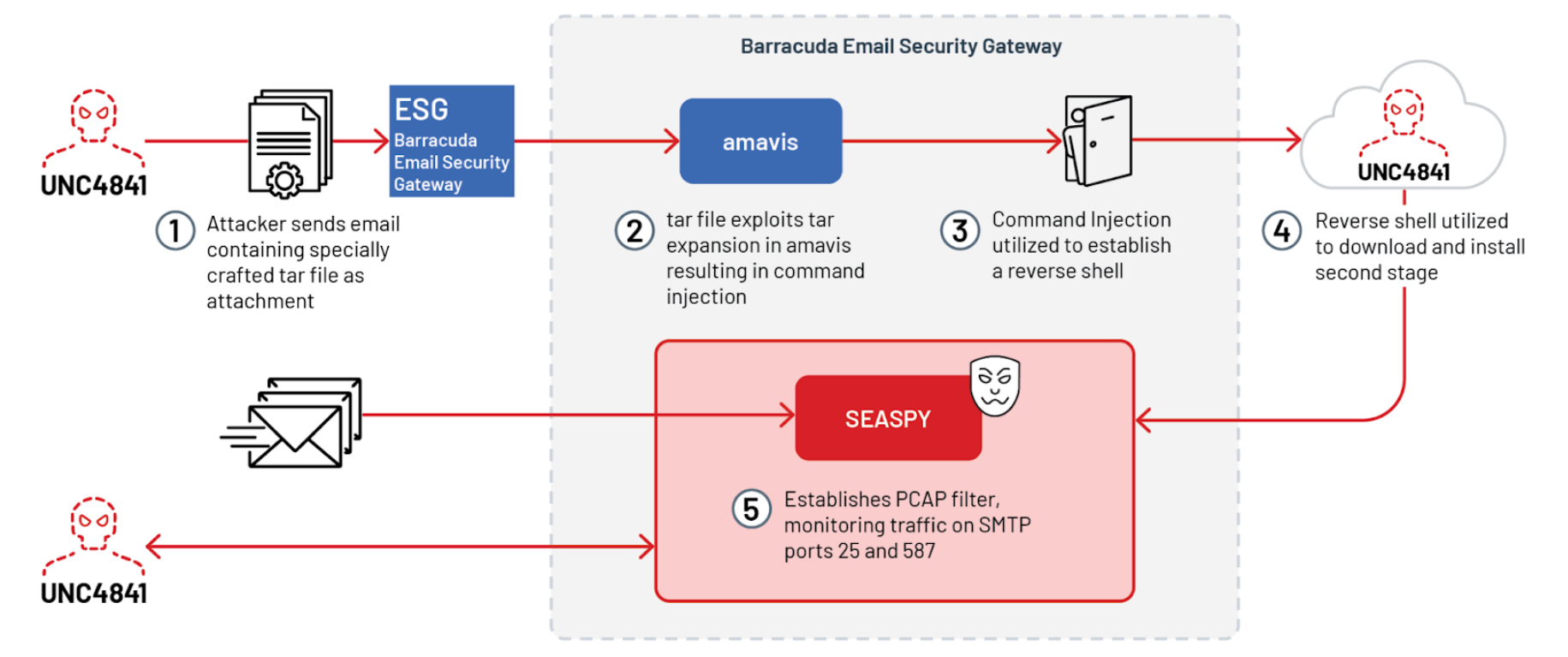 As a precautionary measure, organizations using Barracuda ESG appliances should apply the necessary patches and implement robust security measures to safeguard against such attacks.
Impact
Unauthorized Access
Espionage and Data Theft
Indicators of Compromise
CVE
CVE-2023-2868
Domain Name
IP
101.229.146.218
103.146.179.101
103.27.108.62
103.77.192.13
103.77.192.88
103.93.78.142
104.156.229.226
104.223.20.222
107.148.149.156
107.148.219.227
107.148.219.53
MD5
4ec4ceda84c580054f191caa09916c68
45b79949276c9cb9cf5dc72597dc1006
177add288b289d43236d2dba33e65956
35cf6faf442d325961935f660e2ab5a0
436587bad5e061a7e594f9971d89c468
85c5b6c408e4bdb87da6764a75008adf
19e373b13297de1783cecf856dc48eb0
SHA-256
caab341a35badbc65046bd02efa9ad2fe2671eb80ece0f2fa9cf70f5d7f4bedc
9bb7addd96f99a29658aca9800b66046823c5ef0755e29012983db6f06a999cf
8849a3273e0362c45b4928375d196714224ec22cb1d2df5d029bf57349860347
56e8066bf83ff6fe0cec92aede90f6722260e0a3f169fc163ed88589bffd7451
9f04525835f998d454ed68cfc7fcb6b0907f2130ae6c6ab7495d41aa36ad8ccf
83ca636253fd1eb898b244855838e2281f257bbe8ead428b69528fc50b60ae9c
ca72fa64ed0a9c22d341a557c6e7c1b6a7264b0c4de0b6f717dd44bddf550bca
SHA-1
6505513ca06db10b17f6d4792c30a53733309231
191e16b564c66b3db67f837e1dc5eac98ff9b9ef
c637a9ce65083b21c834e7a68bd1bc51b412fa11
254b6bcbc5f60e30c596c263b8a4f393badbf1aa
cf22082532d4d6387ea1c9bc4dc5b255aa7a0290
5ce46efc6b28bd94955138833dc97916957dbde1
fda9dfa7b41a05c6ae32f71f2b31a5d56d7eca9b
Remediation
Refer to Barracuda Web site for patch, upgrade or suggested workaround information.
Search for Indicators of compromise (IOCs) in your environment utilizing your respective security controls.
Block all threat indicators at your respective controls.
Implement robust monitoring to detect anomalies and potential threats.
Educate employees to recognize and prevent common attack vectors.
Limit user privileges and access to minimize risks.
Isolate critical systems and data to contain breaches.
Maintain secure backups to enable data restoration without ransom payment.
Have a comprehensive plan in place to respond to security breaches.
Engage in sharing threat information with trusted partners.
Conduct regular assessments to identify and fix vulnerabilities.
Enforce MFA for privileged accounts and critical systems.
Deploy advanced endpoint security solutions to detect and block threats.