Severity
High
Analysis Summary
New samples of Word documents from TA551 (Shathak) have been detected pushing malware. This actor was active until December pushing IcedID malware before going on break for the holidays. Now that it's returned, TA551 has been pushing Qakbot (Qbot) malware instead of IcedID. Qakbot has been distributed in the wild since June 2020, followed by more campaigns in August, September and October. By mid December, 2020, Qakbot was persistent with its latest malspam campaigns. Current campaign is similar as the older ones, in its operational flow.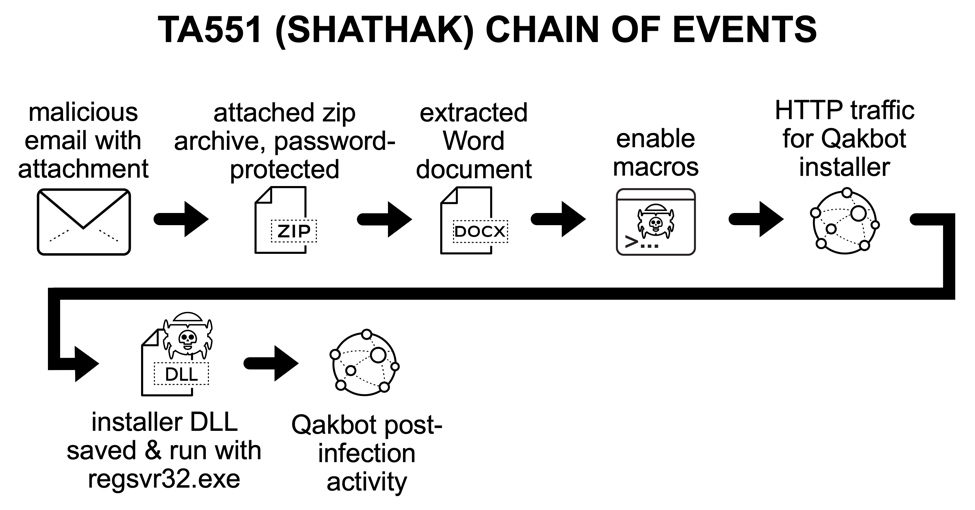 Once the malicious file is downloaded and macros have been enabled, Qakbot is installed on the compromised system and begins its post-infection activity.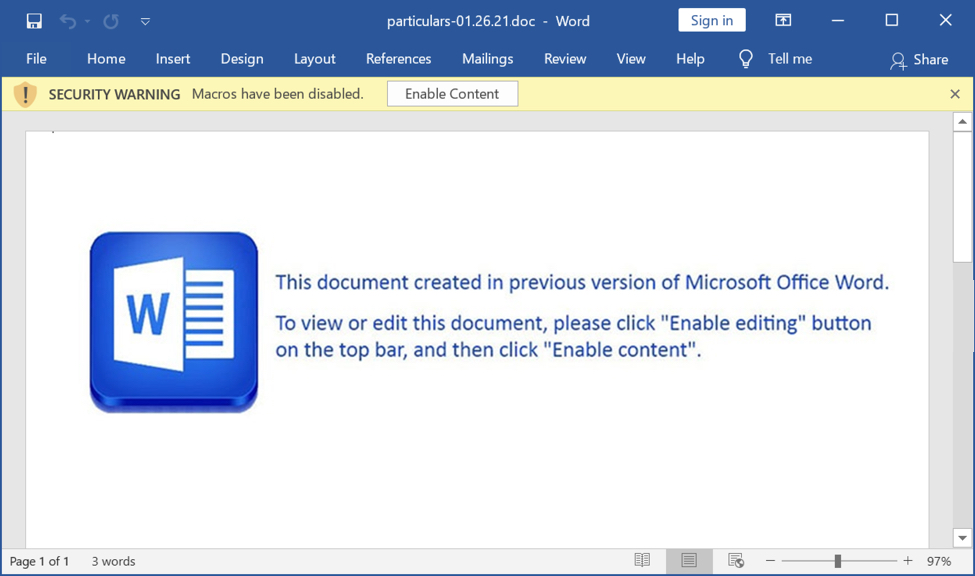 The Qakbot-infected hosts start spamming more Qakbot, with a different affiliate/campaign ID for Qakbot samples. Because of this and its previous history pushing different families of malware, TA551 (Shathak) is believed to be a distributor for other criminals in the cyber threat landscape. The other criminals push malware (like the criminals behind Qakbot), while TA551 is specifically a distribution network.
Impact
Credential Theft
Unauthorized Access
Theft of banking information
Unauthorized Code Execution
Information theft
Indicators of Compromise
Domain Name

MD5

9a21b20bf0f722b2cd46058cbfad5571
fef0ec6a4d70fd419911740a4774215c
e54aa6017f53064aa6c231615e98ff95
SHA-256

7d1bd0f1e6c73ead87681243ebfc1576158807ae4d3448d39b1ee35db265b753
231b081480a80b05d69ed1d2e18ada8a1fd85ba6ce3e69cc8f630ede5ce5400e
17cd3c11fba639c1fe987a79a1b998afe741636ac607254cc134eea02c63f658
SHA1

f359c45f331d5b159a1ae6ef80135f937bf32856
5b189240383dd7fb414dedca0c2768be573e53d4
1f3ad3e8ec787a4853cd18ea286d7fc671add9d2
URL

http[:]//5that6[.]com//assets/55ddb775/ce51025b12/9b75bbce/8a06fd47/6ac84e7424b0539286562b/xtuaq14?anz=125c5909&dlzwg=7aec167a5a2ab0&bu=a09f740
http[:]//5that6[.]com/
Remediation
Block the threat indicators at their respective controls.
Do not download files attached in untrusted emails.
Do not enable macros for files downloaded from untrusted sources.