Severity
Medium
Analysis Summary
The STOP/DJVU ransomware initially made headlines in 2018 and has since been attacking individuals all around the world. It's widespread on torrent sites and other platforms in software crack packages and adware bundles. DJVU Ransomware is a type of malicious software that encrypts the files on an infected computer and demands a ransom payment in exchange for the decryption key. The STOP/DJVU Ransomware family is one of the most prevalent ransomware threats and is known for its aggressive tactics and high-pressure ransom demands.
Malware is delivered via cracked applications, fake set-up apps keygens, activators, and Windows updates. It does not utilize local information like keyboard layouts or timezone settings to prevent infecting victims in certain countries; instead, it uses the information returned by a request to https[:]//api.2ip.ua/geo.json. The card's MAC address is utilized to provide unique identification for the system. This identity is provided to STOP's command and control server, which responded with an RSA-2048 public key for encryption. Additional malware, including an information stealer known as Vidar, is then downloaded and installed.
ransom note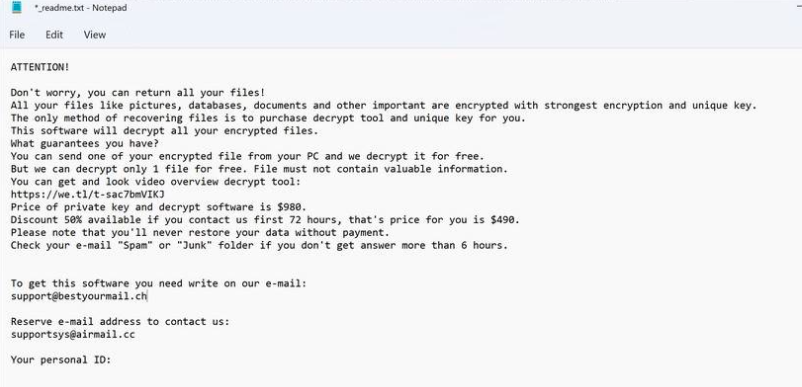 Impact
Information theft
Unauthorized Access
Indicators of Compromise
MD5
e171a6f67e6d2531ec27ac40ce49d49d
a9de6a2df4b11d3006fbfcfc961e2cdc
05682e60080a505040a6f4e7adf0d3f4
SHA-256
53305b35d4960f5de08205ef656f7432f8e58e5bc4cc736d8ca2f9af2282325b
4c9d370cf9769300e62391c4dfe4906d093e6419698e568457f9c65da0a6ef19
8d5d2fc3f0971d9ef5b8d02a8b2df4d9881b6a98a40cf3eb6705e7f2bf0e146b
SHA-1
222f0a903cefdbb3f3a91f2df68de4a183cba570
6d41d014029c3e8257c50492f819369076679fc8
cdd2637acad3d61196c0d6af84a2e8e657b19ab2
Remediation
Exercise caution when receiving messages from unknown senders.
Block all threat indicators at your respective controls.
Keep your software updated to the latest patches.
Search for IOCs in your environment.