Severity
High
Analysis Summary
The STOP/DJVU ransomware initially made headlines in 2018 and has since been attacking individuals all around the world. It's widespread on torrent sites and other platforms in software crack packages and adware bundles. DJVU Ransomware is a type of malicious software that encrypts the files on an infected computer and demands a ransom payment in exchange for the decryption key. The STOP/DJVU Ransomware family is one of the most prevalent ransomware threats and is known for its aggressive tactics and high-pressure ransom demands.
Malware is delivered via cracked applications, fake set-up apps keygens, activators, and Windows updates. It does not utilize local information like keyboard layouts or timezone settings to prevent infecting victims in certain countries; instead, it uses the information returned by a request to https[:]//api.2ip.ua/geo.json. The card's MAC address is utilized to provide unique identification for the system. This identity is provided to STOP's command and control server, which responded with an RSA-2048 public key for encryption. Additional malware, including an information stealer known as Vidar, is then downloaded and installed.
ransom note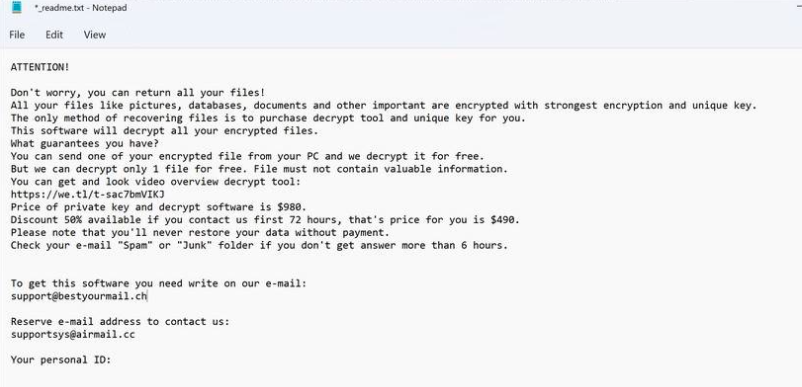 Impact
Information Theft
File Encryption
Indicators of Compromise
MD5
fd6cd3e02c2e22188c73b9bead00f707
da9f781614a5df1a7f76e2823a442d84
e2933c36f8000927571e2cbbb285e13a
SHA-256
31b84f8b02fdb94ca5473fc1b829f9b16c600cb960f6ca5eb2b920313dcf20d9
078223b567e70ff5c536f9d2beea54309962301fbd5273cdd2be8e8fe082e99f
2e3aa9ac4cb67feb0d75ea88a949dd2d7d89d8699e6791d2870cbfe5a59f9215
SHA-1
9183e0627161edfb1b862b6086228bf43b3483fa
603d59490e18dcb5b2b993ddec9bb4edea7fc55e
a5f191e1212d9fa082e89d0f1fc1a568f2d29504
Remediation
Block all threat indicators at your respective controls.
Search for Indicators of compromise (IOCs) in your environment utilizing your respective security controls
Maintain cyber hygiene by updating your anti-virus software and implementing a patch management lifecycle.
Maintain Offline Backups – In a ransomware attack, the adversary will often delete or encrypt backups if they have access to them. That's why it's important to keep offline (preferably off-site), encrypted backups of data and test them regularly.
Emails from unknown senders should always be treated with caution.
Never trust or open links and attachments received from unknown sources/senders.