Severity
High
Analysis Summary
The REvil (also known as Sodinokibi) is a Ransomware-as-a-Service (RaaS). The first attack of REvil was in middle of April 2019, and attracted huge attention span from the InfoSec world due to their uncanny similarities with GandCrab Ransomware. The group uses different distribution techniques of deploying ransomware such as exploit kits, scans and exploiting various vulnerable software (Oracle WebLogic), RDP servers, and backdoored software installers. Revil has made an estimated $100 million by infecting large business owners and they threaten to publish data if the ransom money is not paid by the victim.
The ransom note placed by REvil (Source: Elliptic)
Sodinokibi ransomware can encrypt data using curve25519/Salsa20 and keys using curve25519/AES-256-CTR. The user's private key is encrypted by the malware using two public keys. Additionally, this infection uses asymmetric key scheduling and command and control server obfuscation, which enable the malware to function without a connection to the C2.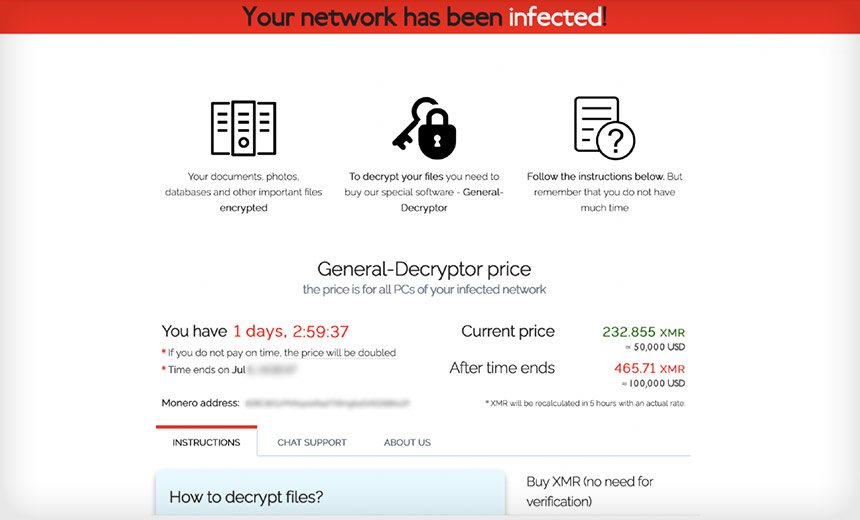 Impact
Indicators of Compromise
MD5
61c19e7ce627da9b5004371f867a47d3
SHA-256
bf7114f025fff7dbc6b7aff8e4edb0dd8a7b53c3766429a3c5f10142609968f9
SHA-1
4f3b4329871ec269043068a98e9cc929f603268d
Remediation
Block all threat indicators at your respective controls.
Search for Indicators of compromise (IOCs) in your environment utilizing your respective security controls.
Maintain cyber hygiene by updating your anti-virus software and implement patch management lifecycle.
Maintain Offline Backups – In a ransomware attack, the adversary will often delete or encrypt backups if they have access to them. That's why it's important to keep offline (preferably off-site), encrypted backups of data and test them regularly.
Emails from unknown senders should always be treated with caution.
Never trust or open " links and attachments received from unknown sources/senders.