Severity
High
Analysis Summary
Ryuk Ransomware is a ransomware family that was first found in the wild in August 2018. It is one of the most virulent ransomware strains on the market. Ryuk has been observed being used to attack companies or professional environments. This ransomware can lock your files or systems and hold them hostage for ransom. Ryuk targets high-profile enterprises in order to obtain essential information that will impair the victim's operations. The operators of Ryuk invest time in understanding the compromised network's infrastructure and valuable assets. They employ manual techniques to disable security measures, move laterally within the network, and identify and encrypt critical data. This customized approach enhances their chances of extorting a higher ransom amount. The ransom amounts associated with Ryuk attacks are often substantial, with reported payments ranging from hundreds of thousands to millions of dollars in cryptocurrency.
Ryuk is a form of ransomware used in targeted attacks, in which threat actors encrypt important data to demand big ransom payments. Emotet or TrickBot malware is widely used to spread Ryuk ransomware. Ryuk's code is comparable to that of the Hermes ransomware. The Ryuk ransomware is believed to be operated by the Russian cybercriminal group WIZARD SPIDER.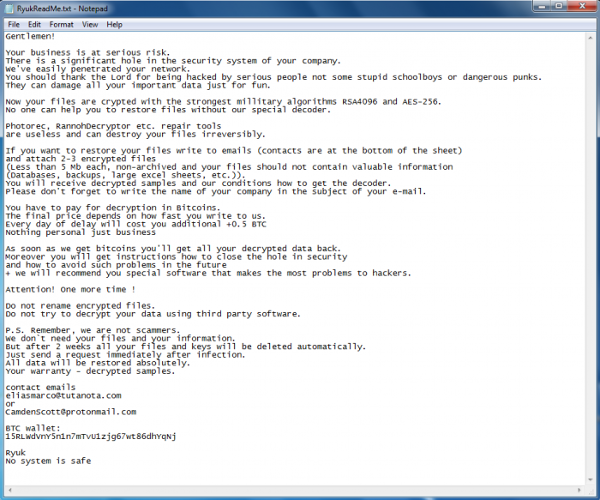 Impact
File Encryption
Privilege Escalation
Information Theft
Data Exfiltration
Network Compromise
Indicators of Compromise
Domain Name
MD5
52a2853357e1f5fffaccfe3807a10593
5661aec52fcc80ccd4c5d263e113c115
SHA-256
fe55650d8b1b78d5cdb4ad94c0d7ba7052351630be9e8c273cc135ad3fa81a75
6cbc05acf871c106f7804069fffef908472a31ea1a782add45a100d14c8f5ea0
SHA-1
6daaabe57e551e792179d2374059e3cab18fcd12
b09fb5cfbfbadd6afdd536aa89ccab405ef8c5b2
Remediation
Block all threat indicators at your respective controls.
Search for IOCs in your environment.
Maintain cyber hygiene by updating your anti-virus software and implementing a patch management lifecycle.
Maintain Offline Backups – In a ransomware attack, the adversary will often delete or encrypt backups if they have access to them. That's why it's important to keep offline (preferably off-site), encrypted backups of data and test them regularly.
Emails from unknown senders should always be treated with caution.
Never trust or open " links and attachments received from unknown sources/senders.