Severity
High
Analysis Summary
On the Fourth of July weekend, around 200 organizations all over the world were hit with a ransomware attack. Investigators are calling this the "largest ransomware attack in history." The REvil ransomware group exploited the Kaseya VSA tool used to perform client monitoring and patch management by MSPs. The gang initially compromised the VSA software, and then deployed their ransomware on the on-premise servers of enterprise networks.
This is an ongoing attack and more than 20 MSPs have been compromised as of yet. FBI is helping the company investigate this incident and organizations and vendors affected by the attack have also released advisories on patches and remediations for the attack. The initial ransomware demand was $44,999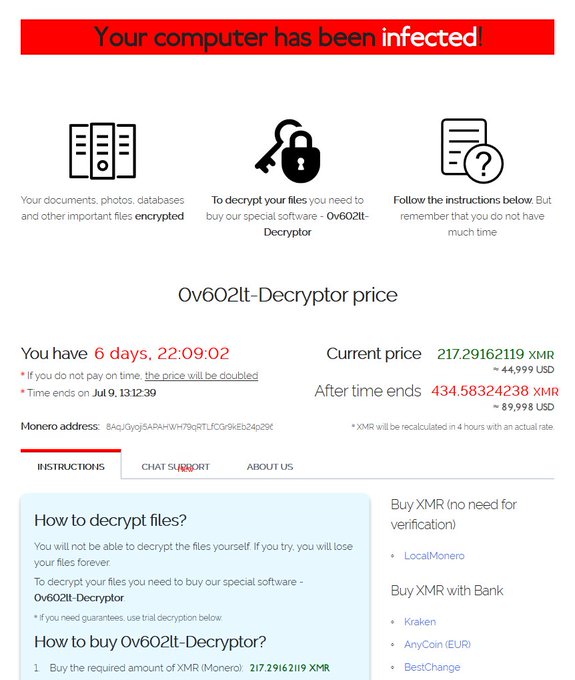 Impact
Credential Theft
File Encryption
Information Disclosure
Data Breach
Affected Vendors
Affected Products
Indicators of Compromise
Domain Name
ncuccr[.]org
1team[.]es
4net[.]guru
35-40konkatsu[.]net
123vrachi[.]ru
4youbeautysalon[.]com
12starhd[.]online
101gowrie[.]com
8449nohate[.]org
1kbk[.]com[.]ua
365questions[.]org
321play[.]com[.]hk
candyhouseusa[.]com
andersongilmour[.]co[.]uk
facettenreich27[.]de
blgr[.]be
fannmedias[.]com
southeasternacademyofprosthodontics[.]org
filmstreamingvfcomplet[.]be
smartypractice[.]com
tanzschule-kieber[.]de
iqbalscientific[.]com
pasvenska[.]se
cursosgratuitosnainternet[.]com
bierensgebakkramen[.]nl
c2e-poitiers[.]com
gonzalezfornes[.]es
tonelektro[.]nl
milestoneshows[.]com
blossombeyond50[.]com
thomasvicino[.]com
kaotikkustomz[.]com
mindpackstudios[.]com
faroairporttransfers[.]net
daklesa[.]de
bxdf[.]info
simoneblum[.]de
gmto[.]fr
cerebralforce[.]net
myhostcloud[.]com
fotoscondron[.]com
sw1m[.]ru
homng[.]net
MD5
561cffbaba71a6e8cc1cdceda990ead4
a47cf00aedf769d60d58bfe00c0b5421
SHA-256
d55f983c994caa160ec63a59f6b4250fe67fb3e8c43a388aec60a4a6978e9f1e
8dd620d9aeb35960bb766458c8890ede987c33d239cf730f93fe49d90ae759dd
SHA1
5162f14d75e96edb914d1756349d6e11583db0b0
656c4d285ea518d90c1b669b79af475db31e30b1
Remediation
Block all threat indicators at your respective controls.
This tool analyzes a system (either VSA server or managed endpoint) and discovers whether any (IoC) are
present. Download the Kaseya VSA Detection Tool.
Search for IOCs in your environment.