Severity
High
Analysis Summary
The REvil (also known as Sodinokibi) is a Ransomware-as-a-Service (RaaS). The first attack of REvil in middle of April 2019, and attracted huge attention span from the InfoSec world due to their uncanny similarities with GandCrab Ransomware. The group uses different distribution techniques of deploying ransomware such as exploit kits, scans and exploiting various vulnerable software (Oracle WebLogic), RDP servers, and backdoored software installers. Revil has made estimated over $100 million by infecting large business owners and they threaten to publish data if the ransom money is not paid by the victim.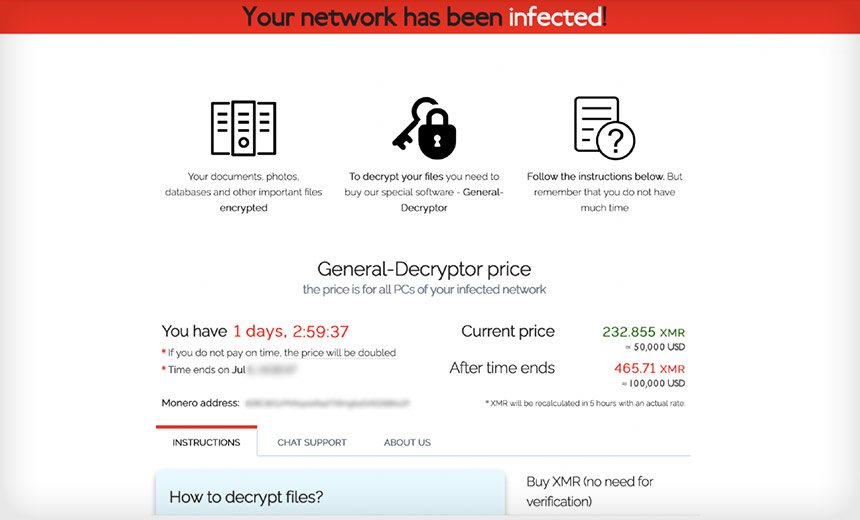 The ransom note placed by REvil (Source: Elliptic)
Impact
Indicators of Compromise
MD5
fb9d11c5ff87dd9071ab44f4c562ca3e
83ab76d298c6f5cac7a85858ef86f46a
SHA-256
ffae85401d87052ef22aaabf8e941c5f9096056e0b586f0b463cc6b0254463ea
d04c7efff113ea3b882beffee52c3a3e41ce6a204440e708f4a4aebe7fa321db
SHA-1
1e383b22a38c91373ba446a820d61883f282cb3e
1aba3c376ff4ffbfbc1c602e4a17315a1b69fdac
Remediation
Block all threat indicators at your respective controls.
Search for Indicator of compromise (IOCs) in your environment utilizing your respective security controls.
Maintain cyber hygiene by updating your anti-virus software and implement patch management lifecycle.
Maintain Offline Backups – In a ransomware attack, the adversary will often delete or encrypt backups if they have access to them. That's why it's important to keep offline (preferably off-site), encrypted backups of data and test them regularly.
Emails from unknown senders should always be treated with caution.
Never trust or open " links and attachments received from unknown sources/senders.