Severity
High
Analysis Summary
Researchers have detected a notable cyber threat involving the use of the open-source rootkit known as Reptile, which is being deployed in targeted attacks against systems within South Korea. Unlike typical rootkits, Reptile, designed for Linux systems, offers the unique feature of a reverse shell, enhancing its capabilities. The malware incorporates port knocking, wherein a specific port on an infected system is opened, waiting for a specially crafted Magic Packet from attackers to establish a Command and Control (C2) connection.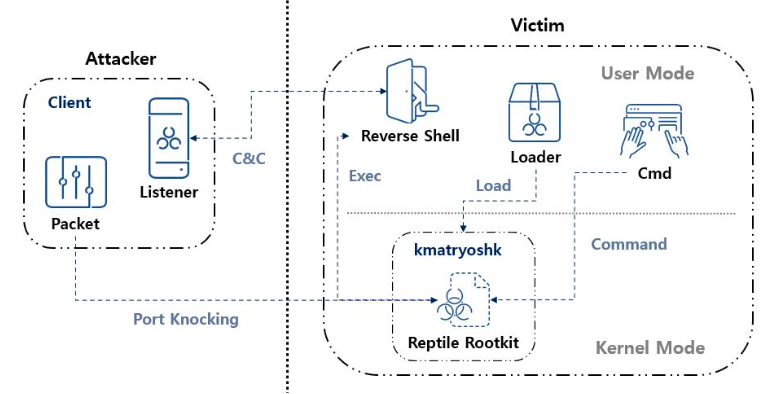 This campaign utilizing Reptile has been active since 2022, with multiple instances of attacks observed. A significant development was brought to light through Mandiant's report, which attributed a campaign employing Reptile and a zero-day vulnerability (CVE-2022-41328) in Fortinet products to a China-linked APT group. Another campaign exposed the use of the Mélofée malware in conjunction with Reptile, associating it with the China-linked cyberespionage group Winnti.
Reptile employs a kernel module loader, packed using the open-source tool "kmatryoshka," to decrypt and load its kernel module into memory. This module subsequently establishes a specific port, awaiting communications from attackers. The rootkit effectively uses KHOOK, an engine that hooks Linux kernel functions, and has been previously deployed in attacks against South Korean organizations.
In a specific attack instance, alongside Reptile, a malware strain named ISH was also identified. ISH utilizes the ICMP protocol to provide a shell to threat actors, deviating from conventional communication protocols like TCP or HTTP to potentially evade network detection. Researchers emphasize that Reptile's open-source nature makes it highly adaptable for various threat actors, who can modify and customize the rootkit for future attacks, possibly in tandem with other malware. This revelation underscores the evolving landscape of cyber threats and the importance of proactive security measures to counter their impact.
Impact
Data Breach and Exposure
Systems Takeover
Espionage and Surveillance
Indicators of Compromise
IP
146.4.21.94
109.248.150.13
108.61.186.55
MD5
1957e405e7326bd2c91d20da1599d18e
d1abb8c012cc8864dcc109b5a15003ac
f8247453077dd6c5c1471edd01733d7f
cb61b3624885deed6b2181b15db86f4d
c3c332627e68ce7673ca6f0d273b282e
246c5bec21c0a87657786d5d9b53fe38
bb2a0bac5451f8acb229d17c97891eaf
977bb7fa58e6dfe80f4bea1a04900276
5b788feef374bbac8a572adaf1da3d38
SHA-256
1425a4a89b938d5641ed438333708d1728cfed8c124451180d011f6bbb409976
d182239d408da23306ea6b0f5f129ef401565a4d7ab4fe33506f8ac0a08d37ba
133d3e070e30c94a591450b0930daf9f751debc0f4384fac6ace63f60a383818
17bbebd7d8982d580cc3dea35d988ae2bfd62d708b69662419c41682274e0a14
4305c04df40d3ac7966289cc0a81cedbdd4eee2f92324b26fe26f57f57265bca
99ffc0099277bef59a37a4cfcf4cdd71df13ad33d1c7bf943dc87f803e75dd2c
15e4e936b2f47eb3fa2455b7c22b2714bebe9f8c01b24bbf7cb5f9559999d292
7ce7b914bd434f8a45db1cb3ec783237a5485b7abcee4df06275ea274e095295
cbe9107185c8e42140dbd1294d8c20849134dd122cc64348f1bfcc90401379ec
SHA-1
0c6d838c408e88113a4580e733cdb1ca93807989
2ca4787d2cfffac722264a8bdae77abd7f4a2551
783736e9274bd2bb90390bb9c23a62c387cde3ef
a5f6162c6b6b6f0c177771a56a6b1eb5d7b593a0
3cc2d6bf5215de3c24fb194c232a0411cede78e0
7d9eaefeb0c95473ad86abbdcffdbdf6950b8dd2
ee295ec546158e425a3660a4a9402916087ccd97
467ea946ac857471e2f01bbdc4258a0ff31c01ce
76d6cb6b6e9b40b07944153b1f140e786e3ae381
Remediation
Block all threat indicators at your respective controls.
Search for Indicators of compromise (IOCs) in your environment utilizing your respective security controls
Emails from unknown senders should always be treated with caution. Never trust or open links and attachments received from unknown sources/senders.
Maintain cyber hygiene by updating your anti-virus software and implementing a patch management lifecycle.
Patch and upgrade any platforms and software timely and make it into a standard security policy. Prioritize patching known exploited vulnerabilities and zero-days.
Enable antivirus and anti-malware software and update signature definitions in a timely manner. Using multi-layered protection is necessary to secure vulnerable assets.
Implement the principle of least privilege by restricting user and application access to only the necessary resources. This limits the potential for attackers to move laterally within the network and minimizes the impact of a breach.
Segment the network to isolate critical systems and sensitive data from less critical assets.
Deploy firewalls and IDS solutions to monitor network traffic for suspicious or unauthorized activity. Configure rules to block unauthorized access and detect anomalous behavior.
Implement robust endpoint security solutions that include malware detection, intrusion prevention, and behavior-based analysis to detect and prevent the execution of malicious code.
Use email filtering and anti-phishing solutions to block malicious attachments and links that could serve as initial infection vectors.
Conduct regular security awareness training for employees to educate them about phishing tactics, social engineering, and safe computing practices. Encourage reporting of suspicious activities.
Implement MFA for accessing sensitive systems and data. This adds an extra layer of protection even if attackers manage to obtain user credentials.
Continuously monitor network traffic and endpoint activities for signs of suspicious behavior or unauthorized access. Set up alerts for unusual activities and investigate promptly.
Regularly back up critical data and systems. Ensure backups are isolated from the network to prevent attackers from targeting them.
Conduct regular security audits and assessments to identify vulnerabilities and weaknesses. Engage third-party security experts to perform penetration testing and vulnerability assessments.
Configure firewalls and network security appliances to block outbound connections to known malicious IP addresses and domains.
Implement a SIEM system to centralize and correlate security event logs, enabling faster detection and response to suspicious activities.