Severity
High
Analysis Summary
Fake emails have been detected pretending to come from "Reuters News Network", which is a well known news organization company, using the #COVID19 infection of Donald Trump as a lure to distribute QNodeService RAT. Message body of these phishing emails is in English as well as Arabic. The email claims to break a news from America, about Donald Trump's health, as the email subject suggests. It has an attachment which is supposed to be a video which in fact is a zip file. The malware has also been used in a Covid-19-themed phishing campaign earlier. Running the file attached in the email led to the download of a new, malware sample written in Node.js; this trojan is dubbed as "QNodeService".The malware has functionality that enables it to download/upload/execute files, steal credentials from Chrome/Firefox browsers, and perform file management, among other things. It targets Windows systems, but its design and certain pieces of code suggest cross-platform compatibility may be a future goal.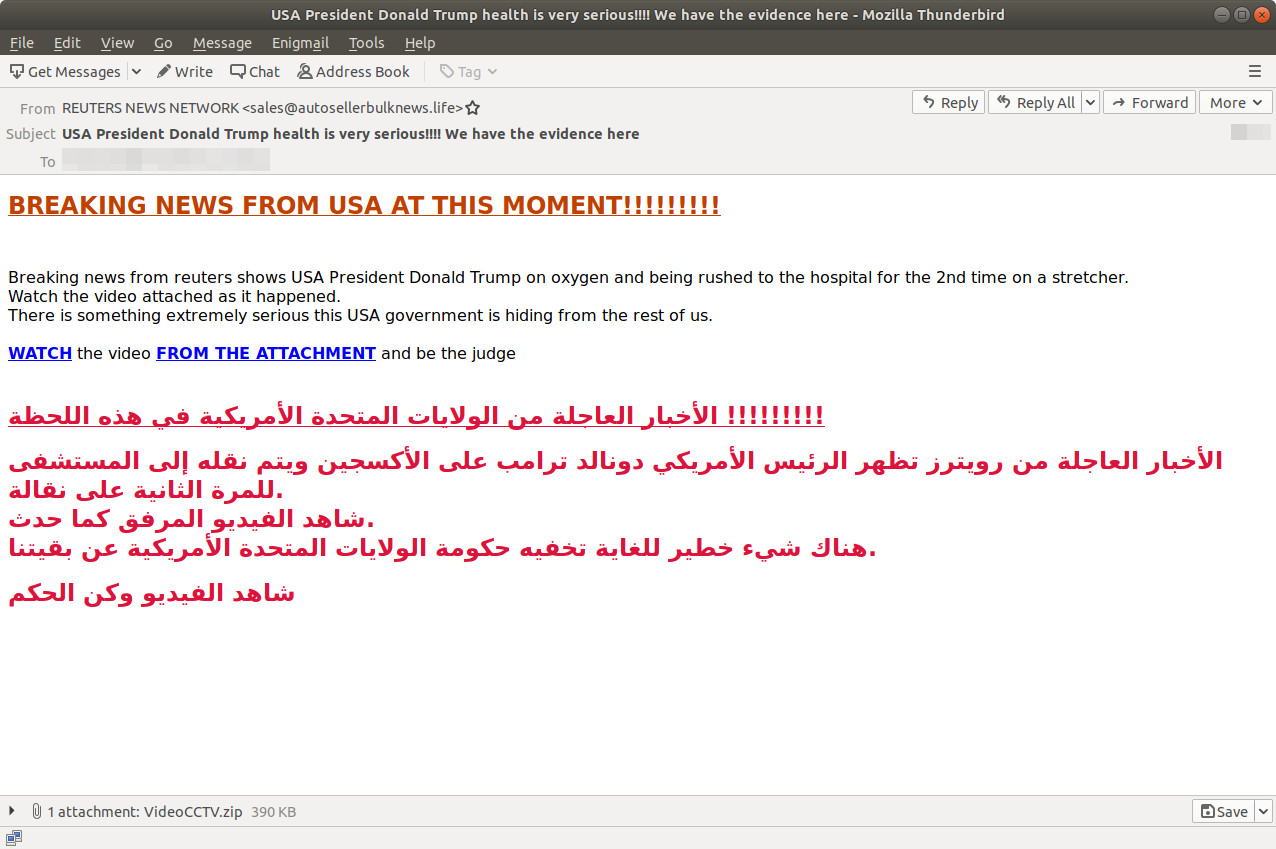 Impact
Credential Theft
Data Exfiltration
Code Execution
Unauthorized Remote Access
Indicators of Compromise
Domain Name

piolozxx[.]ddns[.]net

Email Subject

USA President Donald Trump health is very serious!!!! We have the evidence here

From Email

sales@autosellerbulknews[.]life

MD5

c4ceec1bf73783dcb2ee150b771e23a4
4589aa06add25d572381c35103b1df8c
7125eea628cb4e5c1fb434438a4078d5
SHA-256

bdc561ae53aa52900af298a57b5e2f920f9cdf74bccf674735dbab318499c2d0
5fb3a9eac63a469c8d640cea485939caaebeabe6b56586344941f3329bdea265
ccc9d33299c1e6c358f925183ec60168764b34b2f824fba218ba41c89b5efc85
SHA1

20a9f2f207bbb388076383a0ed2c5205ae299433
19a6edd5aa7cd9a1b75543cfade939601dd3a59b
42bdf99bde24425de761a6b4313e89cfc7cb8320
URL

http[:]//piolozxx[.]ddns[.]net/
Remediation
Block the threat indicators at their respective controls.
Do not download files attached in untrusted emails.