Severity
High
Analysis Summary
A new "Pxj" ransomware. Also known as the "XVFXGW" ransomware, it performs functions common to most ransomware. First, the Recycle Bin is emptied using the SHEmptyRecycleBinW function. Next, a series of commands are executed to prevent recovery of data after encryption, specifically the deletion of volume shadow copies and disabling of the Windows Error Recovery service. These are the commands executed by the ransomware.

After these tasks are complete, the encryption process begins. AES and RSA are used in combination for encryption. The name "Pxj" is derived from the extension that is appended to encrypted files. The alternative name, "XVFXGW," is based off of both the mutex that is created, "XVFXGW DOUBLE SET," and the email addresses listed in the ransom note, "xvfxgw3929@protonmail.com" and "xvfxgw213@decoymail.com". With encryption complete, the ransom note is dropped as a file named "LOOK.txt" and requests the user contact the operator via email to pay the ransom in exchange for the decryption key.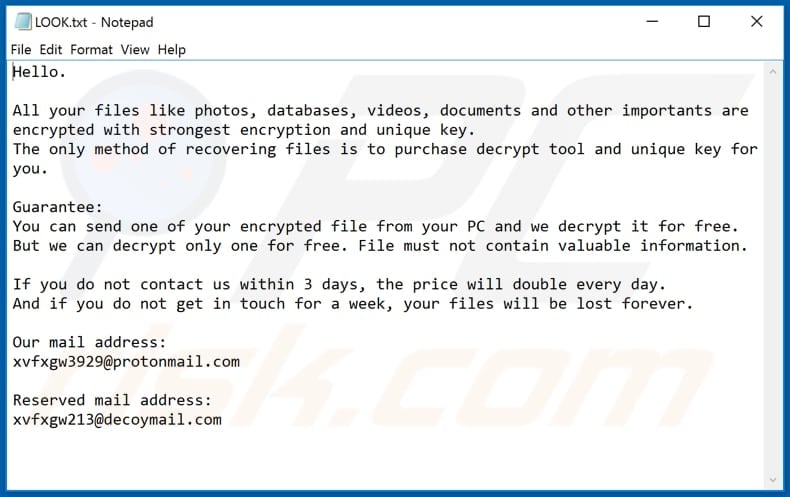 Impact
Files Encryption
Indicators of Compromise
Email
xvfxgw3929@protonmail[.]com
xvfxgw213@decoymail[.]com
SHA-256

9a4e4211f7e690ee4a520c491ef7766dcf1cc9859afa991e15538e92b435f3a1
58673f5c9344f510703ffda908c7e7830f36905015529ab629479c6bf44236e9
Remediation
Block all threat indicators at your respective controls.
Always be suspicious about emails sent by unknown senders.
Never click on the links/attachments sent by unknown senders.