Severity
Medium
Analysis Summary
A malicious executable, researchers identified a new German RAT, "Pekraut." The first sample was packed using ConfuserEx and, like a secondary unpacked sample they discovered, used Dotfuscator for obfuscation. The RAT is installed under a system process named, "svchost.exe ", and persistence is established using both the Winlogon Shell Registry key and a shortcut file in the startup folder masquerading as an Internet Explorer Update. The process to uninstall will clean up these artifacts by restoring the default Registry value and deleting the shortcut. Furthermore, the exact installation behavior, such as the filenames and installation path, can be adjusted using different flags. Once installed, the malware performs a UAC bypass using the ComputerDefaults.exe method. Communication with its C2 server is performed via a socket connection and leverages a port-forwarding service to hide the attacker's IP address. Text data is encrypted using AES encryption while other data types are compressed using zlib.
Pekraut is feature-rich and allows for 27 different commands to be accepted from the C2 server, including a help command that provides a description for the commands in German. Commands include those for file, process, and registry operations, gathering system information, performing reconnaissance, and more.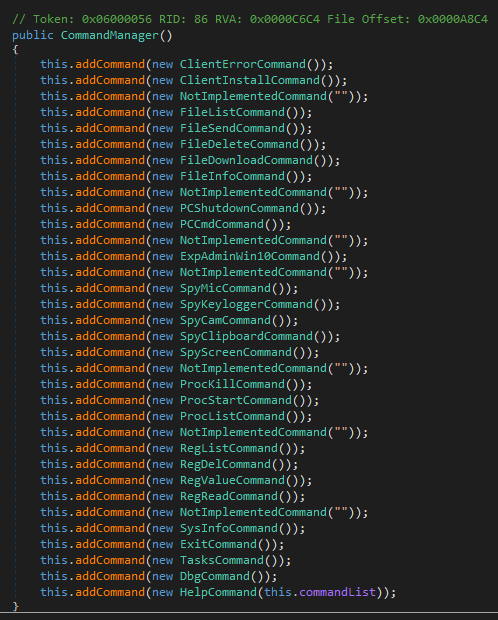 Impact
Information theft
Exposure of sensitive data
Indicators of Compromise
MD5
b990c53433916c4ab56257227e780ba3
d7745c4a7e90a9a1b22fc12d41f5e2e1
0f0dac17b360244a91f55d1cc0362c88
3c28c999d54ca33f75706a27219f0167
SHA-256
2dab95abe3460e34954527e88223662a03512938a9a28ab57e7f0a8ec298f367
4a89c3676dd86531c1fefb4e76d49cc31dc07a1a68c149dd08967e6fd7f6135a
9dfffcbfb6537dc051b60f630ed1cd3f768bb0024a8e998752ab9ef6f4c30c65
cbc500b76995d36c76d04061c58ceaf93a1880af32be494e5ac1e099663ed0fd
SHA1
a3557eac7cc20cd284ff1fed49e04ebb5b15c734
348c7262e61db4ff20b76dd835029bdb42efdad0
2f9b0396a0b8c8a84266893fd449192bba4d9de9
bab62dafe69a526c9cd9de314c835897441b2e1e
Remediation
Block all threat indicators at your respective controls.
Always be suspicious about emails sent by unknown senders.
Never click on the links/attachments sent by unknown senders.
Search for IOC's in your existing environment.