Severity
High
Analysis Summary
The Pandora ransomware has infected the Japan-based DENSO Corporation, one of the world's leading automotive parts manufacturers. DENSO stated that their corporate network in Germany was breached, and they acted fast to prevent the intruder from damaging additional systems. The corporation claims that operations were unaffected; however, Pandora has begun disclosing some of the 1.4 TB of files it claims to have stolen.
Pandora ransomware made headlines in March 2022 after targeting a number of high-profile victims on its leak site. This group encrypts system-stored data with RSA-2048 algorithms and demands a ransom to decrypt it. To demonstrate that file access has been restricted, cybercriminals assign the .pandora extension to affected samples. For example, a file entitled 1.pdf will be renamed 1.pdf.pandora and reset its original icon. A ransom note is provided in the file named "Restore_My_Files.txt" file.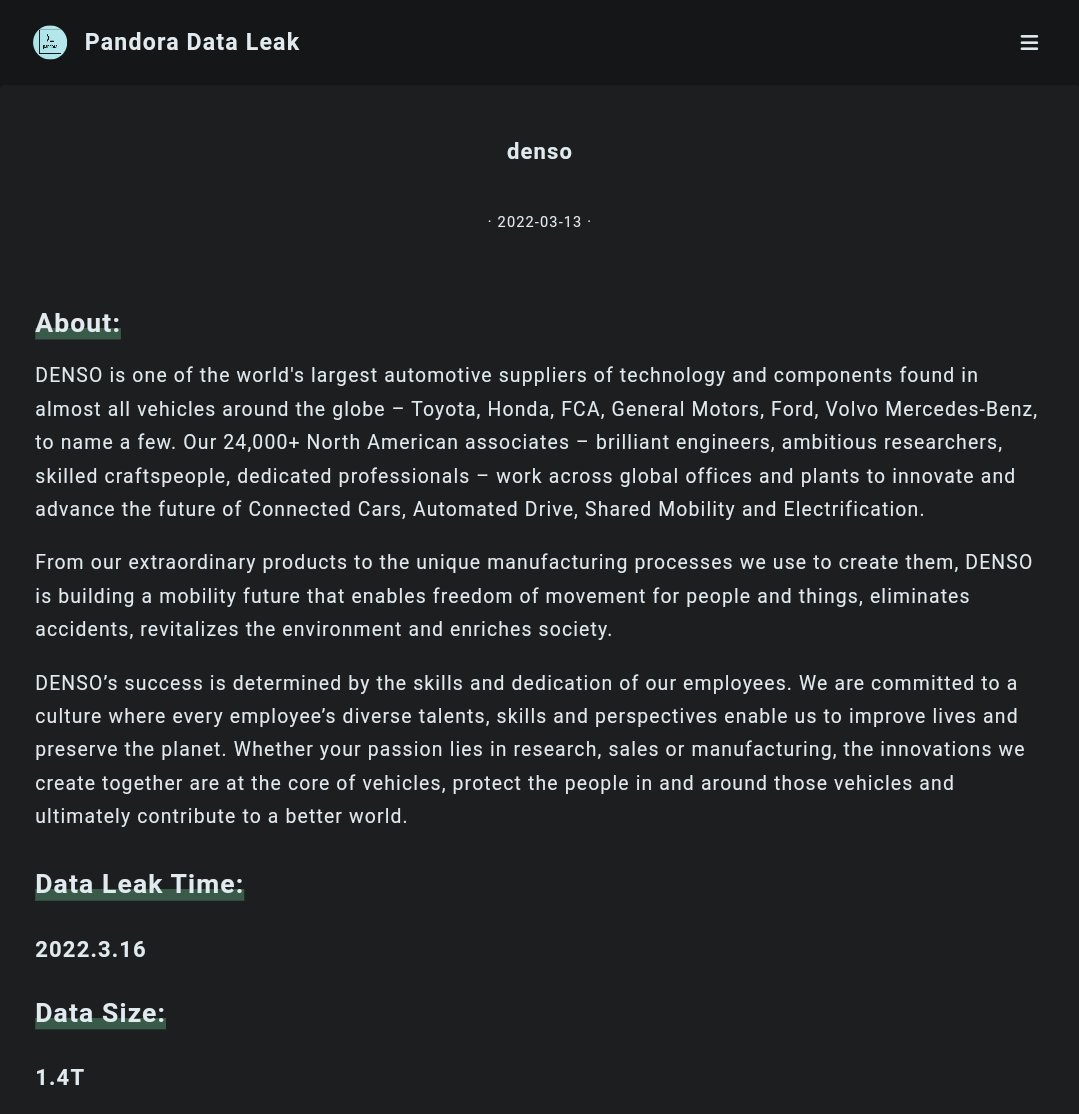 The ransomware note reads:
### What happened?
#### !!!Your files are encrypted!!!
*All your files are protected by strong encryption with RSA-2048.*
*There is no public decryption software.*
*We have successfully stolen your confidential document data, finances, emails, employee information, customers, research and development products…*
#### What is the price?
*The price depends on how fast you can write to us.*
*After payment, we will send you the decryption tool which will decrypt all your files.*
#### What should I do?
*There is only one way to get your files back –>>Contact us, pay and get decryption software.*
*If you decline payment, we will share your data files with the world.*
*You can browse your data breach here:
************
(you should download and install TOR browser first hxxps://torproject.org)
#### !!!Decryption Guaranteed!!!
*Free decryption As a guarantee, you can send us up to 3 free decrypted files before payment.*
#### !!!Contact us!!!
email:
contact@pandoraxyz.xyz
#### !!!Warning!!!
*Do not attempt to decrypt your data using third-party software, this may result in permanent data loss.*
*Decrypting your files with the help of a third party may result in a price increase (they charge us a fee), or you may fall victim to a scam.*
*Don't try to delete programs or run antivirus tools. It won't work.*
*Attempting to self-decrypt the file will result in the loss of your data.*
Impact
Unauthorized Access
Data Exfiltration
File Encryption
Indicators of Compromise
Filename
1vfrk1jrt[.]dll
7NM2J[.]txt
MD5
bec9b3480934ce3d30c25e1272f60d02
afdf739eb186e2ec8088b008797d1f6d
0c4a84b66832a08dccc42b478d9d5e1b
511501033ca23754113686ac70f629db
SHA-256
f87be226e26e873275bde549539f70210ffe5e3a129448ae807a319cbdcf7789
ebfdee6e5fe2aa5699280248a5e7b714ca18e5bfd284cac0ba4fb88ccbcec5b6
5b56c5d86347e164c6e571c86dbf5b1535eae6b979fede6ed66b01e79ea33b7b
2c940a35025dd3847f7c954a282f65e9c2312d2ada28686f9d1dc73d1c500224
SHA-1
104d9e31e34ba8517f701552594f1fc167550964
f611c2976ebb080214eddd905d30628230f2280d
160320b920a5ef22ac17b48146152ffbef60461f
26a02a149aca6a8a43e2dca5c75a6360cfe54c50
Remediation
Block all threat indicators at your respective controls.
Search for IOCs in your environment.