Severity
High
Analysis Summary
A new campaign now called "Operation Overtrap" is found infecting victims with its payload. Online Banking Users are being targeted Via Bottle Exploit Kit and Brand-New Cinobi Banking Trojan. The campaign mainly targets online users of various Japanese banks by stealing their banking credentials using a three-pronged attack. The campaign uses three different attack vectors to steal its victims' banking credentials:
• By sending spam emails with a phishing link to a fake banking website
• By sending spam emails asking victims to execute a disguised malware's executable downloaded from a linked phishing page.
• By using a custom exploit kit to deliver malware via malvertising
Below is the work flow of operation overtrap.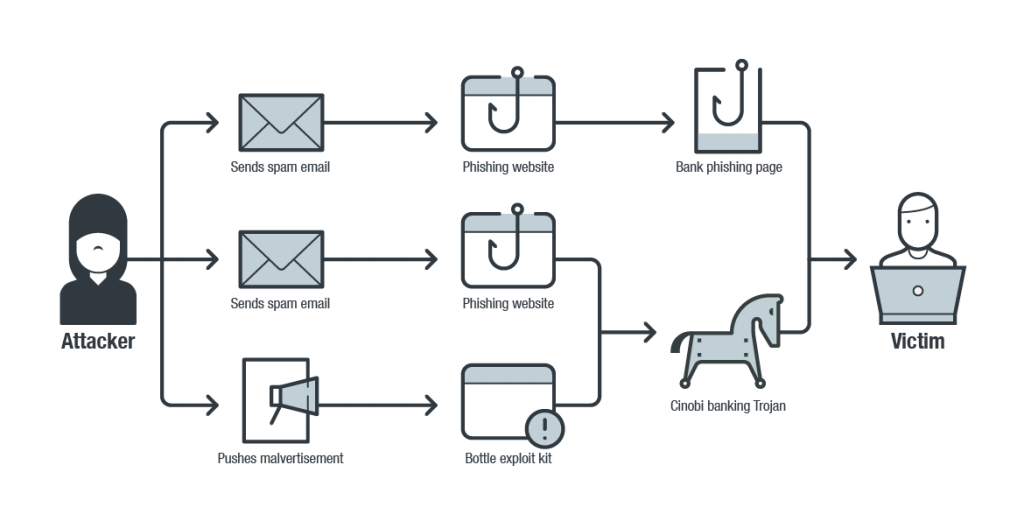 It exploits CVE-2018-15982, a Flash Player use after free vulnerability, as well as CVE-2018-8174, a VBScript remote code execution vulnerability. Victims will be infected with BottleEK's payload if they access this particular exploit kit's landing page with unpatched or outdated browsers.
Cinobi has two versions — the first one has a DLL library injection payload that compromises victims' web browsers to perform form-grabbing. This Cinobi version can also modify web traffic sent to and received from targeted websites. Our investigation found that all the websites that this campaign targeted were those of Japan-based banks. Aside from form-grabbing, it also has a webinject function that allows cybercriminals the ability to modify accessed webpages. The second version has all the capabilities of the first one plus the ability to communicate with a command-and-control (C&C) server over the Tor proxy.
Impact
Credential Theft
Information Theft
Manipulation of web pages
Indicators of Compromise
Domain Name

bank-japanpostjp[.]com
ts3cardd[.]com
safety-amazon[.]jp
jp-bank-japanossts[.]jp
jp-bamk[.]jp
security-amazon[.]jp
japanp0st[.]jp
bank-japanpost[.]com
bank-japanpostpo[.]jp
safetb-amazon[.]jp
bank-japanposst[.]jp
view[.]inteleksys[.]com
cionx[.]inteleksys[.]com
shop[.]inteleksys[.]com
priv[.]inteleksys[.]com
MD5

d938fa218caf1348b1a4851eb99ed6dd
14ee556ef1d4451857365cc0cf407ddf
0c206094d6e397c416c4a93773ce4645
ee98ef74c496447847f1876741596271
e65322b4add2e5183616ce283e99614f
6127fd0843ad7f5cc4488a52ef49bc11
76f099ad94acf28d3eb1341804855824
SHA-256

01bf58c650b6ba30733c14026fcff4ecfc24becdd05637a84ef2a7e86aff3fe0
7f505a1064ea09daba577aa553efbf3385c890ab5aac2ace6ef3e927f480fb87
96e91a1f656fb70339f8f4e383e7f967d25c1a414f436ddffc692518ace579ad
914eb64b93cbb631c710ef6cbd0f9cedf93415be421ccc6e285b288b87f3a246
c1b67a30119107365c4a311479794e07afb631980a649749501cb9f511fb0ab4
a9ea7e952ce38bf8bc14114325ca2a1bfed16f63798028565a669808b8b728dc
ed7b5c16cb5c4f56b3ded279688b693ec52389cacc0b81e940b0591b7f68aa84
URL

http[:]//sales[.]inteleksys[.]com/file/vbs[.]vbs
Remediation
Block the threat indicators at their respective controls.
Do not download email attachments from untrusted sources.
Do not click on URLs attached in untrusted emails.
Do not use outdated browsers.
Keep all systems and software patched against all known vulnerabilities.
Verify a website's legitimacy before entering credentials and banking information.