Severity
High
Analysis Summary
A recent espionage campaign in North Africa has raised concerns as a new custom backdoor called "Stealth Soldier" has been deployed. The campaign involves highly-targeted attacks and is characterized by the use of command-and-control (C&C) servers that mimic websites belonging to the Libyan Ministry of Foreign Affairs. According to a technical report by cybersecurity company, the earliest artifacts associated with the campaign date back to October 2022.
The Stealth Soldier malware is described as an undocumented backdoor that primarily focuses on surveillance functions. It is capable of performing various malicious activities, including file exfiltration, screen and microphone recording, keystroke logging, and stealing browser information. Researchers warn that the malware is modular in nature, indicating that it is designed for flexibility and can potentially evolve with new capabilities in the future. The researchers have discovered three versions of the Stealth Soldier backdoor, suggesting active maintenance by the threat actors.
The attack starts with potential targets downloading fake downloader binaries through social engineering techniques. These binaries serve as a conduit for retrieving the Stealth Soldier backdoor onto the victim's system. Simultaneously, a decoy empty PDF file is displayed to deceive the user. Once installed, the malware enables the attackers to gather directory listings, capture keystrokes, take screenshots, upload files, and execute PowerShell commands. Researchers note that some components of the malware, such as the screen capture and browser credential stealer plugins, appear to have been inspired by open-source projects available on GitHub.
Interestingly, there are overlaps between the infrastructure used in the Stealth Soldier campaign and another phishing campaign known as "Eye on the Nile." Eye on the Nile targeted Egyptian journalists and human rights activists in 2019. This connection suggests a potential re-emergence of the same threat actor, indicating a continued focus on surveillance against Egyptian and Libyan targets.
It was predicted that the attackers behind Stealth Soldier are likely to evolve their tactics and techniques, deploying new versions of the malware in the near future. Given the sophistication and modularity of the malware, it is crucial for organizations and individuals in the affected regions to remain vigilant, apply security patches, and follow best practices to mitigate the risk of falling victim to these targeted attacks.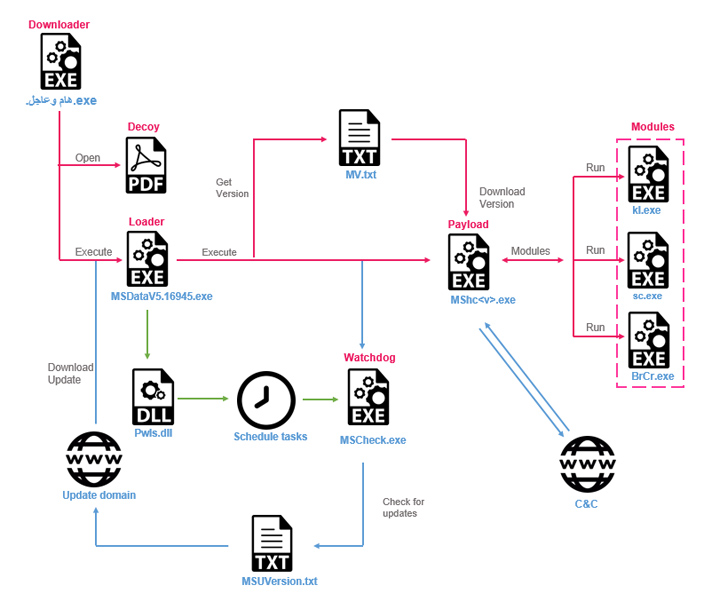 Impact
Unauthorized access
Information theft
Exposure of sensitive data
Indicators of Compromise
Domain Name
filestoragehub.live
customjvupdate.live
filecloud.store
webmailogemail.com
IP
94.156.33.228
94.156.33.229
MD5
1ea8a827ad4c565b1c2ae43b0a020092
0db6239ad0755392c31a09e58773cd3b
a418886a31852be25064d3573f2bc87d
b9c7e04b892f21984b4f8e318e07caa7
7d0fdc7b1cc7fdb95019d3d76ad56ed2
027e013d26197ccd4c0a38c0b8704f75
f325716b2a4c3414ea7e5b95728753c8
e713e4d65877a8b549a51203832183ec
f722013acb21448189cbae852e4a287e
1791cc958b2d00a884167d8e4c41fe75
c9152cb6d094d7a8739c56c91a437fe2
SHA-256
2cad816abfe4d816cf5ecd81fb23773b6cfa1e85b466d5e5a48112862ceb3efb
05db5e180281338a95e43a211f9791bd53235fca1d07c00eda0be7fdc3f6a9bc
b9e9b93e99d1a8fe172d70419181a74376af8188dcb03249037d4daea27f110e
d57fc4e8c14da6404bdcb4e0e6ac79104386ffbd469351c2a720a53a52a677db
e7794facf887a20e08ed9855ac963573549809d373dfe4a287d1dae03bffc59f
8c09a804f408f7f9edd021d078260a47cf513c3ce339c75ebf42be6e9af24946
df6a44551c7117bc2bed2158829f2d0472358503e15d58d21b0b43c4c65ff0b4
e546d48065ff8d7e9fef1d184f48c1fd5e90eb0333c165f217b0fb574416354f
c0b75fd1118dbb86492a3fc845b0739d900fbbd8e6c979b903267d422878dbc6
cb90a9e5d8b8eb2f81ecdbc6e11fba27a3dde0d5ac3d711b43a3370e24b8c90a
d6655e106c5d85ffdce0404b764d81b51de54447b3bb6352c5a0038d2ce19885
SHA-1
9c80d85e90175ec3bf419a902f2bdb8420628516
5c55009e452039f73fddd503648caf6bd82eb451
a32c247d543ed54f5a4a881882fef8e14840234c
9d98fc4aed2a1fc1810b9a432465e32c612f5fa0
b584cde1421bf311f274eb20cbf1161efc37f2ca
3241787f7fff3d2580ca99ae4ccbdcd92ed58100
cfd4f53f986afad33d702e39691a2a90140bb8a3
ddf129abed288f4f7aee17e8df1238d6c146d92f
54865875d13d78843b9670d0808b56089f1f8b1c
ca336d78c77e74e9fc89abe5351ad5c0614c281a
1ffc141241ee5644d1e3b7a37dcafa89d5ddabb0
Remediation
Block all threat indicators at your respective controls.
Search for Indicators of compromise (IOCs) in your environment utilizing your respective security controls
Emails from unknown senders should always be treated with caution.
Never trust or open links and attachments received from unknown sources/senders
Maintain cyber hygiene by updating your anti-virus software and implementing a patch management lifecycle.
Patch and upgrade any platforms and software timely and make it into a standard security policy. Prioritize patching known exploited vulnerabilities and zero-days.
Change your passwords: If you suspect that your passwords may have been compromised, it is important to change them immediately. Use strong, unique passwords for each account and enable two-factor authentication wherever possible.
Disable any suspicious processes: Use the Windows Task Manager to check for any suspicious processes running on your system and disable them. Look for any processes that are using a lot of CPU or memory resources or that you don't recognize.
Stay vigilant: Keep an eye out for any suspicious activity on your system and avoid downloading or opening any suspicious files or links.