Severity
High
Analysis Summary
Cybersecurity researchers discovered a Python variant of a malware called NodeStealer, which has been actively targeting Facebook business accounts and cryptocurrency wallets in a phishing campaign since December 2022. The NodeStealer malware is designed to steal browser cookies, allowing it to hijack accounts on various platforms, including Facebook, Gmail, and Outlook.
"NodeStealer poses great risk for both individuals and organizations. Besides the direct impact on Facebook business accounts, which is mainly financial, the malware also steals credentials from browsers, which can be used for further attacks."
The malware was first identified in late January 2023, specifically targeting browsers on Windows systems, but it can also affect popular web browsers such as Google Chrome, Microsoft Edge, Brave, and Opera. The variant disclosed by Meta (Facebook's parent company) in May was a custom JavaScript malware bundled with the Node.js environment, enabling it to execute on different operating systems, including Windows, Linux, and macOS. It is believed to originate from Vietnam, distributed by threat actors from the same region.
The phishing campaign employed by the threat actors involved sending messages that contained download links to a .zip archive hosted on well-known cloud file storage providers like Google Drive. This .zip file contained the malicious NodeStealer executable.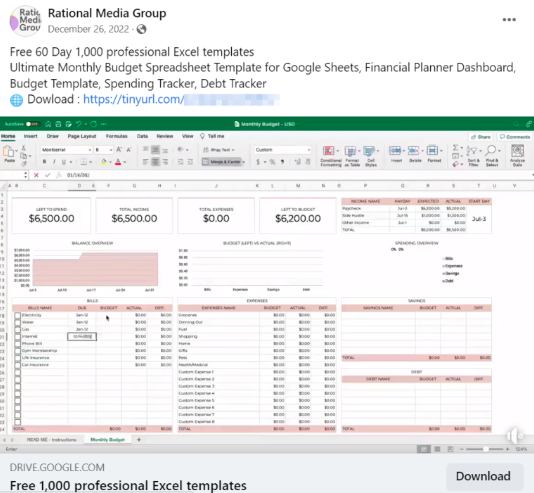 Two variants of the Python-based NodeStealer were identified. The first variant could steal Facebook business account information, download additional malware, disable Windows Defender via GUI, and steal funds from the MetaMask cryptocurrency wallet by using stolen credentials from various web browsers.
The second variant had additional features, such as parsing emails from Microsoft Outlook, exfiltrating data via Telegram, taking full control of the Facebook account, and possessing anti-analysis capabilities. These enhancements were likely aimed at increasing potential profits for the threat actors.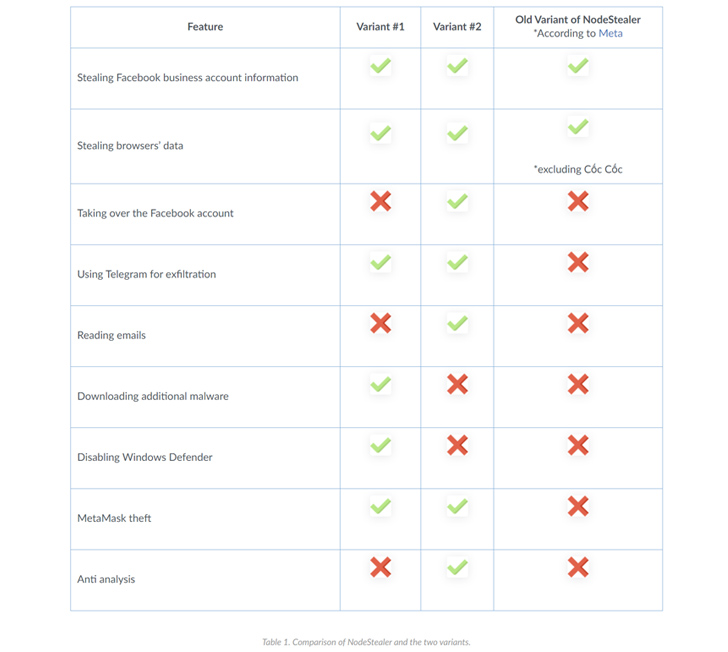 comparison of NodeStealer with its two variants
Upon execution, the NodeStealer malware checked if a Facebook business account was logged in on the infected machine and, if found, connected to the Graph API with stolen user ID and access tokens to extract information about the target, including followers count, verification status, account credit balance, prepaid status, and ads information.
NodeStealer is part of a rising trend among Vietnamese threat actors, similar to malware such as Ducktail. These actors are increasingly targeting Facebook business accounts for advertising fraud and spreading malware to other users on the social media platform.
The report emphasizes that NodeStealer poses a significant threat to both individuals and organizations, as it can steal credentials from web browsers, enabling further attacks. The potential damage could extend to financial loss and reputation damage for the targeted entities.
The continuous development and sophistication of NodeStealer variants underscore the importance of remaining vigilant against such cyber threats.
"Facebook business account owners are encouraged to use strong passwords and enable multi factor authentication. Take the time to provide education for your organization on phishing tactics, especially modern, targeted approaches that play off current events, business needs and other appealing topics", they conclude
Impact
Sensitive Information Theft
Accounts Takeover
Financial Loss
Exposure of Sensitive Data
Indicators of Compromise
MD5
623042b57f5510b5f300e5bec46c51e2
37fcb644dd588a5683249e7db7d03b40
f389693ff4e9863b712e80314bf4a6a8
a24a56622341bb722a0cffec3effd85b
ed0fe734a63699d3fbf42f6251e4697a
2d62aa427512ed47755fdf5749fe90a5
f160da34e4b707870c9e82007f062bf5
6c4360a9e1b23995675a8599d70aa443
c704c8a5400f353e4f232211ddedb0a3
8d41f5eaac4acca0d1d675b28da1df58
490693860a69fb031bea7b20749adf15
f96842ca672f1672187963ca93adb898
319bc0b98430d630a64a36a29e7cece9
SHA-256
3fff146c3e50a7ddc7e446ae51742c59c3d3277931f3c511d9651497e4ab14a7
f61403729e3f4e212411db486a537eabca2d0b84be21b789cddca4fc3aa85923
a8adea800186dd52173dc6e55c46aa0b3619bef3eee25b17b7edba9353d5d08e
a6509563be7a8569e05198858658b8934d7bc5ad3d41e9806e261995c99a6acf
6d12c657ee403272cb3115fd0a6cf1ffe69cd4476c5a03bbc13c624ddd153518
e856cc78ce1603547bb6fdb3eb9da137f671e9547c072abea63b0248ec82ecb1
1998492619c1fc6a5b78d5c4c6beb05c582a1be6ad2b9ac734179c731bbcf5cc
44dabadbf099bdb28fdc4d86cebe53c00085c9c2ad52df4d4774320409e7358b
fa5b9b72f248e1f79b3a424b61a1bcce8bf6a99452545cfe15d7211f3eb3e93b
001f9d34e694a3d6e301a4e660f2d96bc5d6aa6898f34d441886c6f9160d9e48
9a551426cbb2cd7aded923f277eec195a282913d51c41f1791683e03a85379e0
a8608b8537338659943802bd4c3f37465b6b7146c60088e890f1201452690510
f08394c78f40c3028156c78672d1a8030c64a9f292b1fbb4bd42437381c96a54
SHA-1
e86f3204cf919db10e6fa1609fb535e440d23bb5
95b5957f1afc5ad1ecb186e9591ff4ded7c74be1
f1eb1e9c049a46c8d96bb44de7ecf80edfa64d04
1073eb6d1bfac659139ae131756d7e526bdc830c
a6d0ebb31bf23b00696232a90ab3853aefb380f3
b7476393290121318b95cc35783c6e3cc183e170
6deb330eca4573c8f260065c6ea61adfb2b40012
ed491981e88c7b349e056f6fc8d0c6d6709ad96d
8dd99a08c5991ebe8511fc3543df98c5a11e676a
fae9ae27839a58084fc4b2d528631e0446afc73e
b1c9b1f39c2af12b9eee533f04f12c5d4816e65e
da5bc554e66905c9c63d1dbd8b5f97854239227b
981896f72353def9cf649f7075338b68b85d15d2
URL
https://tinyurl.com/batkyc
http://adgowin66.site/ratkyc/4/bat.zip
http://adgowin66.site/ratkyc/4/ratkyc.zip
Remediation
Block all threat indicators at your respective controls.
Search for Indicators of compromise (IOCs) in your environment utilizing your respective security controls
Never trust or open links and attachments received from unknown sources/senders.
Enable MFA for all accounts, including Facebook business accounts and cryptocurrency wallets.
Keep all software, including operating systems, browsers, and security tools, up to date with the latest patches and updates. Vulnerabilities in outdated software can be exploited by malware like NodeStealer.
Enforce a strong password policy for all accounts and systems. Encourage users to create complex passwords that include a mix of uppercase and lowercase letters, numbers, and special characters.
Employ intrusion detection and prevention systems to monitor network traffic for any suspicious activities or attempts at unauthorized access. Regularly analyze logs and traffic patterns for signs of compromise.
Use email security solutions to block phishing emails and malicious attachments.
Utilize advanced endpoint protection solutions that can detect and block the execution of malicious files, including NodeStealer and other variants.
Regularly back up critical data and store it securely offline or on a separate network.
Train employees on recognizing social engineering techniques used in phishing campaigns. Encourage them to report any suspicious activities immediately.