Severity
High
Analysis Summary
A new infection chain and obfuscation techniques used by njRAT in recent campaigns. The first method discussed is packaging the payload inside installers for legitimate software. Although the legitimate software is installed on the system, to avoid raising the suspicions of the victim, an infection chain is also kicked off. First a VBS file is dropped that maintains persistence via the Startup folder. This script is responsible for the execution of a series of PowerShell scripts that ultimately download and run the njRAT payload from a legitimate cloud hosting service, such as OneDrive. In another case, PowerShell scripts, masquerading as image files, are downloaded with the final payload being loaded via process injection. These newer samples of njRAT include additional obfuscation, such as the use of ConfuserEx, and anti-analysis techniques, such as detecting VM and debugging software. Once installed on the system, njRAT provides the attacker with the ability to obtain system information and process commands received from its C2 server.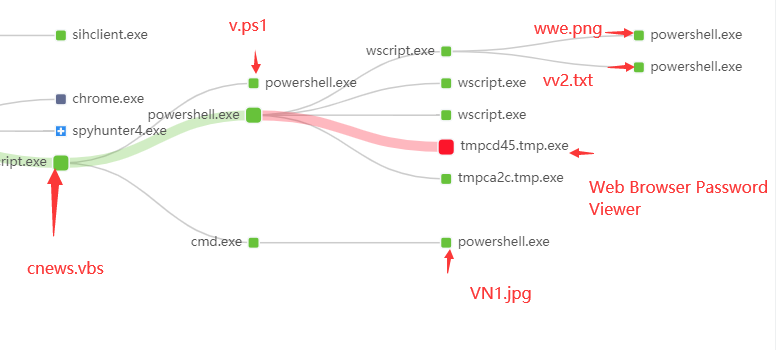 Impact
Information disclosure
Exposure of sensitive data
Indicators of Compromise
MD5

df291350b793205204e2e305af9eb1fb
4563f44a47220396760ffec3aabceead
2094f262e378273f08f836699953605f
d7668d89577fec1912418da082c4c5c3
13180caea7565ed8cde3e2b3a6c59313
f9747a5cdd3f329572e5945a80fe11e7
e1eda3e6f6b204d486b6a97026c9feae
041e3fe888230e1dda9949a8a741054e
57445041f7a1e57da92e858fc3efeabe
URL

hxxps[:]//2u[.]pw/3aX42
https[:]//2u[.]pw/zIH2Z
hxxps[:]//2u[.]pw/RxSsS
hxxps[:]//dl[.]dropboxusercontent[.]com/s/m6q5dhmjpfxes94/ps2[.]txt
hxxps[:]//dl[.]dropboxusercontent[.]com/s/lpoe7mktxd3zi1r/ps1[.]txt
hxxps[:]//onedrive[.]live[.]com/download?cid=673EE675C72FC07C&resid=673EE675C72FC07C%21132&authkey=AIMSMV6FkJfJyCI
hxxps[:]//onedrive[.]live[.]com/download?cid=F8F1505E1B355606&resid=F8F1505E1B355606!1388&authkey=AM1NXoCYykwqLFA
hxxps[:]//onedrive[.]live[.]com/Download?cid=1999A3757EF7BB87&resid=1999A3757EF7BB87%21126&authkey=ANPgrMDyhVNehZI
hxxp[:]//www[.]asmreekasounds[.]com/upfiles/up_down/1fe352263637133298954dbac2a7821a[.]mp3
Remediation
Block all threat indicators at your respective controls.