Severity
High
Analysis Summary
Active distribution campaigns are running for the newly created DeathRansom ransomware. Initially, the ransomware failed to properly encrypt victims' files, but now it's successfully encrypting files on target systems with a constant surge in its distribution.
When DeathRansom is launched it will attempt to clear shadow volume copies. It will then encrypt all files on the victim's computer other than those found whose full pathnames contain the following strings:
programdata
$recycle.bin
program files
windows
all users
appdata
read_me.txt
autoexec.bat
desktop.ini
autorun.inf
ntuser.dat
iconcache.db
bootsect.bak
boot.ini
ntuser.dat.log
thumbs.db

This functional variant does not append an extension to the name of encrypted files. The only way to identify that the file is encrypted by DeathRansom is by the ABEFCDAB file marker appended to the end of encrypted files.

In every folder that a file is encrypted, the ransomware will create a ransom note named read_me.txt that contains a unique "LOCK-ID" for the victim and an email address to contact the ransomware developer or affiliate.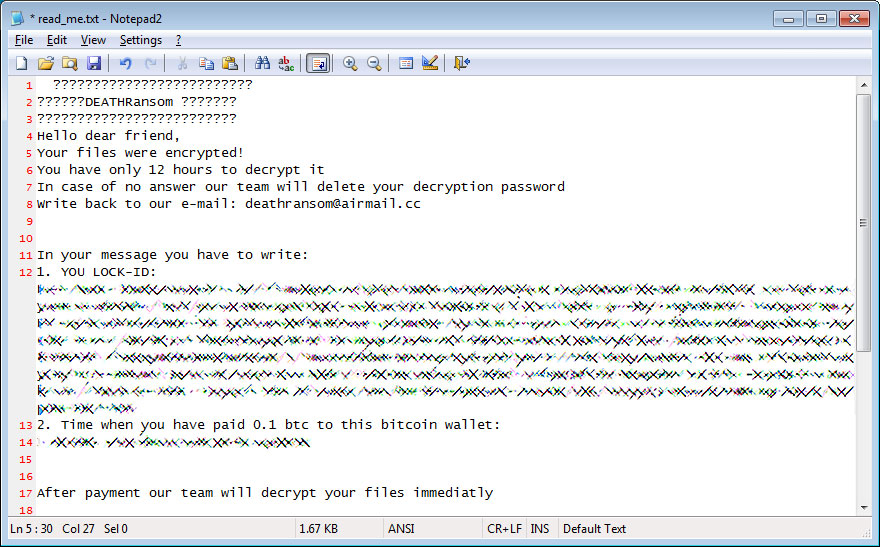 One strange thing that was noticed is that numerous victims who have been infected by DeathRansom were also infected by the STOP Ransomware. As STOP is only distributed through adware bundles and cracks, it is possible the DeathRansom may be distributed in a similar manner. 
Impact
Files Encryption
Loss of data
Indicators of Compromise
MD5

d9fef3c67805829cd94b1a35b4ec6ae1
b6491dcadee919a26e508b3341d0f940
a35596ed0bfb34de4e512a3225f8300a
886ee5834ae019a5c8bce4326b88cfb7
38f52fac57482d77b960faff79f44474
c50ab1df254c185506ab892dc5c8e24b
9a65f7be424658a64f8c1112d4d75d7a
8ea78e5a123c13c3bda144d0fcf430c0
f9363e88fde74b43bd7da4528369d7e5
4ba2e1d4cf7a86753f9f8174b3bc74c8
SHA-256

87d745aa921f201bccb4dd6a6f5af9f0d9c9312114f46779c8980b6f8193f099
da47aa3b75c85091c708366a8d8534789887b6cc42f42794b0652e280d56a405
7c2dbad516d18d2c1c21ecc5792bc232f7b34dadc1bc19e967190d79174131d1
fedb4c3b0e080fb86796189ccc77f99b04adb105d322bddd3abfca2d5c5d43c8
0cf124b2afc3010b72abdc2ad8d4114ff1423cce74776634db4ef6aaa08af915
ab828f0e0555f88e3005387cb523f221a1933bbd7db4f05902a1e5cc289e7ba4
5ac169ed286f20cbb4a18a078f0a090b5771a5155120ffca8bd7f875b38ae8a6
13d263fb19d866bb929f45677a9dcbb683df5e1fa2e1b856fde905629366c5e1
2b9c53b965c3621f1fa20e0ee9854115747047d136529b41872a10a511603df8
66ee3840a9722d3912b73e477d1a11fd0e5468769ba17e5e71873fd519e76def
SHA1

80f7907a532c3ca733e4677a1f33f526b216c7c9
cdf613eb63e007ecb046d5456957016666c3a0e8
d25e71e5c9dca131b372d9ec7fe9a2eb6adf8221
65b5f8cc7b0b6315fe934578f9cad4faf7da41f2
81ab3744cefe56a7f4fb3ac49700064fa3f9e183
aeb09e894736cbb41e934f83cca0247fe89d8a19
6ed53078e815301ac7b0c20cdf6c8036f7b393db
742128fab2ad05f8f52a4c6f43b39a25fcc161a6
c28603e1f40933f655f400348018d58b5e709b54
e61fbe95e09a3ce51b9b2fb836d1018eeef2905a
Remediation
Block the threat indicators at their respective controls.
Strictly avoid clicking on random ads found on the internet.
Do not follow links given in untrusted emails and do not download untrusted email attachments.