Severity
Medium
Analysis Summary
Trojan.Killdisk is a new disk-wiping malware recently discovered by security researchers. The wiper attacks are targeted towards Ukraine in support of the Russian invasion, and these signatures can also be seen in attacks in Lithuania. Targeted sectors are aviation, defense, IT services, and financial sector.
HermeticWiper (Trojan.Killdisk) is interestingly digitally signed by a certificate issued to Hermetica Digital Ltd (the origin of the name).
It contains 32-bit and 64-bit driver files which are compressed by the Lempel-Ziv algorithm stored in their resource section. The driver files are signed by a certificate issued to EaseUS Partition Master. The malware will drop the corresponding file according to the operating system (OS) version of the infected system. Driver file names are generated using the Process ID of the wiper. – Security Researchers
Upon execution, HermeticWiper will damage the MBR (Master Boot Record) of the victim's system, which will render it inoperable. Organizations compromised using this wiper date back to November of 2021. A Microsoft SQL Server vulnerability was also used to attack organizations in Ukraine and along with the wiper, ransomware was also deployed against affected organizations.
CVE-2021-1636
Microsoft SQL Server could allow a remote authenticated attacker to gain elevated privileges on the system. An authenticated attacker could exploit this vulnerability to gain higher privilege access to the server.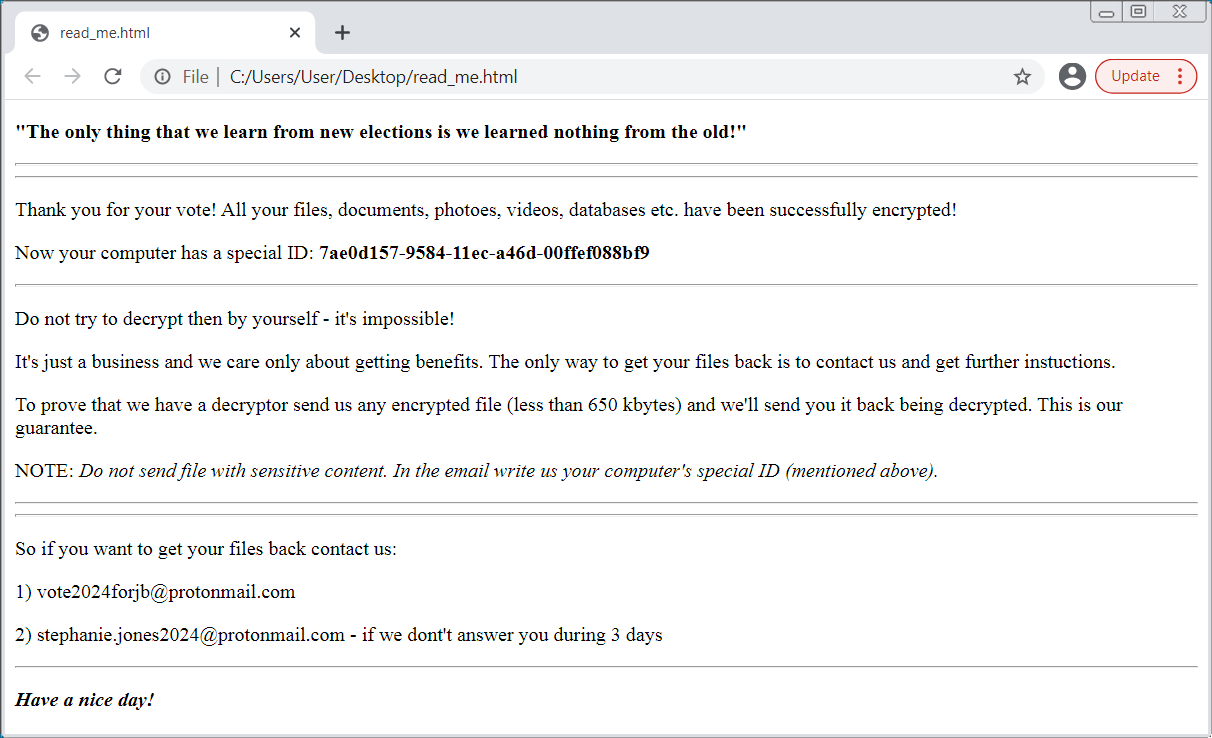 Impact
Data Loss
File Encryption
Financial Loss
Indicators of Compromise
MD5
3f4a16b29f2f0532b7ce3e7656799125
84ba0197920fd3e2b7dfa719fee09d2f
d5d2c4ac6c724cd63b69ca054713e278
SHA-256
1bc44eef75779e3ca1eefb8ff5a64807dbc942b1e4a2672d77b9f6928d292591
0385eeab00e946a302b24a91dea4187c1210597b8e17cd9e2230450f5ece21da
4dc13bb83a16d4ff9865a51b3e4d24112327c526c1392e14d56f20d6f4eaf382
SHA-1
61b25d11392172e587d8da3045812a66c3385451
912342f1c840a42f6b74132f8a7c4ffe7d40fb77
f32d791ec9e6385a91b45942c230f52aff1626df
Remediation
Antivirus – Enable antivirus and anti-malware software and update signature definitions in a timely manner.
2FA – Enable two-factor authentication.
Patch – Patch and upgrade any platforms and software timely. Prioritize patching known exploited vulnerabilities.
WAF – Set up a Web Application Firewall with rules to block suspicious and malicious requests.
Admin Access – limit access to administrative accounts and portals to only relevant personnel and make sure they are
not publicly accessible.
Passwords – Implement strong passwords.
Logging – Log your eCommerce environment's network activity and web server activity.