Severity
High
Analysis Summary
In Latin America (LATAM), a financial malware named JanelaRAT has emerged as a significant threat, capable of extracting sensitive information from compromised Microsoft Windows systems. Recently, researchers have identified the malware's operation and its strategic features.
JanelaRAT is specifically designed to target financial and cryptocurrency data within the LATAM region, focusing on bank and financial institutions. The malware employs sophisticated techniques to evade detection, such as abusing DLL side-loading methods sourced from legitimate software like VMWare and Microsoft. This evasion tactic allows JanelaRAT to bypass endpoint detection mechanisms effectively.
Although the initial infection vector remains undisclosed, experts discovered the campaign in June 2023. The attack begins with the delivery of a ZIP archive file containing a Visual Basic Script (VBScript) through an unknown method.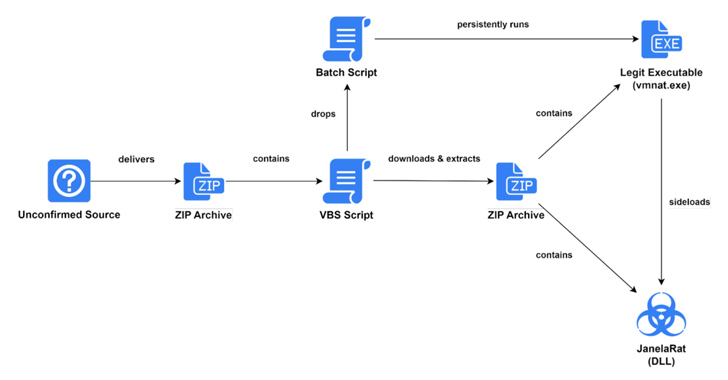 The VBScript plays a pivotal role by fetching a second ZIP archive from the attackers' server. Additionally, the script drops a batch file that ensures the malware's persistence on the compromised system. The secondary ZIP archive contains two components: the JanelaRAT payload and a legitimate executable, namely identity_helper.exe or vmnat.exe. The latter executable is employed to initiate the JanelaRAT payload via DLL side-loading.
JanelaRAT implements several advanced measures to evade detection, including string encryption and the ability to transition into an idle state when necessary. This assists the malware in evading analysis. Notably, JanelaRAT is a modified version of the BX RAT, originally discovered in 2014.
Among the updated features, JanelaRAT is capable of capturing windows titles, sending them to threat actors. Prior to this action, the newly infected host is registered with the command-and-control (C2) server. The malware further possesses functionalities to track mouse inputs, record keystrokes, capture screenshots, and collect system metadata.
Interestingly, JanelaRAT offers a subset of the features found in BX RAT. The developer excluded certain functionalities related to shell commands execution, as well as file and process manipulation.
An analysis of the malware's source code revealed the presence of strings in Portuguese, indicating the author's familiarity with the language. The connection to LATAM is reinforced by references to banking and decentralized finance organizations, as well as the origin of VBScript uploads to VirusTotal from Chile, Colombia, and Mexico.
Researchers emphasize that the use of original or modified Remote Access Trojans (RATs) is a common practice among threat actors in the LATAM region. The focus of JanelaRAT on harvesting LATAM financial data, along with its method of extracting window titles for transmission, underscores its targeted and covert nature.
Impact
Sensitive Information Theft
Indicators of Compromise
Domain Name
myinfintyme09.geekgalaxy.com
infintymexb.geekgalaxy.com
cinfintymex.geekgalaxy.com
9mdxmex.damnserver.com
ikmidasgold.ddns.me
rexsrupmoney979.ditchyourip.com
kktkarotomx.dnsfor.me
megaskigoldmex.dvrcam.info
izt89bydzi.dynns.com
zeedinfintymexbrock.geekgalaxy.com
MD5
d1684fa84602a2d560b47dfe0f0779b4
2cbee69042a4d85ecfe6e55639b1b42a
da48cd57e4b45cba63716bc2d53c4c76
897e8483b673db70fdc5d3d111600cac
e166bd80341871c9d752537f80584334
42eb945b1b881b2319a74af06b1037db
e841f4691e5107fe360b1528384a96f0
c39f75423862c1525f089a5e966b9d04
3ec6342286d5b699bc1fb2ef6598f906
526a0b2d142567d8078e24ab0758fad7
3cbe59c309f803fffdadcc69d3578a53
SHA-256
232930c8ab38497c67d1f2b4ca21945afb193b2d63c107d67b7d6961d990738a
fe1fb6137b8995eac1c2d4adb928fe6dfbc479b52b19a7dba84ff5be9d730e9a
dc919d4727bdf3834c77890da795490505c2e75d06bc205bd9f7ab73d1ddfb1a
a670835f7c69ade92bd64535ce19e388ad906c774ac07f52b7a08b068de5b1bd
4fcf6d8e463adc77621dcc2ae0c1dbb8b653737e3f12a2b48f7a17ef116ff5fe
adf1786364d43f70e70be770728b0e89b6a0ea164cd8f088dee87d32342edf97
cef2b3501cd53bf6eebd1f80ec0d2abcd7b8488943f51b5feac1e2d223b78c95
e9e864184fd63731a28272c1e5d27154c74e5764bbf017b375afcc64398accc7
16748fc7cc71ff6568a09d5ea4d4ac2fa23667b9aa9dd0766e425bb18f842aa8
f6edcd66b7c14920bc0f820eaf537bf5ee101c91b618ea3fbbb1b8978a40a775
c206df6a4e25c65d77a65358093d81d07072169598abb48e14e0749b12f096a6
SHA-1
ac6de6bc3ffa762f6b511f1e04b22a5c498ec7fd
cc7f458199e293a27090da8559c20cb291689bab
ee9a1e0831534178bd4ed44b6aa58c7e503c9954
31e778378306b9ce2c1cf2ddcecbfc7d42021763
ae7274173c2c1d5c0b94f583d4139f386183cde3
ee5ab54197efb6c9ee3978a49caa0cc80d086b7a
a05df139e676da07fe0b17adb4e3780b56862327
6092804d3e3ff007705e6b5f612d59339c8df159
61133c709a35a37532cc1d49a0213b827edbedb3
142a574251873d9be9432efdd5de2ebb763fe571
569e2eb0781084699b115f4502163aeea79232a3
Remediation
Block all threat indicators at your respective controls.
Search for Indicators of compromise (IOCs) in your environment utilizing your respective security controls
Maintain cyber hygiene by updating your anti-virus software and implementing a patch management lifecycle.
Maintain Offline Backups – In a ransomware attack, the adversary will often delete or encrypt backups if they have access to them. That's why it's important to keep offline (preferably off-site), encrypted backups of data and test them regularly.
Emails from unknown senders should always be treated with caution.
Never trust or open links and attachments received from unknown sources/senders