Severity
High
Analysis Summary
Mallox is a ransomware strain that specifically targets Microsoft (MS) Windows systems and has been active since June 2021. It is known for its exploitation of unsecured MS-SQL servers as a penetration vector to gain access to victims' networks.
According to new findings from researchers, Mallox ransomware activities in 2023 have surged by 174% compared to the previous year. Similar to other ransomware threat actors, Mallox follows the double extortion trend, where it first steals sensitive data from organizations before encrypting their files. It then uses the threat of leaking the stolen data on a public leak site to put pressure on victims to pay the ransom fee.
Mallox is associated with a threat actor that has ties to several other ransomware strains, including TargetCompany, Tohnichi, Fargo, and the latest addition, Xollam. The ransomware first gained attention in June 2021 and has been focused on targeting significant sectors, such as manufacturing, professional and legal services, and wholesale and retail industries.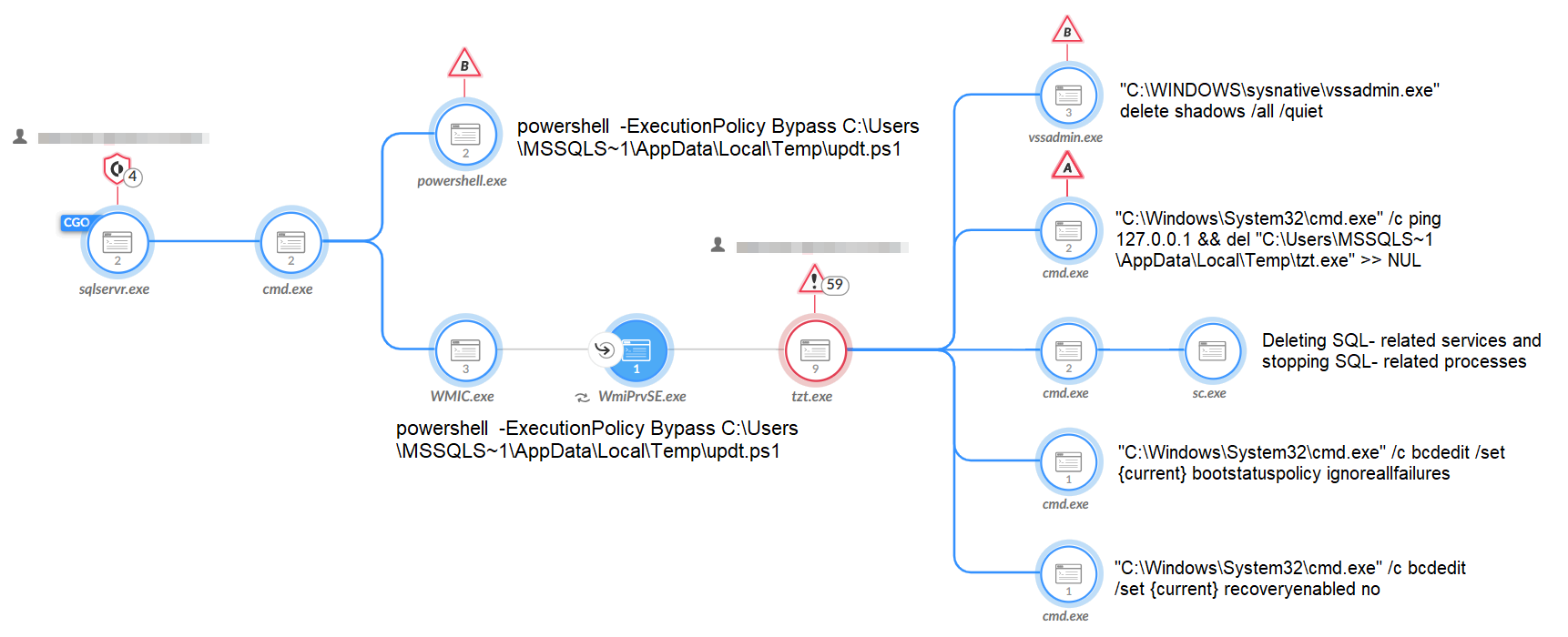 One notable aspect of the group is its pattern of exploiting poorly secured MS-SQL servers through dictionary attacks to compromise victims' networks. Xollam, however, deviates from this norm and has been observed using malicious OneNote file attachments for initial access, as reported by Trend Micro.
After gaining a foothold on an infected host, Mallox executes a PowerShell command to retrieve the ransomware payload from a remote server. The ransomware binary then attempts to disable SQL-related services, delete volume shadow copies, clear system event logs, terminate security-related processes, and bypass Raccine, an open-source tool designed to counter ransomware attacks. Following this, the encryption process begins, and a ransom note is deposited in every directory.
TargetCompany, while a small, closed group, has been observed recruiting affiliates for the Mallox ransomware-as-a-service (RaaS) program on the RAMP cybercrime forum, hinting at potential expansion of their operations.
"The Mallox ransomware group has been more active in the past few months, and their recent recruiting efforts may enable them to attack more organizations if the recruitment drive is successful.", they added.
The sudden rise in Mallox infections is part of a broader trend of ransomware attacks, which have experienced a 221% year-over-year increase as of June 2023. In June 2023 alone, there were 434 reported attacks, primarily driven by Cl0p's exploitation of the MOVEit file transfer software vulnerability.
"The team recommends making sure that all internet-facing applications are configured properly and all systems are patched and up to date wherever possible. These measures will help to reduce the attack surface, thereby limiting the exploitation techniques available to attackers."
Security researchers have warned that Mallox's recent recruitment efforts may lead to more successful attacks on organizations, given the current increase in ransomware activities. The ongoing trend of ransomware
Impact
File Encryption
Sensitive Information Theft
Unauthorized Access
Indicators of Compromise
MD5
6ea65106bdd4ab1148028f83956336d1
57c683e8ab7b7e1390c037c9a97c7688
f7cbc00aaa716599bcf6a24f65b3302e
2f82436e491b17c67a3ea0419f0b61de
4f351910b30c279944615955228db869
06e7ad104aef0633e4817e1159851d16
67fd732ee69588cb09b316346bc61ee1
e3e3cb71fec15b86e8c34c5aae2681a7
ba1d4e9366de6b9a16fb2ef143d66b3d
6845db47108d6324b9fcad6707cfcff6
da3f02b82e982f5ce5a71d769a067f3b
6e0ff5cdd9085463451709a8e462470f
3e7b527b02f4c9d8e73b2dedffbe6519
be3537fdcf8dc04150a3ae4ad6daf9f7
44ebe5670496f7aa3d5bae72e938670d
58e47c0aff8659e8c4e4bcbed924ed45
86424c9f1797d280c0fe30ab813eb1da
1b30d16d3e632130ced6dc8b403d4275
ecc918fd6e040ba4675c3179f05da459
SHA-256
c599bebc9ae54a54710008042361293d71475e5fbe8f0cbaceb6ee4565a72015
060ed94db064924a90065a5f4efb50f938c52619ca003f096482353e444bd096
90be90ad4fb906574f9e7afe587f0826a71152bfc32cfc665a58877562f2edd4
1b2727af9fc187cd5c932c6defe50b983ad7508b4196ad6c5ff5e96686277c56
a9543bc9612276863fc77b663fa3ff6efb85db69a01baa86c6dfabf73684b5c1
4e00f3e0e09d13e76da56009173098eefafc4ad50806583d5333990fa44e6420
6c109d098a1f44017f3937a71628d9dbd4d2ca8aa266656ee4720c37cc31558e
7f8f1afa1390246409263e606aa05e2896b8d1da7018c534e67ca530a59ebda1
8e54c38bc3585c3163c3e25d037bcf55695c274aaea770f2f59f0a0910a4b572
724aa6dae72829e9812b753d188190e16fb64ac6cd39520897d917cfdccc5122
7164ba41639c8edcd9ff1cf41a806c9a23de566b56a7f34a0205ba1f84575a48
0e1c7ea4148e7473e15a8e55413d6972eec6e24ef365e9f629884f89645de71a
4ed74a205fad15c843174d7d8b30ae60a181e79f31cc30ebc683072f187e4cdd
ee6fd436bf5aff181e3d4b9a944bf644076e902a1bbf622978b5e005522c1f77
ebdcf54719cceddffc3c254b0bfb1a2b2c8a136fa207293dbba8110f066d9c51
9a3050007e1c46e226e7c2c27d4703f63962803863290449193a0d0ca9661b3b
d6c51935d0597b44f45f1b36d65d3b01b6401593f95cb4c2786034072ad89b63
586d4f86615cb3a8709ae1c08dde35087580814c1d1315af3d7b932639ff48e0
8e974a3be94b7748f7971f278160a74d738d5cab2c3088b1492cfbbd05e83e22
SHA-1
a1e0b3255718cd3478e6a585305427a8f2f3133d
316e4c90085677c5a5f9ccb66ec64c701a89afc7
ea2d7a7b46c02a406fc2c0e9340e2ca3f82339e3
8e9e1a62762255f991df8d39d19f556d47debfee
8c88ba08ca218bb994dbb914bb7b0df39bd445ea
e39bf90a383548311753a116c346b47a0d63ad9d
f40f54c139277019cf58ef57469af6794bed7e94
b975715096aeb7740ce4a9fb86004262b0bdda80
5ae0e6d572dd69662dba7da5884cc4d30c2d42ee
2dc793dc4e5452cfe91887e9f7f65fb918e7d302
e165cac5ab2b2312f7ed8569c69a75bae48b8316
751bb9e23d50a4c15f806ab62421b72912038e1a
db4d167c06270ed8ca86024efe5646326f4ed049
2c3c80e650eea3084396932032cb680deb172c7f
1a577a294c94e9218ffdc830a2758813046a02d6
3119366ed5d7dab6c8b63b0770a0d996c0f1088d
920fe5593f81d105dc2ea7f061c02d898fdb3487
10ddbc228c564940d22a1b0424aeb55b48b4c0f7
b372124021c93ffc52e43a7af0883e880d4eb730
Remediation
Block all threat indicators at your respective controls.
Search for Indicators of compromise (IOCs) in your environment utilizing your respective security controls
Maintain cyber hygiene by updating your anti-virus software and implementing a patch management lifecycle.
Maintain Offline Backups – In a ransomware attack, the adversary will often delete or encrypt backups if they have access to them. That's why it's important to keep offline (preferably off-site), encrypted backups of data and test them regularly.
Keep all software and operating systems up-to-date with the latest security patches. Vulnerabilities in software can be exploited by threat actors to gain access to your systems.
Segment your network into smaller, isolated subnetworks to limit the spread of malware in case of a breach.
Enforce strong password policies and implement multi-factor authentication (MFA) to prevent unauthorized access to sensitive systems and data.
Deploy robust email security solutions that can detect and block phishing attempts and malicious attachments.
Educate employees about the risks of phishing emails and social engineering tactics. Teach them to recognize and report suspicious activities.
Use advanced endpoint protection tools that can detect and block malicious activities on endpoints.
Implement web filtering solutions to block access to known malicious websites and prevent users from accidentally downloading malware.
Set up robust security monitoring and intrusion detection systems to detect unusual activities and respond promptly to any potential threats.
Develop a comprehensive incident response plan that outlines the steps to be taken in case of a ransomware attack. Test and update the plan regularly.
Conduct regular security audits and penetration testing to identify and address vulnerabilities proactively.
Disable or remove unnecessary services and applications to minimize the attack surface.
If using Remote Desktop Protocol (RDP), ensure that it is configured securely and protected with strong passwords and MFA.
Stay informed about the latest ransomware trends and tactics to better prepare against emerging threats.