Severity
Medium
Analysis Summary
Intego has discovered new Mac malware in the wild, actively spreading through malicious results in Google searches. While searching Google for the exact titles of YouTube videos, Intego's research team encountered Google search results that, when clicked, pass through multiple redirection sites and end up on a page that claims the visitor's Flash Player is out of date, and displays deceptive warnings and fake dialog boxes to entice the victim to download a supposed Flash Player updater—which is, in fact, a Trojan horse.
The new malware tricks victims into bypassing Apple's built-in macOS security protections, and it uses sneaky tactics in an effort to evade antivirus detection. This newly updated Shlayer malware is delivered as a Trojan horse application on a .dmg disk image, masquerading as an Adobe Flash Player installer.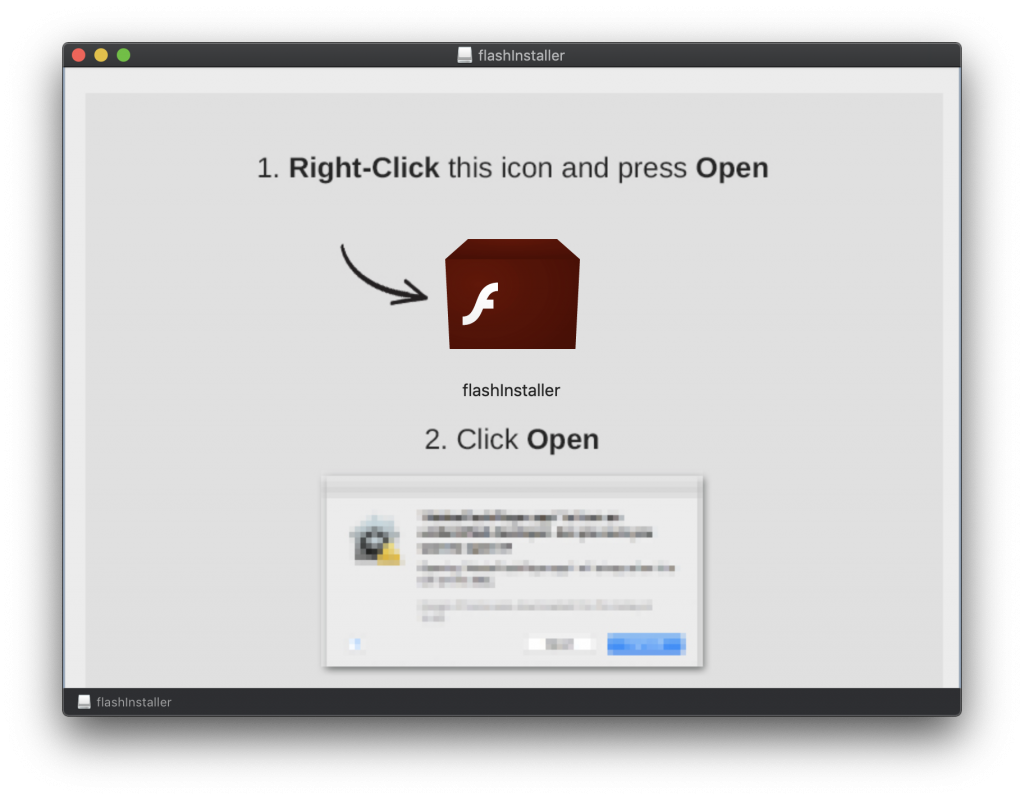 After the deceptive Flash Player installer is downloaded and opened on a victim's Mac, the disk image will mount and display instructions on how to install it. The instructions tell users to first "right-click" on flashInstaller and select Open, and then to click Open in the resulting dialog box. If a user follows the instructions, the "installer app" launches. While the installer has a Flash Player icon and looks like a normal Mac app, it's actually a bash shell script that will briefly open and run itself in the Terminal app. As the script runs, it extracts a self-embedded, password-protected .zip archive file, which contains a traditional (though malicious) Mac .app bundle. After installing the Mac app into a hidden temporary folder, it launches the Mac app and quits the Terminal. All this takes place within a split second. Once the Mac app launches, it downloads a legitimate, Adobe-signed Flash Player installer, so that it can appear to be genuine—but the hidden Mac app is designed to also have the capability to download any other Mac malware or adware package as instructed by the C2.
Impact
Security Bypass
Detection Evasion
Unauthorized Access
Indicators of Compromise
Domain Name

installerapi[.]com
display[.]monster
installvibes[.]com
flashdownloader[.]pro
yougotupdated[.]com
defenderbrowser[.]com
flashdownloader[.]pro
defenderbrowser[.]com
installvibes[.]com
MD5

47ac2e9bceeb6c8de69e28e0edb284d3
4c50d40bbdc9335fa6f36cd70695f53f
979efa6aeb8a63edf8bd1d8f21f61c0b
2d8316e85c6e7c3c117cebf273ef5143
7b80dcbbfd5024cd2e4d895bb3ef63de
c87784c532b5fd113354bb83d80dd5ec
SHA-256

86561207a7ebeb29771666bdc6469d81f9fc9f57eedda4f813ca3047b8162cfb
907c31b2da15aa14d06c6e828eef6ca627bd1af88655314548f747e5ed2f5697
05b9383b6af36e6bf232248bf9ff44e9120afcf76e50ac8aa28f09b3307f4186
2c2c611965f7b9c8e3524a77da9b2ebedf1b7705e6276140cffe2c848bff9113
97ef25ad5ffaf69a74f8678665179b917007c51b5b69d968ffd9edbfdf986ba0
d49ee2850277170d6dc7ef5f218b0697683ffd7cc66bd1a55867c4d4de2ab2fb
SHA1

17413f07c93296d9b728e4457779638f2bfdeac2
2a4148b3c68dfebd022c9da486d950b3f10afe6e
c4708467b25176c02b16fb1d3eead8be0adc2d05
fda26e03ffa513f7ef99fb158194bdd3b55e2bc3
de3b9697ef373db6fb93c0424844ae35f0a7131b
291e7ae52dfc17c8d73ab36bd615c1dacd9f2851
Remediation
Block the threat indicators at respective controls.
Don't click on suspicious links, especially the surprise pop-up windows.
Don't install Flash player, especially from a site that's offering a pirated livestream. (Adobe will end support for Flash Player this year).