Severity
High
Analysis Summary
Lazarus APT is one of North Korea's most sophisticated threat actors, operating since at least 2009. Initially, they concentrated on South Korea. It has recently shifted its focus to worldwide targets and began initiating assaults for monetary gain. This actor has been linked to attacks in South Korea, the United States, Japan, and a number of other nations. Lazarus APT is suspected of being behind a number of diverse efforts, including cyberespionage, attacks on financial institutions, government agencies, and the military. 
This group is said to be behind the wiper attack on Sony Pictures Entertainment in November 2014 as part of Novetta's Operation Blockbuster campaign. Lazarus Group's malware is linked to other known campaigns such as Operation Flame, Operation Troy, DarkSeoul, Operation 1Mission, and Ten Days of Rain.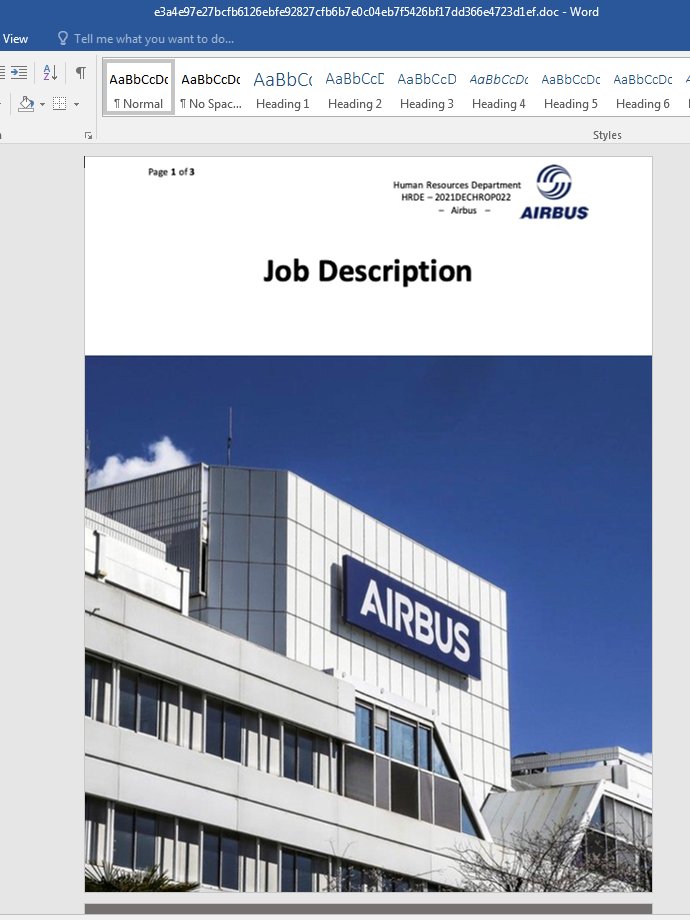 Lazarus Group has been actively using AIRBUS's name for phishing emails, dropping malicious Word documents which enable macros when downloaded and executed. The malicious file suspected of being used as an attachment has the name JD.docx.
Impact
Information Theft and Espionage
Exposure of Sensitive Data
Indicators of Compromise
Domain Name
Filename
MD5
854903e0b284ef78322082de46dcd160
SHA-256
e3a4e97e27bcfb6126ebfe92827cfb6b7e0c04eb7f5426bf17dd366e4723d1ef
SHA-1
a04403c041863fefac6a4e875198cf69042c884a
URL
https[:]//pvacek[.]cz/wp-content/plugins/akismet/control/en/en[.]jpg
Remediation
Always be suspicious about emails sent by unknown senders.
Never click on links/attachments sent by unknown senders.
Block all threat indicators at your respective controls.
Search for IOCs in your environment.