Severity
High
Analysis Summary
Konni's APT Group continues to attack malicious documents written in Russian. Konni's APT Group conducts attacks with Russian-North Korean trade and economic investment documents.
The vector used for the attack is probably the Spear Phishing method and has been reported in Korea.
The malicious file suspected of being used as an attachment has the name congratulation.zip.
On December 20th messages made to contaminate the Russian consulate situated in Indonesia have been distinguished; these messages involved the New Year Eve 2022 merriment as imitation topic. In spite of its past activities, the North Korean APT gathering this time didn't involve vindictive records as connections; all things being equal, they joined a .compress record type named "congratulation.zip", which implies "praise" in Russian, containing an installed executable addressing the primary phase of the disease. The messages were spoofed utilizing a *@mid.ru account as a source to imagine that it was sent from the Russian Embassy in Serbia.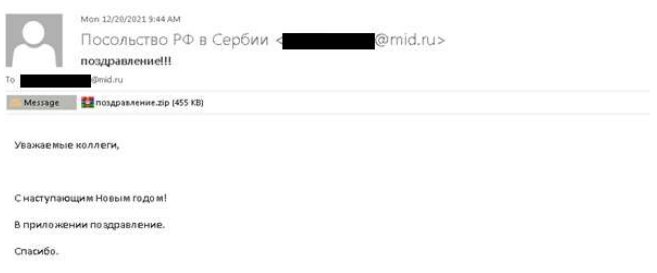 Impact
Information Theft and Espionage
Indicators of Compromise
Domain Name
i758769[.]atwebpages[.]com
455686[.]c1[.]biz
h378576[.]atwebpages[.]com
Filename
MD5
6af24a857e55fda368d08ae0559bbc08
ad152ab451527cf2baa96304c6ecd383
3462e40caeec0fa52bd3c04ad8cbc9d3
8ec9a6ff22c497375b53344cafeb2292
SHA-256
cdfc101b18b9b3f9e418fbb9a6b7d2750d5918c61ed3899ca4ecd7ede5022ac5
53b687202e69dd8d5e2e841036c96a12b93971c9ff99ca54c109c491e7ad8eba
72185f9dbf66d0e5dc0e1873934c183bc120708085c0de8a0e2a748f10f77de8
451b9d4144555fcc791231db73ef3bfdb6ffddeb655e07a457108766f0e6ad39
SHA-1
f9e2dcd57f092d81da7885a713bedd0edd8c549b
189fdac8fd88d61ba9cbd4f7d27561a6f60a9666
b433cc324a785e1d0291c961e2816e91a9549057
fb7d9bc8309f589e39e091ef5a7b08260596ffcd
URL
http[:]//i758769[.]atwebpages[.]com/index[.]php?user_id=18756&type=1
Remediation
Block all threat indicators at your respective controls.
Search for IOCs in your environment.
Always be suspicious about emails sent by unknown senders.
Never click on the link/attachments sent by unknown senders.