Severity
High
Analysis Summary
The KashmirBlack botnet is detected in cyber attacks, meant to mine for cryptocurrency and sends spam. This spam bot targets known WordPress plugins. The KashmirBlack botnet mainly infects popular CMS platforms. It utilizes dozens of known vulnerabilities on its victims' servers, performing millions of attacks per day on average, on thousands of victims in more than 30 different countries around the world. Its well-designed infrastructure makes it easy to expand and add new exploits or payloads without much effort, and it uses sophisticated methods to camouflage itself, stay undetected, and protect its operation. It has a complex operation managed by one C&C (Command and Control) server and uses more than 60 – mostly innocent surrogate – servers as part of its infrastructure. It handles hundreds of bots, each communicating with the C&C to receive new targets, perform brute force attacks, install backdoors, and expand the size of the botnet. It mainly targets content management systems like WordPress, Joomla!, PrestaShop, Magento, Drupal, Vbulletin, OsCommerence, OpenCart, Yeager, etc. The botnet is capable of unrestricted file upload, remote command execution, directory traversal, brute force and account takeover.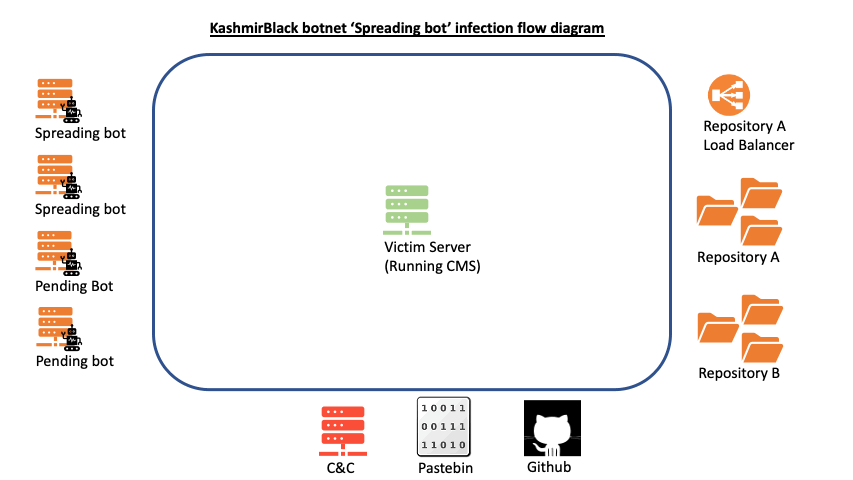 Exploitation attempts of PHPUnit RCE vulnerability (CVE-2017-9841) to infect targets with the KashmirBlack malicious script have also been detected. The KashmirBlack botnet uses the 'XMRig' miner to mine Monero coins to a remote wallet on a HashVault pool.
Impact
Remote Command Execution
Account Compromise
Device Takeover
Unauthorized Resource Consumption
Indicators of Compromise
Domain Name

naveen[.]cmgtestsites[.]com
repositorybsd[.]uk[.]to
tiwiter[.]ignorelist[.]com
Source IP

134[.]249[.]116[.]78
192[.]254[.]193[.]145
37[.]9[.]175[.]24
5[.]189[.]190[.]167
111[.]118[.]212[.]254
94[.]130[.]134[.]49
35[.]240[.]210[.]71
URL

http[:]//littlepray[.]org/css/inmemoryjq[.]css
http[:]//sunrisenurseryschool[.]com/css/inmemoryelf[.]css
http[:]//wearecmg[.]com/css/inmemoryrev[.]css
http[:]//wearecmg[.]com/css/inmemorycms[.]css
http[:]//visbau[.]si/css/inmemoryupl[.]css
http[:]//1academy[.]asia/css/inmemoryplp[.]css
http[:]//indigo-tatu[.]si/css/inmemoryplp[.]css
http[:]//repositorybsd[.]uk[.]to/traber[.]pl
http[:]//lunabar[.]sk/css/inmemorywi[.]css
Remediation
Block the threat indicators at their respective controls.
Keep all systems and software updated to latest patched versions.
Deactivate unused plugins and extensions on the CMS you're using.