Severity
Medium
Analysis Summary
Windows utility developer IObit was recently hacked to perform a widespread attack to distribute the strange DeroHE ransomware to its forum members. IObit is a software developer known for Windows system optimization and anti-malware programs, such as Advanced SystemCare. Over the weekend, IObit forum members began receiving emails claiming to be from IObit stating that they are entitled to a free 1-year license to their software as a special perk of being a forum member.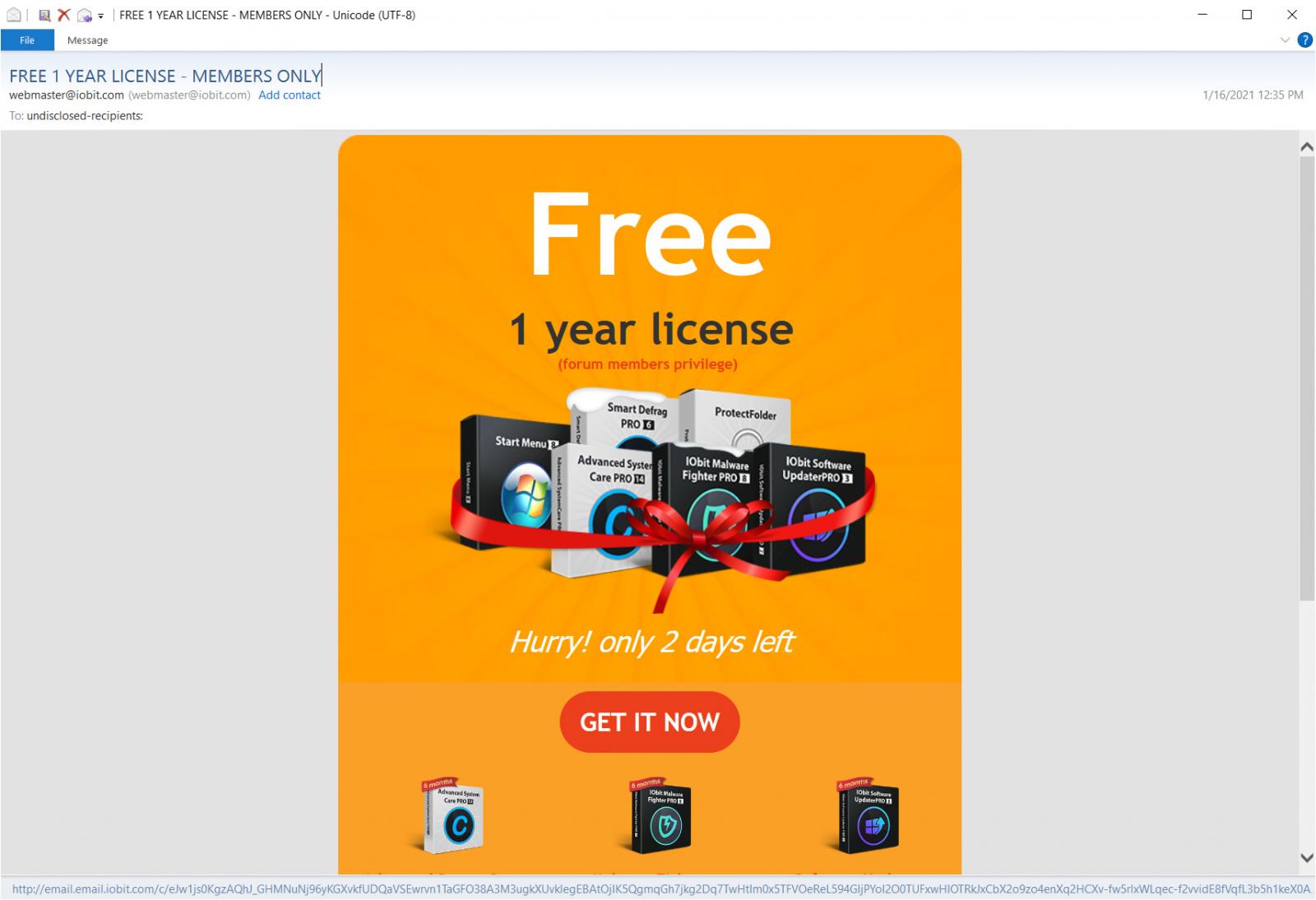 Included in the email is a 'GET IT NOW' link that redirects to hxxps[:]//forums.iobit.com/promo.html. This page no longer exists, but at the time of the attack, it was distributing a file at hxxps[:]//forums.iobit.com/free-iobit-license-promo.zip. This zip file contains digitally signed files from the legitimate IObit License Manager program, but with the IObitUnlocker.dll replaced with an unsigned malicious version. When IObit License Manager.exe is executed, the malicious IObitUnlocker.dll will be executed to install the DeroHE ransomware to C:\Program Files (x86)\IObit\iobit.dll and execute it. As most executables are signed with IOBit's certificate, and the zip file was hosted on their site, users installed the ransomware thinking it was a legitimate promotion. 
Impact
Files Encryption
Security Bypass
Indicators of Compromise
MD5

e93fc5b5329960d75cb283bdf37ab268

SHA-256

976af19ce19cd9dc4ff6fd7cb580c16fac25c046ad9fd529bf50451db6032727

SHA1

2ab61e59e5bb9060b5ef8878b7b874c7184bc175

URL

hxxps[:]//forums[.]iobit[.]com/free-iobit-license-promo[.]zip
Remediation
Block the threat indicators at their respective controls.
Do not download files/click on links given in unexpected emails.