Severity
High
Analysis Summary
The cybersecurity landscape is currently facing a critical threat posed by three notorious hacker collectives: KillNET, Revil, and Anonymous Sudan. These groups have announced plans to carry out a joint cyber attack within the next 48 hours, raising significant concerns regarding the stability of global economies.
Of particular concern is the announcement made by the renowned Russian hacker group, Killnet, in which they boldly state their intentions to launch a massive cyber attack targeting the Society for Worldwide Interbank Financial Telecommunication (SWIFT). The potential repercussions of a successful attack on SWIFT cannot be understated, as it could result in a global economic blackout, severely impacting developed countries heavily reliant on the SWIFT infrastructure.
It is worth noting that the Russian government has already banned the use of the SWIFT banking system within the country. Therefore, Killnet's planned attack on SWIFT is unlikely to directly affect Russia's financial infrastructure, indicating possible underlying geopolitical motivations behind the group's actions.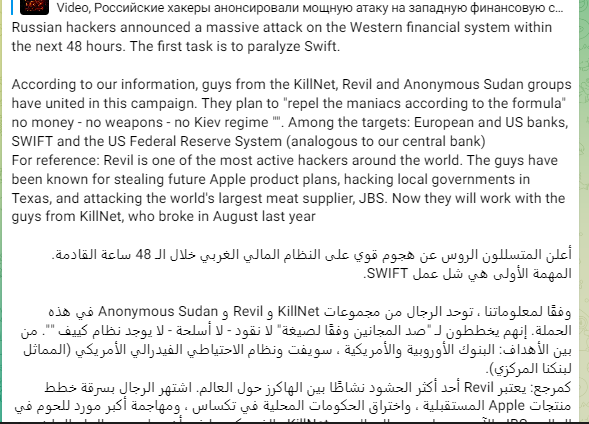 In their statement, they mentioned "repel the maniacs according to the formula" no money – no weapons – no Kiev regime".
What distinguishes this threat is the audacity of Killnet in publicly announcing their attack before executing it. This level of confidence suggests that the group possesses advanced hacking capabilities and is well-informed about the security measures implemented by SWIFT and Western banks. Killnet firmly believes that these defenses will be unable to withstand their impending onslaught. While Killnet has disclosed that the attack will not be a Distributed Denial of Service (DDoS) attack commonly used to overwhelm servers, they have not revealed the specific nature of their planned attack.
The secrecy surrounding their attack vectors and potential vulnerabilities they may exploit has led to widespread speculation within the cybersecurity community. The announcement has sent shockwaves throughout the tech community, highlighting the ever-present threat that tech-savvy individuals and hacker groups pose to governments and critical infrastructures. Opinions on the credibility of Killnet's threat vary on social media platforms, with some expressing skepticism while others recognize the gravity of the situation. As the specified date approaches, there is limited time for governments, financial institutions, and cybersecurity experts to prepare and bolster their defenses. Collaborative efforts and swift action are paramount to minimizing the potential damage such a cyber attack could inflict on the Western financial system and the global economy as a whole.
In conclusion, the imminent cyber attack orchestrated by KillNET, Revil, and Anonymous Sudan against the Western financial system, specifically targeting SWIFT, raises significant concerns about the stability of global economies. With the attack scheduled to occur within the next 48 hours, organizations, governments, and financial institutions must promptly enhance their cybersecurity measures, strengthen their defenses, and maintain constant vigilance against emerging cyber threats.
Recommendations
Deploy Intrusion Detection and Prevention Systems (IDPS) to monitor network traffic in real-time, identifying and responding to suspicious or malicious activities. Configure the IDPS specifically to monitor financial systems and communication channels related to SWIFT transactions. This will provide proactive defense measures against potential threats.
Implement Security Information and Event Management (SIEM) solutions to aggregate, correlate, and analyze security logs from various systems, applications, and network devices. SIEM tools play a crucial role in identifying anomalies, patterns, and indicators of compromise associated with SWIFT transactions and financial systems. Utilize these insights to enhance threat detection capabilities.
Gain a deep understanding of the normal network traffic patterns associated with financial systems and SWIFT communication channels within your organization. Establish baseline metrics and continuously monitor and analyze any deviations from these patterns. Any unusual or unexpected traffic patterns should be investigated promptly as they may indicate potential cyber threats.
Pay close attention to outbound network traffic originating from financial systems and SWIFT-related communication channels. Implement robust data loss prevention (DLP) solutions or network traffic analysis tools capable of detecting and alerting on any unauthorized or abnormal data transfers. This will help safeguard against data exfiltration attempts.
Leverage behavior-based analytics tools to detect anomalies in user behavior and network traffic. These tools are instrumental in identifying unusual or suspicious activities, including unauthorized access attempts, abnormal transaction patterns, or unauthorized changes to configurations within financial systems. Promptly investigate and respond to any detected anomalies.
Conduct regular vulnerability assessments and penetration testing on the financial systems and networks associated with SWIFT transactions. This proactive approach will help identify and address any vulnerabilities or weaknesses that could potentially be exploited by cyber attackers. Ensure that patches and updates are promptly applied to mitigate known vulnerabilities.
Foster collaboration with financial institutions and SWIFT itself to share threat intelligence, collaborate on security practices, and leverage their expertise and resources in monitoring network traffic related to SWIFT transactions. Engaging in information sharing and joint defense initiatives will enhance the collective ability to detect and respond to emerging threats.
By implementing these recommendations, organizations, governments, and financial institutions can bolster their cybersecurity posture, fortify their defenses, and mitigate the risks posed by the imminent cyber attack planned by KillNET, Revil, and Anonymous Sudan against the Western financial system, specifically targeting SWIFT.