Severity
High
Analysis Summary
Researchers have observed a campaign targeting small/medium sectors using COVID-19 themed malicious documents. The documents contain two OLE objects which are a VBS script and code that exploits the Equation Editor vulnerability, CVE-2017-11882 . Should exploitation succeed, two files, an injector DLL and the Agent Tesla payload are downloaded from a remote URL and installed on the victim system. The Agent Tesla payload is injected into the legitimate Windows executable file, RegAsm.exe. Agent Tesla is a well known keylogger and infostealer. Researchers attributes the campaign to the Gorgon APT group. Gorgon are also known as Subaat.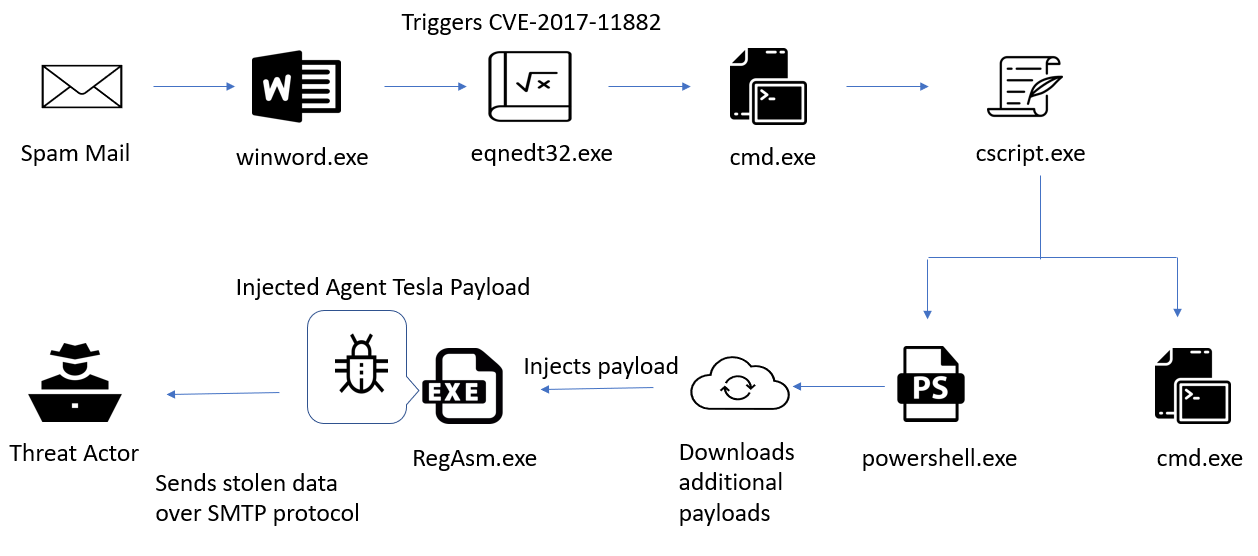 Impact
Information theft
Exposure of sensitive data
Indicators of Compromise
Filename

face mask order[.]doc

MD5

4FC5BA9426E9191AAB4E694E7E703E13

SHA-256

2022D9CC42ED2838DAA442561107C29297BDDB88B36222345C10B39164E66819

SHA1

B5EBAF2F5AF220FE1B1DE5433C2E39FF16B0C0B4
Remediation
Block all threat indicators at your respective controls.
Always be suspicious about links/attachments sent by unknown senders.
Never click on the links/attachments sent by unknown senders.
CVE-2017-1182
https://portal.msrc.microsoft.com/en-US/security-guidance/advisory/CVE-2017-11882