Severity
High
Analysis Summary
A new mobile banking Trojan Eventbot is currently targeting financial applications in Europe. Eventbot uses a completely new code structure, which is completely different from the currently known banking Trojans. The Eventbot Trojan tricks users into installing it by impersonating normal application icons. After it runs, it will upgrade and update by impersonating, hiding its icon to protect itself. The Eventbot Trojan monitors the user's mobile phone through the Accessibility Service function, with more than 50 malicious functions. After running, it will issue instructions through the server to control the user's mobile phone, such as: get and upload the user's mobile phone text message, get and upload the user's mobile phone configuration information, get and upload the user's mobile phone's installed application, and perform user's mobile phone browser Inject, launch the specified APP of the user's mobile phone, delete the specified application, update malicious plug-ins and other malicious behaviors.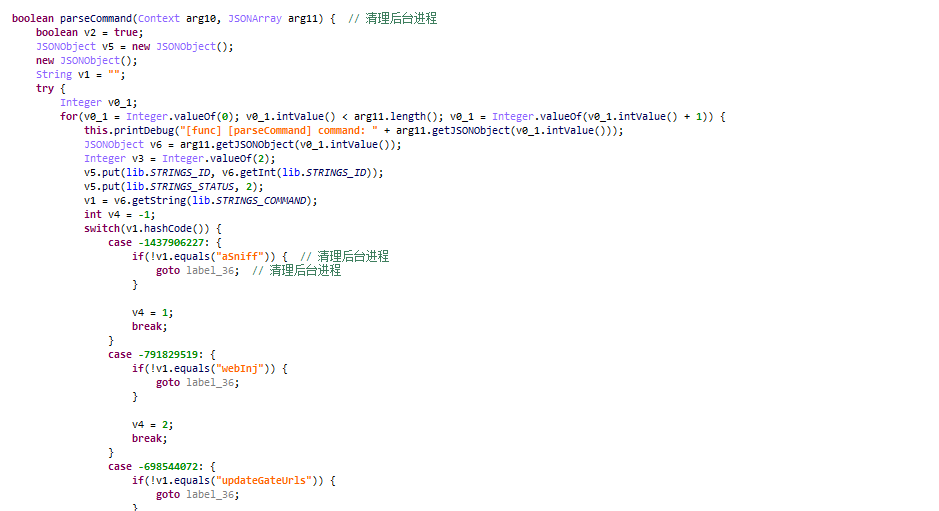 Issue instructions through the server
Currently it affects a dozen banking apps in Britain, Germany, Italy, Spain and other countries, affecting a total of 234 financial applications.
Impact
Information theft
Exposure of sensitive information
Financial loss
Indicators of Compromise
MD5
7f5d728119951839b46895808107b281
66ae6bb78ed76b252c2ea6ec8072b0e8
8a563b6af3cf74c8cbb88b99e104d949
e1229d332ca43ac2b640084a0dae9bbe
8793359481ab88914b5e60625f57277c
36988753860cd9f919b9d2a94c0af0fc
b3f4746a6c21d030d2b73ff2ac3cec2f
664118a72533d9a0d60e9caba439fe28
7107ac3bccd8db274b21f0e494e3eccc
f73f66b15791a42dac86d0ced46d660f
SHA-256
7b1ac3a8caa556c9208d4db62395cca2f8a53420e5d51a1537bc45622e41b63f
b57d2cef4419ca3dfac736825dc0e444e52d22bb517ca185d415f13af856d966
64b9f19911c2e4318048f81f2b32da7cbab0ce818594b2d181b323e0300a68ea
URL
http[:]//ora[.]carlaarrabitoarchitetto[.]com/gate_cb8a5aea1ab302f0_c
http[:]//ora[.]studiolegalebasili[.]com/gate_cb8a5aea1ab302f0_c
http[:]//themoil[.]site/gate_cb8a5aea1ab302f0_c
Remediation
Block all threat indicators at your respective controls.
Always install legitimate/ recommended applications from playstore.